Aaron Rodgers, Richard Sherman Team Up For 'No' Votes on NFL's Proposed 17th Game
It's no secret that football can be a violent sport, and injuries are a big reason the National Football League has tweaked rules and equipment over the years. Now that the NFL wants to add a 17th regular-season game to the schedule, many players are saying it's a big health risk by adding an extra game.
A player representative from each team voted on the new Collective Bargaining Agreement (CBA) on Tuesday, and two big names—Green Bay Packers quarterback Aaron Rodgers and San Francisco 49ers defensive back Richard Sherman—voted "no" for the new CBA.
Player reps collectively voted 17-14-1 in favor of the new CBA, and now the proposal will be sent to the players union, which has 2,000 members. If passed, then part of it could go into effect this year, like adding an extra playoff team for each conference, which would eliminate the first-round bye for the No. 2 seed in each conference.
The 17th game on team schedules could go into effect the following season, if passed.
Rodgers penned a letter and posted to Twitter, and he said his vote was based on conversations he had with his Packers teammates.
"My decision to vote 'No' is based off conversations I have had with the men in my locker room that I'm tasked to represent," Rodgers said.
Rodgers continued to say a 17th game was never supposed to be on the table for negotiations, and that NFL owners wanted the extra regular-season game to pay for "added benefits" in the CBA.
"16 games to me, was never something to be negotiated. The owners made it clear that the 17th game is about paying for the 'added' benefits, and had nothing to do with the positive feedback received about any extra risks involved with the added regular season game."
Rodgers also mentioned the added physical toll of the extra game, recovery time in the offseason and "longer stretches before and after the bye week."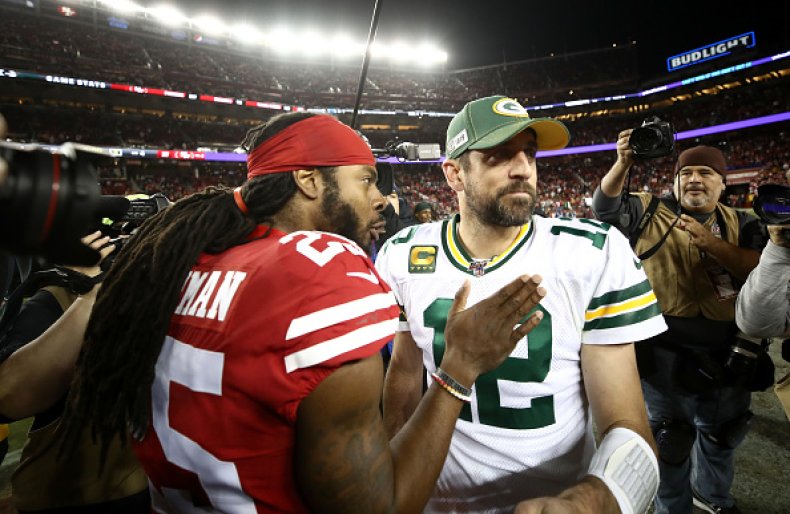 Sherman, who faced Rodgers in last season's NFC Championship game, echoed the quarterbacks remarks.
"Health and Wellness of our men is always the most important aspect," Sherman wrote while retweeting Rodgers' post. "There is no price you can put on that and that is why I Voted No. I respect the Men that have been part of this discussion and stood up for their locker rooms."
Had the added playoff team been implemented for the 2019 season, then Rodgers and the Packers would have faced a team in the first round instead of getting a bye and resting an extra week.
The current CBA expires once the 2021 season is complete, but a new one could start this fall.