Aaron Rodgers Roasted After Dismal Season Opener: 'Should've Stuck With Jeopardy!'
Green Bay Packers quarterback Aaron Rodgers suffered a blowout defeat Sunday against the New Orleans Saints which had many social media users referencing his stint as a Jeopardy! guest host.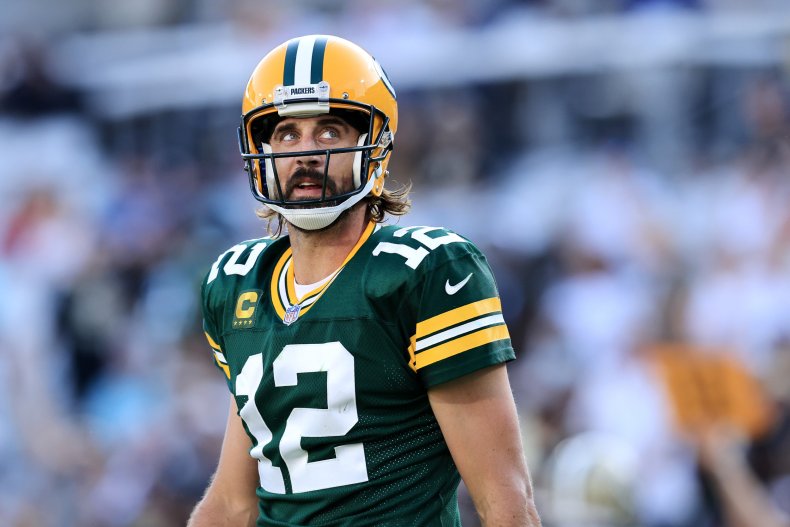 Though he won the NFL MVP award for the third time last season, the struggles he and his team faced against the New Orleans Saints in a 38-3 route made many wonder if Rodgers' mind was preoccupied by recent trade talks or even his time spent on the game show.
Rodgers hosted Jeopardy! in April, and many fans of the show were impressed with his performance. The same couldn't be said of football fans in regard to how he led the Packers on Sunday.
In the offseason, Rodgers was reportedly unhappy about contract extension talks with Green Bay, and rumors began swirling that he could possibly be traded. Those issues have seemingly been worked out, at least for the time being, and Rodgers and the team have emphasized his commitment for 2021.
Many Twitter users took the opportunity of Sunday's loss to jokingly theorize that Rodgers might be reaching out for a long-term commitment from Jeopardy! rather than going to another football team.
Some people have even argued that Sunday's game was the worst of Rodgers' career. FS1's Skip Bayless tweeted: "It was clear from the first snap of the game Aaron Rodgers was not there, he looked checked out to me. How do you go from running away with the MVP to that? His team didn't show up because he didn't show up."
During an appearance on the Mad Dog Sports Radio Show in August, Rodgers said he would have "definitely" taken the Jeopardy! hosting job if it was offered to him.
"When you're such a super Jeopardy! fan like I am, it's just so special to be on that stage and be in that environment," Rodgers said.
Jeopardy! has had its own share of troubles recently, most notably with the person who ultimately won the full-time hosting position, Mike Richards. After sexist comments resurfaced that Richards once made on a podcast, he stepped down from the hosting appointment and eventually exited from his position as the show's executive producer.
This week, Jeopardy! airs a week's worth of shows featuring Richards as the host, though the episodes were taped prior to his departure. Monday's show is also the first for Jeopardy!'s 38th season. Current reigning champ Matt Amodio returns for the taped Monday show to try to continue to add to his winnings.
As previously announced, actress Mayim Bialik will host primetime specials and spinoffs of the series. Until another permanent host is chosen, the show will continue on with guest hosts.