Aaron Rodgers Says It 'May Not Be a Reality' To End Career With Green Bay Packers
The Green Bay Packers drafted Aaron Rodgers 15 years ago as the eventual replacement for legendary quarterback Brett Favre. Rodgers waited in the wings for three years before Favre retired, then Rodgers began his trek as the next great Packers signal caller.
Therefore, it didn't sit well with Rodgers last month when his team traded up to draft a quarterback in the first round—when it selected Jordan Love from Utah State. In a conference call Friday, Rodgers acknowledged the possibility of not finishing his career with the Packers.
"I think it was more the surprise of the pick, based on my own feelings of wanting to play into my 40s, and really the realization that it does change the controllables a little bit," Rodgers said. "Because as much as I feel confident in my abilities and what I can accomplish and what we can accomplish, there are some new factors that are out of my control. And so my sincere desire to start and finish with the same organization, just as it has with many other players over the years, may not be a reality at this point."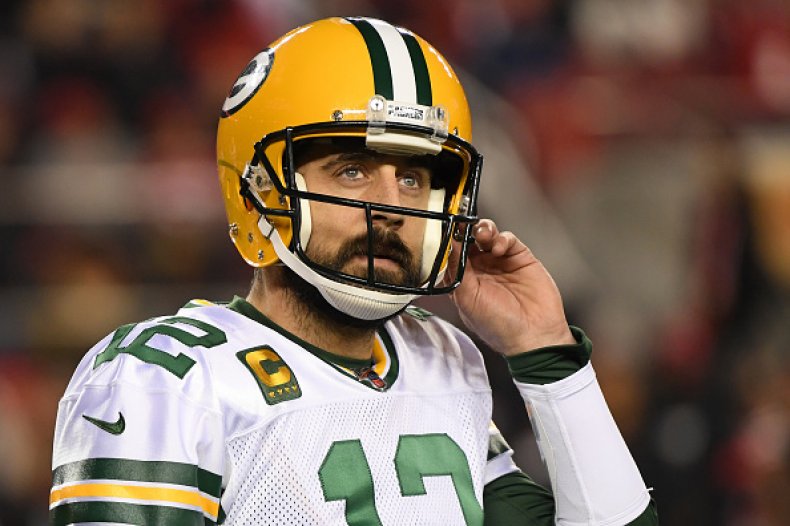 Rodgers is now 36, and recently led the Packers to a 13-3 regular-season record, first-round bye and the NFC Championship game just last season. With a contract extension he signed in 2018, he is now slated to get paid $134 million over four years. But he also understands that business is business.
"And as much as I understand the organization's future outlook and wanting to make sure they're thinking about the team now and down the line—and I respect that—at the same time, I still believe in myself and have a strong desire to play into my 40s. And I'm just not sure how that all works together at this point."
Rodgers told members on the call he still wanted to finish out his contract, and perhaps play even more seasons after that.
The more lucrative portions of Rodgers' contract follow the 2020 season, so it could be a case of prepping Love for a season or two before fishing Rodgers on the market.
When Favre decided to retire after the 2007 season, Rodgers took the helm. And when Favre decided to return in 2008, the Packers traded him to the New York Jets. After one season there, Favre went to play with the Minnesota Vikings—a longtime divisional rival of the Packers.
After the Packers drafted Love in the first round last month, Favre openly said he believed Rodgers was being shown the door to finish his illustrious career with another team as well.
Rodgers on Friday said it's about controlling only what he can control.
"I think what it does is just reinforce kind of the adage that you can only control what you can control," Rodgers said. "It's always been a mantra for myself, but I think any great athlete there's things that are just out of our control. That obviously is something that's very important to me, but I think is definitely telling at this point that is truly something that's out of my control.
"What I can control is how I play and making that decision at some point a very hard one. You know, if I were to retire in the organization's timetable, then it's an easy decision. But if there comes a time where I feel like I can still play at a high level and my body feels great, you know, then there's other guys that have gone on and played elsewhere."