Aaron Rodgers Video Draws Hilarious Comparisons to Creed's Scott Stapp
The Green Bay Packers on Tuesday released a video of Aaron Rodgers reporting to training camp, and social media users immediately saw a resemblance between the star quarterback and a certain singer from a 1990s rock band.
"That's Scott Stapp from Creed," read one of the many tweets that made the comparison.
Creed sold millions of albums in the late 1990s and early 2000s and had hits with singles like "Higher" and "With Arms Wide Open." Singer Stapp often made biblical allusions in his lyrics, but he maintained the post-grunge band was not a Christian act. The group has been on hiatus since 2013, while Stapp released his third solo album, The Space Between the Shadows, in 2019.
Rodgers, meanwhile, has kept his name in the headlines in recent years for a variety of reasons. On the field, he is regarded by many people as one of football's best quarterbacks and has received the NFL MVP award four times. He also earned praise for his stint as a guest host of Jeopardy! in 2021. But he's courted controversy at times, including making several misleading statements about the efficacy of COVID-19 vaccines.
On Tuesday, comments on Twitter mostly stuck to Rodgers' appearance in a white tank top and jeans with flowing long hair. While the Stapp resemblance had both men's names trending high on the social media platform, a lot of people also said Rodgers looked like Nicolas Cage's character Cameron Poe in the 1997 film Con Air.
"Aaron Rodgers really showed up to training camp as Nick Cage from Con Air," a post from ESPN's SportsCenter Twitter account said.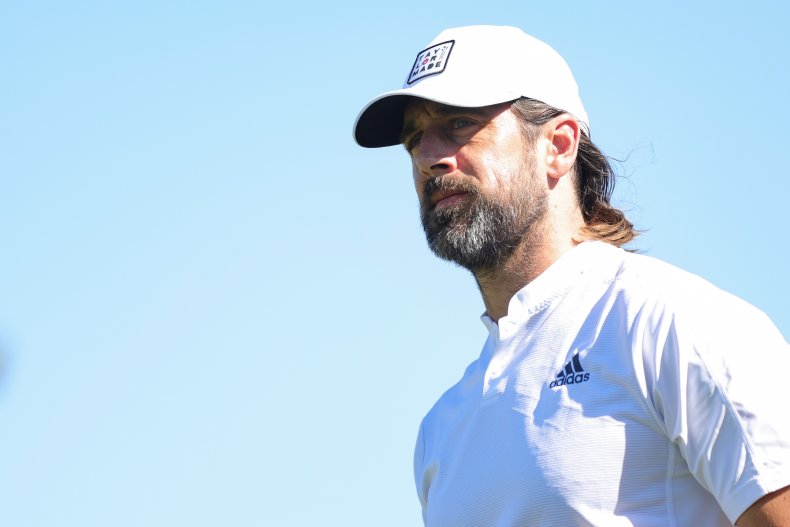 "Aaron Rodgers and Scott Stapp have never been seen in the same time room together," a Twitter user wrote.
Meanwhile, another person made nearly the same comment about the quarterback and the actor, writing, "Has anyone ever seen Rodgers and Nicolas Cage in a room together?"
A few people noted Rodgers' resemblance to both fellow celebrities.
"Slight chance this was in homage to one of Aaron Rodgers' favorite bands Creed, going with a Scott Stapp 'Higher' look, though the blue jeans more align with Nic Cage in Con Air," one person tweeted.
"If Nicolas Cage in Con Air and Scott Stapp from Creed had a love baby, it would be @AaronRodgers12," read another tweet.
The video posted on the Packers' Twitter account of Rodgers had already amassed more than 3 million views as of press time. In March, Rodgers signed a three-year, $150.8 million contract extension with Green Bay.