American Horror Story has a number of iconic locations, but none more so than the LA mansion that features in season 1 and season 8 of the show.
The Murder House is a real place, the Rosenheim Mansion, and the location made its comeback in the show's spin-off American Horror Stories with its debut double-bill "Rubber (Wo)man" parts 1 and 2.
Aaron Tveit stars in the second of the two episodes. He takes on the role of consultant Adam, who helps couple Michael and Troy as they try and renovate the Murder House.
Speaking with Newsweek, Tveit admitted that he found the location to be "pretty creepy" because director Loni Peristere informed them it was haunted.
Looking back at filming in the Murder House, he said: "It's pretty terrifying because it's supposed to actually be haunted, and Loni, our director, took great pride because he'd shot in there before for previous seasons so he took us around the house and gave us the ghost tour of the house.
"I thought 'this is really fun but also this is really creepy,' but it was definitely great to step into that location that has a place in the series, but also such a place in LA ghost lore.
"But we definitely felt in a good way that we got to honor and pay homage to the huge success they've had in that Murder House previously. It was a lot of fun for my first dip into this to go into the most recognizable locations in the whole series."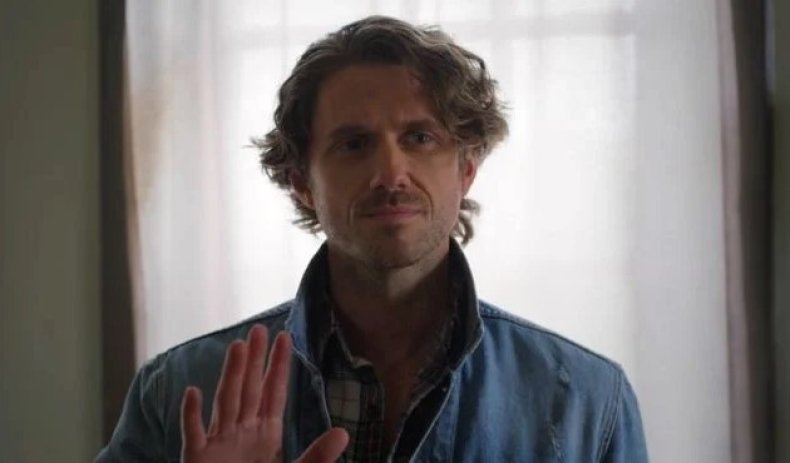 On what it was like to film at a location that was supposedly haunted, Tveit said: "Luckily there's so many people around and there's so many crew so the production is like a whole mini city to get this stuff done, so there were enough people around that I wasn't too scared.
"But just the way that the house looked and the feel of it, if I was in there by myself I think I'd feel very differently than I felt with all of those people around, so I'm glad I got to be surrounded by people in there!"
American Horror Story has a long history of its cast members returning to franchise to take on new roles in subsequent seasons. Tveit had the chance to portray not one but two characters in the anthology spin-off's first season.
As well as portraying Adam, Tveit also took the title role of Jay Gantz in "Feral", the sixth episode of American Horror Stories.
Jay Gantz is a father struggling with grief after losing his son during a camping trip. He decides to return 10 years later to look for him, alongside his estranged wife Addy (Tiffany Dupont).
"It's a horrible, horrible situation," Tveit said of the episode's plot. "It's kind of every parent and everyone's worst nightmare, you're with your kid watching them, or someone you know, and you lose them, it's literally what keeps you up at night.
"So, to have that be exactly the case that happens here, it's a real test of grief and vulnerability, and it's a real test of if you can go to the depths of those places that you don't often get to go to.
"It was an intriguing challenge for me from an acting standpoint to do that, and this foray into both episodes was really my first dip into the horror genre so it was very tricky for me as well to play in that pool."
The episode sees Jay and Addy learn of the existence of feral people who live in national parks across the world and feed on whoever they can get their claws on.
All of the creatures were played by stunt performers for the episode, with prosthetics and VFX transforming them into the feral beings traumatizing Jay and Addy during their quest for their missing son.
Tveit only had high praise for the work that went into creating the creatures, both from the stunt performers and the make-up department, as he gushed: "This was so wonderful.
"Those creatures you saw them on the episode, they were terrifying, and they looked like that in person it wasn't CGI, it wasn't anything put on later, they were actual tangible real humans in those costumes all day.
"You didn't have to necessarily suspend the disbelief, you could react to what was in front of you which made it much easier I imagine than doing that without them in front of you, I was very grateful for that."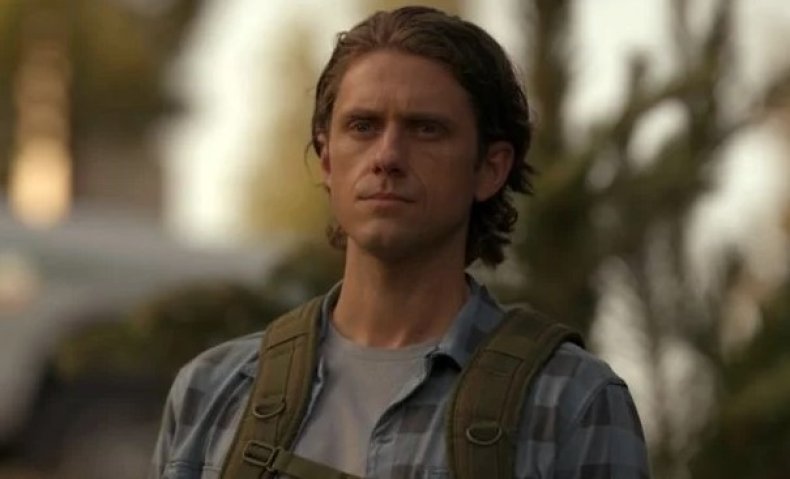 Discussing the stunt performers, he went on: "It was either terrifying or completely hilarious, they're either in the setting at night running in the woods chasing us or popping up.
"But then [the director would] yell cut and they were the group of nicest people and we'd be chatting with them about very mundane things sitting in our chairs while they're in those costumes and make-up.
"There's a lot of moments where you're like 'wow, I'm talking to a man that looks like he's spent his whole life in the woods' and has a huge shoulder or something. It was a very surreal experience, but the difference between when it was rolling and when we were just hanging out was very stark!"
Tveit also worked alongside American Horror Story alum Cody Fern, who has been a part of the franchise since "Apocalypse." Fern takes on the role of park ranger Stan Vogel.
"I've been a big fan of his from his other work and I was very much looking forward to working with him. He was incredible," Tveit said of the Australian actor.
"He came in and we had two different scenes where he had four or five pages of dialogue and we were just listening or reacting, and he just came in and absolutely crushed those scenes and just made it so easy for all of us because of his professionalism and how prepared he was, and how hilarious he was.
"He was very excited to speak in his natural Australian accent as well, so we just had a blast."
Of how Fern helped welcome him into the horror franchise, Tveit went on: "We kind of just talked about the episode, and tonally his character in this was a little bit tongue-in-cheek about what was going on, and that seemed to work really well.
"He did give insight into the way that the storytelling works and the world works so that was actually helpful, we did talk about that a bit."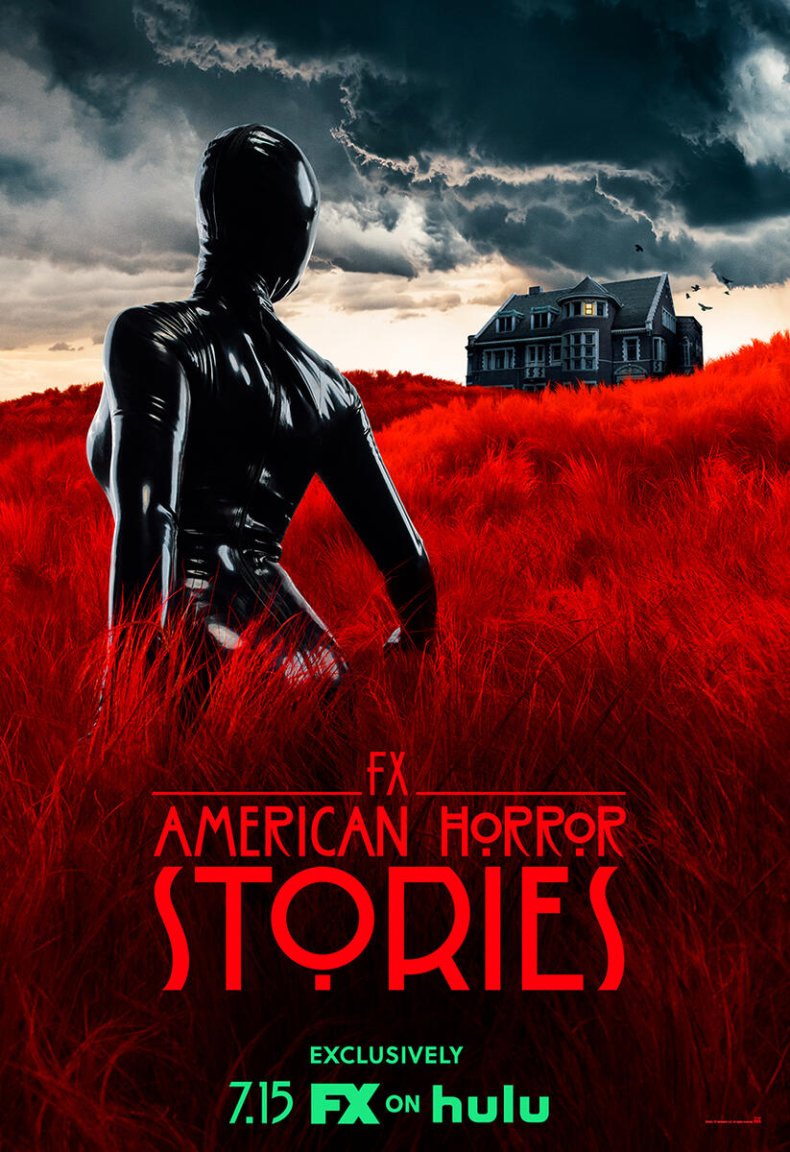 Tveit added that he had a "wonderful time" alongside his co-stars Fern, Dupont, Blake Shields, who played hunter Bob Birch, and Colin Tandberg, who portrayed his character's son Jacob, because it was "so much fun to shoot" alongside them.
When asked if he'd consider returning to the franchise again like so many stars before him, Tveit admitted he'd "jump at the chance to be back."
"Absolutely I'd love to be back, I was so grateful that I got to play two different characters contained within this one season," he gushed. "So, if they'd have me back then I'd completely jump at the chance, I love the world that they have created and that Ryan's crafted.
"It almost felt like an acting company at a theater playhouse, you just come and get to tell these different stories and I'm extremely grateful to get to be a small part of that, so I'd absolutely jump at the chance to be back."
Tveit admitted horror tropes like alien abduction or being stuck underwater were his biggest fears, so they'd be subjects he'd be most interested in doing if he was to come back to American Horror Story or its successor.
He explained: "I'm terrified of the vastness and the claustrophobia of space and also being underwater, so maybe some kind of thing where you get stuck somehow in a station underwater or something like that.
"When I was a kid, I was very convinced and afraid of being abducted by aliens so some version of any of those would personally be something that terrifies me!"
American Horror Stories season one is available to stream on FX on Hulu now, and the finale will air on August 19. American Horror Story season 10 will air on FX from August 25.