Palestinian President Mahmmoud Abbas Curses Out China, Russia, U.S. and Arabs in Vulgar Rant
Leaked audio reportedly reveals President Mahmoud Abbas of the Palestinian Authority angrily screaming about other countries can "go to hell" in an expletive-filled rant.
In the audio, the voice identified as the leader's goes into a tirade about several countries, including the United States, neighboring Arab countries and especially China. The Washington Free Beacon reported the recording has raised concerned about Abbas' health.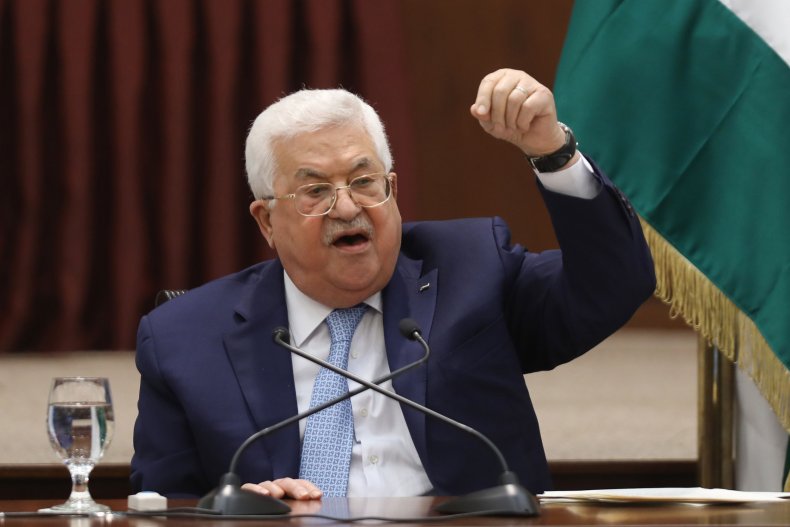 The leaked audio of Abbas was originally posted on Twitter by Fadi Elsalameen. A Palestinian American pro-democracy advocate and frequent critic of Abbas, Elsalameen had previously tweeted last month that he had faced death threats. Those threats, he said, came from the al-Aqsa Martyrs Brigades, an organization loyal to Abbas' Fatah political party that has been designated as a terrorist group by several countries, including the U.S.
Elsalameen wrote that the recording came from an April 19 meeting of the Fatah Central Committee. The committee is the highest decision-making body of the Fatah political party.
An unidentified attendee at the meeting asked Abbas what his message to China is on the 100th anniversary of the Chinese Communist Party. The voice Elsalameen and the Free Beacon attributed to Abbas replied, and this is loosely translated, "Fuck the c**t of China with a shoe! That good for you?"
After a brief pause, the tirade continued. "And Russia, America, and all the Arabs. What's wrong with you? All of you go to hell!"
Abbas has suffered health scares before, but this leaked rant that reportedly comes from the 85-year-old leader has cast doubt among some people regarding his fitness for duty ahead of the Palestinian legislative elections set for May 22 and a presidential vote scheduled for July 31. Along with heart problems, Abbas is a heavy smoker, and in 2018, he was hospitalized with pneumonia.
However, other recent news conflicts with these doubts about his wellness. In early April, Abbas flew to Germany for a full medical check, and the reports from the examination claim he is in good health. Abbas has also been seen at recent public events, and there has been no official indication that he's been ill.
The last elections for Palestinians occurred in 2006, when the Hamas group won parliamentary elections in a lopsided victory. The following year, Hamas removed the Fatah party's forces from the Gaza Strip, which left Abbas in control of Palestinian areas in the West Bank.
Newsweek contacted the office of Mahmoud Abbas for comment but has not heard back as of press time.