Abbas: Let the UN Fix a Timetable for Israel's Withdrawal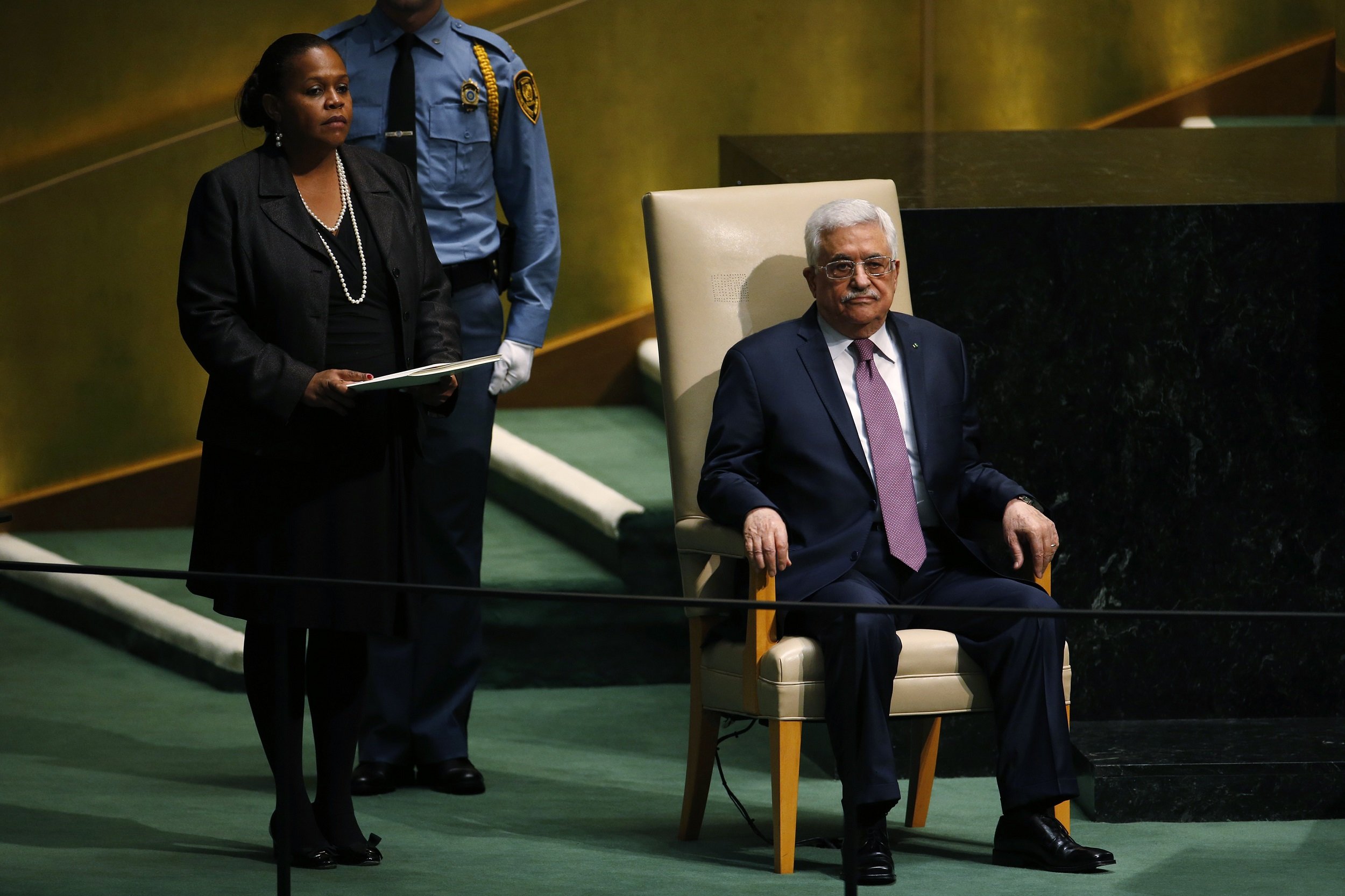 Mahmoud Abbas, president of the Palestinian Authority, has proposed a new path for a peace treaty with Israel: the United Nations should determine a deadline for the talks and force Israel to relinquish control over the West Bank regardless of the security circumstances at that time.
Addressing the UN General Assembly on Friday, Abbas delivered a tough speech that received long applause from delegates. Israeli officials were absent from the hall because of the Jewish holiday of Rosh Hashanah, but in Jerusalem, Israeli Foreign Minister Avigdor Liberman immediately slammed Abbas's new idea, saying the speech proved that he is no peace partner.
Washington has in the past resisted attempts to bypass direct negotiations between Israelis and Palestinians by involving the UN Security Council. A diplomat close to the negotiations about Abbas's new Palestinian initiative said on Friday that the Palestinians are consulting with Arab and Council partners and intend to circulate their resolution "in coming days."
Another diplomat said, however, that the Americans, who have a veto right at the Council, have yet to respond to the initiative. Israeli Prime Minister Benjamin Netanyahu, who will address the UN General Assembly on Monday, is then scheduled to fly to Washington to meet with President Barack Obama on Wednesday, where he's expected to relay Israel's concerns about the Palestinian initiative. "I'm not even sure they have nine supporters," the diplomat added, referring to the number necessary to bring a proposal for a vote at the 15-member council. Abbas did not specify when he intended to circulated his proposed resolution.
In his UN speech, Abbas accused Israel of scuttling previous diplomacy, centered on direct negotiations between the two sides under American auspices. His new initiative, he said, "aspires to correct the deficiency" of those past efforts.
According to the initiative, the Security Council would impose a deadline, widely reported to be within three years, for the end of Israel's occupation of lands captured from Jordan in 1967. The initiative "will be linked to the immediate resumption of negotiations between Palestine and Israel to demarcate the borders," Abbas said, adding that this will lead to talks about a "draft peace treaty between them."
Elsewhere in his speech, the Palestinian leader accused Israel of perpetrating "a new war of genocide" against the Palestinians in Gaza, called Israel a "racist occupying state," and denounced its policies as akin to apartheid. As for the Palestinians, he said, "Even as we watched the ongoing and escalating Israeli violations, we exercised unimaginable self restraint, silencing our cries and tending to our own wounds in order to give the American efforts the best chance for success."
And he said – playing on an old saw that accuses the Palestinians of never missing an opportunity to miss an opportunity – "The Israeli government did not miss an opportunity to undermine the chance for peace."
Now, Abbas said, "the time has come to end this settlement occupation." "It is time for this long tragedy to end," he said, promising that his new initiative, which was reached in consultations with Arab and other states, will bring about a two-state solution and "the State of Palestine, with East Jerusalem as its capital, over the entire territory occupied in 1967, alongside Israel."
Washington slammed the speech. "President Abbas' speech today included offensive characterizations that were deeply disappointing and which we reject," said Jen Psaki, the State Department spokeswoman. "Such provocative statements are counterproductive and undermine efforts to create a positive atmosphere and restore trust between the parties," she said.
Israel's foreign minister Liberman, released a terse statement just as Abbas, who is also known as Abu Mazen, was finishing his speech. "His words once more clearly demonstrate that Abu Mazen does not want to and cannot be a partner for a reasonable diplomatic settlement," the statement read.
Noting that shortly before Hamas launched the Gaza war, Abbas signed a treaty of "national reconciliation" with Hamas, which is defined by the US as a terror organization, Liberman said, "Abu Mazen makes peace with Hamas, even as he is engaged in diplomatic terrorism and makes up libelous allegations about Israel."
As long as Abbas heads the Palestinian Authority, the dispute with the Palestinians will continue, said Liberman, a hawkish member of Netanyahu's government. "Each time, Abu Mazen proves anew that he is not a man of peace, but [former Palestine Liberation Organisation leader Yassar] Arafat's heir, albeit in different manners," Liberman concluded. Arafat, Abass's predecessor, was long considered a terrorist by the United States until he became Israel's peace partner in the early 1990s.
Coincidentally, Kenneth Roth, the executive director of Human Rights Watch, slammed Abbas, accusing him of being too slow to join the International Criminal Court (ICC), the Hague-based venue for trying war criminals. Palestinians have long threatened to take Israelis to task there for alleged wrongdoing in armed confrontations with Hamas and other factions. America has reportedly pressured Abbas against joining the ICC and, despite numerous threats to do so, he has so far refrained from joining.
"Abbas should stop using justice as a bargaining chip and finally give the ICC a mandate in Palestine," Roth said in a statement. "He owes it to all victims of war crimes in the Israeli-Palestinian conflict, even if it means standing up to Western powers that are bullying him not to invoke the ICC."
Follow Benny Avni on Twitter: @bennyavni