'Abbey Road' 50th Anniversary: 'Paul Is Dead' and Other Beatles Conspiracy Theories
Abbey Road was released on September 26, 1969. It is the last album that the Beatles recorded and features a staggering number of classic songs, such as "Come Together," "Something," "Octopus's Garden," "Here Comes the Sun" and "Golden Slumbers," just to name a few.
In celebration of the 50th anniversary of the release of Abbey Road, Newsweek has pulled together some of the craziest conspiracy theories about the Beatles.
Paul Is Dead
A rumor began in 1969, the very year Abbey Road was released, that Paul McCartney had died in November 1966 and was replaced by a look-alike. The urban legend started spreading across college campuses in the U.S, with fans noting "clues" found in the band's songs and album covers.
The singer-songwriter later poked fun at the conspiracy theory with his 1993 album Paul Is Live.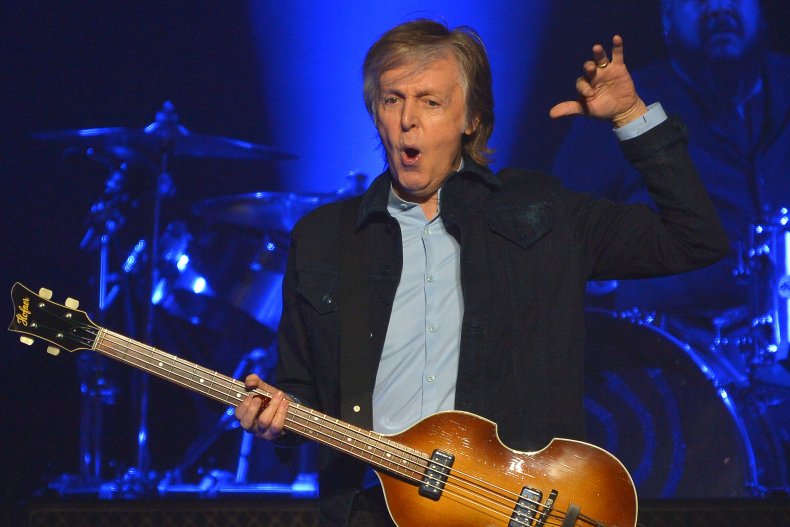 Everyone but Paul Is Dead
In this theory, Paul McCartney lives, but the other band members met grizzly fates and were replaced. Chris Fishel, as a student at the University of Virginia, published a theory in 1994 that suggested that Ringo Starr was the first to die, in 1963. He claimed George Harrison followed in 1964, and John Lennon died in 1965.
Like in the "Paul is dead" conspiracy theory, Fishel called on other fans to help him gather "evidence."
The Beatles Never Existed
No, this isn't the movie. This theory says the members of the Beatles were played by different actors over the years. As described on the website Dangerous Minds,there was once a website known as The Beatles Never Existed that has since been removed. It claimed there were never just four individual people who were the Beatles. "This is a serious subject, not a joke, and this site is here to expose the actions of those who exploited these young men and defrauded us their fans," the site reportedly read. Serious stuff.
The Illuminati Created the Beatles
Bear with us. Conspiracy theorist John Coleman believed that the Beatles were created by secret society, the Illuminati, as a way to try to control middle-class American youth. According to Coleman, the band was used to introduce soft drugs and was "a vehicle for the introduction of mind control trigger words into everyday jargon."
"I recall very well when the Beatles made their debut on the American rock scene," Coleman states on his website. "Their sudden and explosive 'popularity' in America made no sense to me at the time. I couldn't understand what was so great about the Beatles and why they were portrayed as 'threatening' to the crown of the then King of Rock & Roll, Elvis Presley."