"Abbott Elementary" Creator Quinta Brunson Reunited with Sitcom's Namesake
A week after ABC's new comedy Abbott Elementary broke the network's 35-day multi-platform ratings record for a new comedy premiere, creator and star Quinta Brunson appeared on Jimmy Kimmel Live! to discuss the show's early success.
Touching on a myriad of subjects, including the Philadelphia native's dedication to accurately representing her home city, Brunson further explained Abbott Elementary, and revealed the origins of the show's name.
Responding to an inquiry from Kimmel about the show being named after a real elementary school teacher, Brunson explained that she named Abbott Elementary after her sixth grade teacher, whose last name was Abbott. Further explaining that she hadn't seen the teacher since she was in sixth grade, Brunson said she recently spoke with the sitcom's namesake — before Kimmel delivered a heartwarming surprise.
Appearing via video call, Brunson's sixth grade teacher, Ms. Joyce Abbott, joined Jimmy Kimmel Live! and was quick to sing the praises of her former student.
"Quinta was an awesome student. Very driven at that time," Abbott told Kimmel. "She was really our class spokesperson."
"She's amazing," Abbott added. "Just amazing."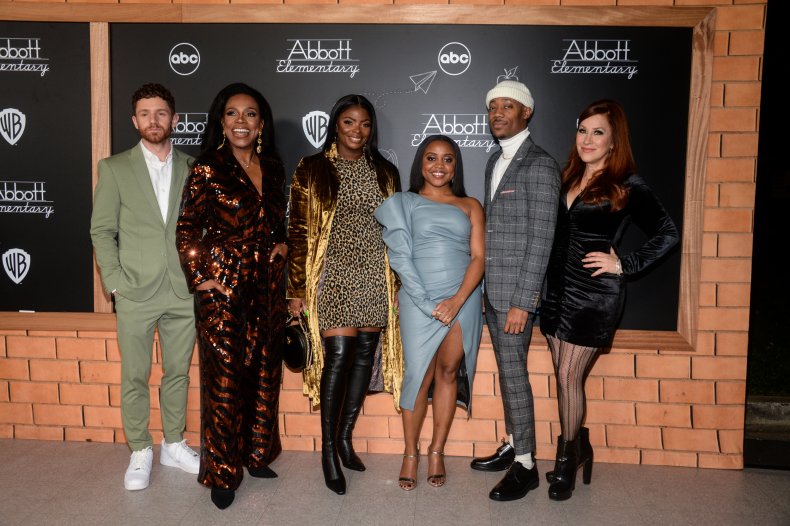 Abbott Elementary, a mockumentary-style sitcom, stars Brunson as Janine Teagues, a second grade teacher at the fictional Willard R. Abbott Elementary School in Philadelphia.
Following Brunson and a cast of fellow teachers (played by Tyler James Williams, Jannelle James, Chris Perfetti, Lisa Ann Walter and Sherly Lee Ralph) through the ups and downs of teaching in the Philadelphia Public School System, the new ABC sitcom premiered last December and has quickly cemented itself among the network's Tuesday-night lineup.
Along with countless tweets from fans and celebrities about Abbott Elementary, TikTok creators have also shown their support for Brunson and the show's continued success.
Recently, TikTok user @donakakatherine posted a video explaining how they go out of their way to watch Abbott Elementary on multiple platforms to increase ratings and streaming numbers.
Captioned, "Me after watching Abbott Elementary on TV, then on Hulu, then tweeting about it so Quinta Brunson gets her coins," the viral video has been liked more than 44,000 times.
In a CNN article titled, "'Abbott Elementary' has teachers laughing -- and relating," teachers across the United States offered their opinions on the show, and spoke to its portrayal of teaching in an underfunded, public school.
Commenting on the show's accuracy, former Washington D.C. elementary school teacher Rennea Jackson said that, because "teaching is hard as hell, and there are so many failures within the system that people just have to get over," she appreciated how much effort Brunson put into creating real personalities and lives for each of Abbott Elementary's cast members.
"It's not this, 'Oh my goodness, they are superheroes, they don't do anything but teach,'" Jackson told CNN. "She made them full people."
While Abbott Elementary is just six episodes old, high ratings and widespread support across social media platforms have precipitated ambitious predictions, including one from Kimmel himself.
Exclaiming that Abbott Elementary is "really great," the late-night host told Brunson that he expects the show to remain on television for a long time.
"I don't want to set the bar too high," Kimmel said candidly. "But I feel like this is going to be a show that's going to be on in, like, nine years. We're still going to be watching this show."