Abby Finkenauer Back on Ballot Sparks Democrat Hope to Take Grassley's Seat
Abby Finkenauer, a Democrat running to take on Republican Senator Chuck Grassley, was handed a major victory on Friday when the Iowa Supreme Court ruled she could appear on the primary ballot.
The Iowa Supreme Court reversed a lower-court decision that Finkenauer, a former Iowa congresswoman, ​​failed to qualify for the June 7 Democratic primary ballot because three signatures she submitted as part of the petition process didn't have the correct date.
"The GOP's attempts to undermine ballot access and our election process were pathetic and desperate," Finkenauer wrote on Twitter. "Today they lost. With a unanimous decision by the Iowa Supreme Court, we're still in this fight and we WILL beat Chuck Grassley in November. It's a good day for our democracy."
Finkenauer is the leading Democratic candidate to take on Grassley, polls show. Grassley is the oldest Republican in the U.S. Senate at 88. After much speculation on whether he would retire, Grassley announced last September that he was seeking an eighth term this fall. Republicans need to hold his seat to have a chance to take back control of the Senate in the 2022 midterm elections.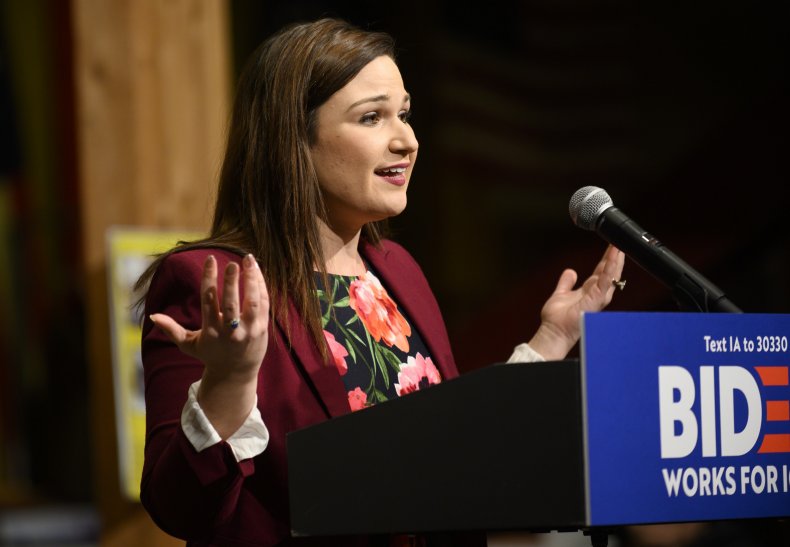 Finkenauer led her Democratic opponents in a recent poll by GBAO Strategies. She garnered 64 percent of the 600 likely Democratic primary voters, while retired U.S. Navy Admiral Mike Franken had 15 percent and physician Glenn Hurst 6 percent.
The Iowa Supreme Court on Friday said missing dates were not among the reasons listed in the state's election laws for excluding signatures.
The Grassley campaign said Friday that Finkenauer "thumbed her nose" at Iowa's election laws.
"Hundreds of other candidates of both parties followed the rules," the campaign's communications director, Michaela Sundermann, said in a statement. "When Finkenauer didn't, instead of admitting fault, she called it a partisan attack, even though her campaign was connected with an effort to object to her primary opponent's nomination papers."
Sundermann added that Grassley collected "three times" the amount of signatures necessary to be on the ballot.
While Finkenauer leads in the Democratic field, Iowa is a traditional red state. Grassley won reelection easily in 2016 with 60 percent of the vote.
Grassley's approval rating among Iowans has remained above water over the past year: 45 percent of residents approve of the senator's job performance, while 43 percent disapprove. The same survey, conducted by the Des Moines Register, found that Finkenauer was relatively unknown to many in the state as 46 percent of respondents said they didn't know enough about her to form an opinion.
Grassley led Finkenauer by 18 percentage points in September of 2021, according to a Des Moines Register/Mediacom Iowa Poll.