RT America Anchor Resigns In Protest Of 'White-Washed' Ukraine Coverage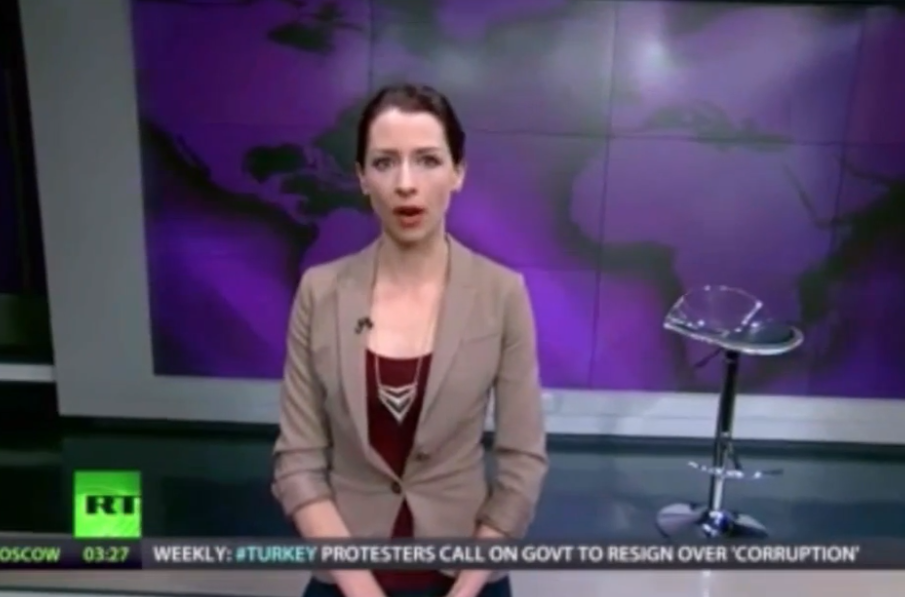 Update: Liz Wahl, an anchor for Kremlin-funded RT America, resigned live on air on Wednesday, BuzzFeed's Rosie Gray reported.
Wahl said she resigned in protest of the network's coverage of Russia's military intervention in Ukraine.
"Personally I cannot be part of a network funded by the Russian government which whitewashes the actions of Putin," Wahl said.
Abby Martin, an American anchor at the Kremlin-funded news station RT, condemned Russian Prime Minister Vladimir Putin's "occupation of Crimea" in a broadcast Monday night, declaring that "what Russia did is wrong."
Martin's criticism surprised some, given that RT was created by the Russian government to promote the country's image abroad, and is said to resemble an "absurd mouthpiece" for the Kremlin. The Huffington Post UK described her speech as "spectacularly off-message."
The network did retweet a link to an article by the journalist Glenn Greenwald, in which he heralded Martin for demonstrating "what 'journalistic independence' means."
RT also scoffed at the proposition that they might reprimand Martin. "Contrary to the popular opinion, RT doesn't beat its journalists into submission," the network told the National Journal. Instead, the network said it would send Martin to Crimea to "better her knowledge" of the situation. Martin told Buzzfeed that she declined the trip because she "didn't want to take the chance to have a vetted PR experience while there."
The New York Times notes that for regular viewers of Martin's show, her declaration of "editorial independence" did not come as such a surprise. Martin is an outspoken anti-war activist, and as Mediaite highlights, her show has explored the theory that staged "false flag" attacks are "at the heart of every major U.S. war of aggression in history."
The Times also notes Martin has been involved in the 9/11 Truth movement that alleges the September 11th attacks were an inside job. In a video online that has since been pulled, Martin marches in a 9/11 Truth demonstration in Santa Monica, California on October 11, 2008.
"I've researched it for three years and every single thing that I uncover solidifies my belief that it was an inside job and that our government was complicit in what happened," Martin says in the video. "You have to trust your own mind to know what you're seeing is true."
Martin distanced herself from the video on Tuesday, telling Buzzfeed that she didn't know if 9/11 was an 'inside job.' "But I do stand by my opinion that we were lied to about what happened that day," Martin said. "That video is six years old, so it's unfortunate that it is becoming a viral discrediting factor in a completely unrelated story."