Video Shows Local Reporter Rescuing Man In Houston Flooding Live on TV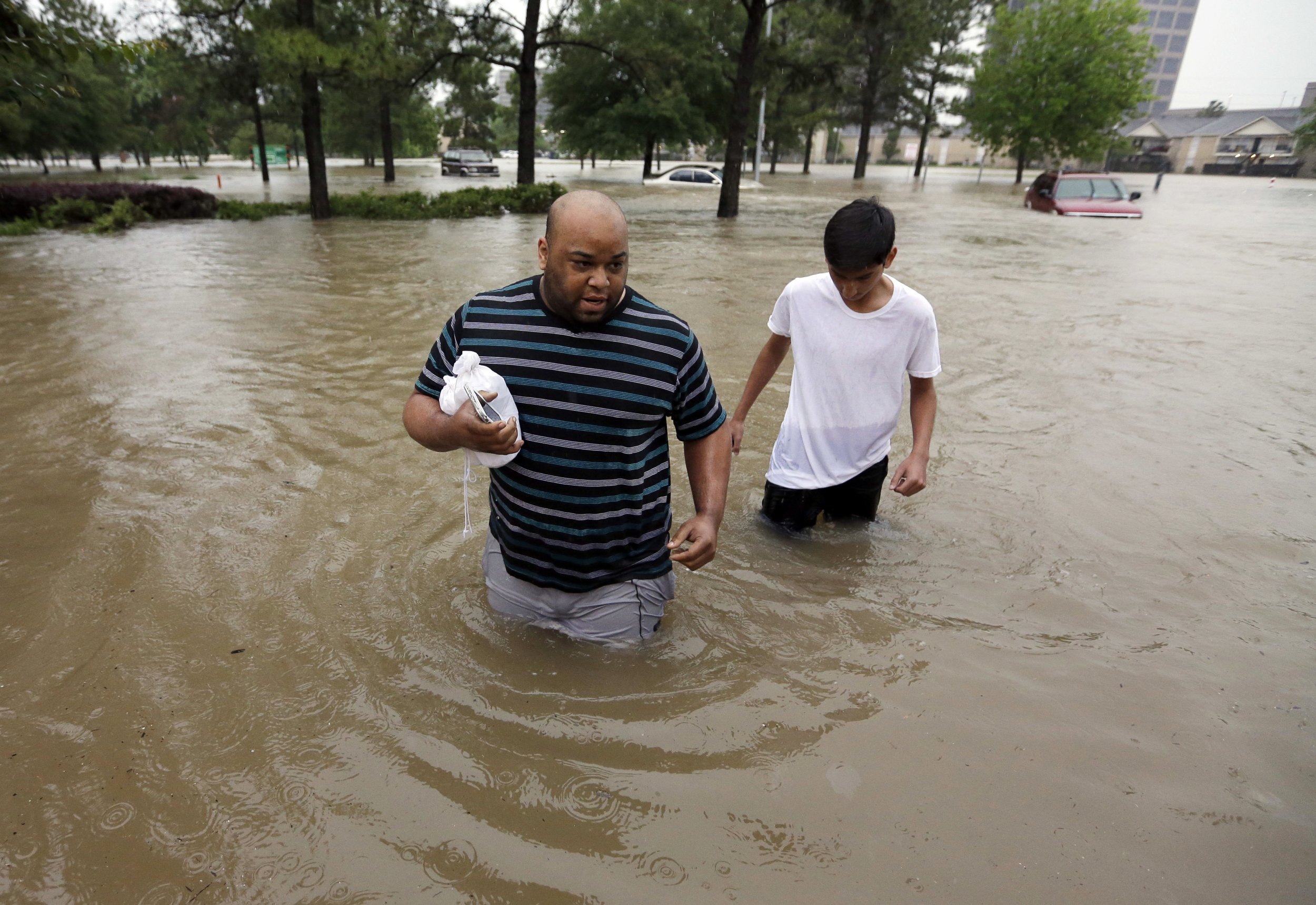 In a rescue caught on video and broadcast on live TV, a reporter for ABC's Houston station came to the aid of a man fleeing from his car seconds before it sank into floodwaters on Monday.
The rescue happened on Studemont Street in Houston, which is currently experiencing historic flooding. Early on Monday, the area had gotten up to 10 inches of rain in just six hours, according to reports, with more rain expected.
ABC 13 said Eyewitness News reporter Steve Campion of KTRK-TV was about to go live with a report when he saw the motorist, who the station later said is named Andy, struggling to leave his car as it began to sink. The video opens on a vehicle becoming entirely submerged in the floodwater. Seconds later, Campion says from offscreen, apparently to the driver he would later save, "Why are you doing that?"
The camera then zooms out and focuses on what appears to be a black Honda driving into the floodwater. Within seconds, the water carries the car away. Moments later, the front passenger door opens and Andy appears.
"Dude, you've got to get out of the car. You've got to get out!" Campion says to Andy, to which he replies, "What do I do?" He appears dazed.
"Swim!" Campion says. Another voice, likely the cameraman's, also calls to the man. The car begins to sink, with the man still hanging out of the door. "I don't know what to do," he says.
"Leave the car! Swim," Campion says, and Andy leaves the car and swims toward Campion. Then Campion moves toward him, wading in the water, which goes above his waist. He grabs the man's hand and guides him toward the camera setup.
"I didn't think the water was that deep," the man says, adding, "My car is under."
"You've gotta leave the car," Campion says, opening his live report.
Andy can be heard saying in the broadcast, "I'm fine, thank you. Just a little wet."
Campion has been a reporter for Eyewitness News since April 2014.
A flash-flood warning remains in effect until 1 p.m. local time, the Harris County Office of Homeland Security and Emergency Management said. The Houston Police Department is advising people to stay off the roadways.
As of 10 a.m. local time Monday, George Bush Intercontinental Airport in Houston had experienced 11.5 inches of rainfall, a record, according to the National Weather Service. Previously, the daily record there was 8.16 inches. The airport said it was under a "full ground stop" until 10:30 a.m. local time or later.
Houston city offices and the Houston Independent School District were closed.