Abe Lincoln Is Alive, Well and Appearing in a Newscast on COVID Mask Mandates, TikTok Says
A run-of-the-mill news broadcast went viral on TikTok because of a familiar but surprising face in the crowd. Abraham Lincoln appears to be alive and well in the 2020 scene, or at least, someone that looks a whole lot like him is.
The man was captured in a group of anti-mask protesters who gathered outside Utah Governor Gary Herbert's house in Orem, Utah on Sunday. He was featured as a quickly-seen bystander in the video footage from KSL News, a local NBC affiliate.
The similarities in appearance between the man and Lincoln have TikTok users laughing at the idea of the late president looking upon 2020. While we're sure it's not actually Lincoln (just a reminder, he died in 1865) it's an entertaining comparison that got over 2.1 million likes at the time of publication.
A commentary video featuring the lookalike was uploaded by @travisjohnson150 who asked viewers to watch closely. The camera panned to onlookers, one of whom looks undeniably similar to Lincoln.
The tall man has the same facial shape, haircut and beard as Lincoln. The best part? An American flag is seen behind the doppelganger, making the moment even more patriotic. The only thing missing is the former president's signature hat. The caption explained what every TikTok viewer seemed to be thinking. "My boy Abraham Lincoln is back," it read.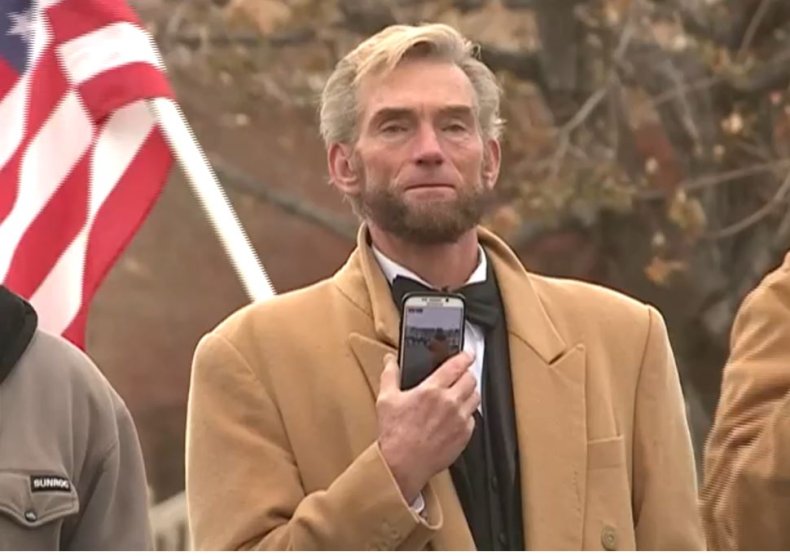 Johnson's excitement was more than matched. Commenters put on their conspiracy theory caps and claimed in 2020, anything is possible. Some even claimed they believe Lincoln appeared in the broadcast.
Many commenters said it had to be Lincoln because of the shared features. The conversation swerved to something rather odd: 2020's Lincoln was filming the news broadcast on his phone. The device was backward, though, and filming with the selfie camera.
"Def him he's still learning how to use technology lmao," wrote @2xvonn. Others responded with similar notes. "Bro that's him and why is he holding his phone like that," @AyhTee said.
Johnson's TikTok went viral on Twitter, too. The commentary social media platform also thought Lincoln was alive, and the poster, @vDarknessF, claimed he may be a time traveler. The phone was subject to conversation on Twitter, as was his outfit. The full video, featured on WNKY, shows the Lincoln imposter is wearing what appears to be a tuxedo to the protest, bow tie and all.
Lincoln's 2020 twin has yet to be identified by name. It seems, for now, some netizens will continue to believe the real, deceased Abe made an appearance to make this year even more bizarre.