Ability to Care for All Patients in Paris Hospitals Threatened by Current COVID Surge
The ability for Paris hospitals to provide treatment to coronavirus patients is becoming increasingly threatened by a surge of new cases and hospitalizations across France.
According to projections from the Paris hospital authority, the region's intensive care units (ICUs) could have nearly 2,000 patients by Friday, up from 1,525 on Tuesday, the Associated Press reported.
That number is well beyond the peak of 1,138 patients that Paris-region ICUs took on during France's previous surge, which prompted the nation to enter into a strict lockdown. Other longer-term projections predict that more than 3,400, or even 4,400, ICU patients could be admitted to Paris region hospitals by the middle of or late April, the report said.
Now, doctors across the region are warning that surging infections and hospitalizations could soon affect how facilities are able to administer care.
"The hospital isn't big enough to absorb the people who are sick," Dr. Aurelie Gouel of Bichat Hospital in Paris said Tuesday, according to AP. "We're under pressure to open extra beds but can't do that with health care workers who are exhausted."
Hospitals across the region have begun expanding bed capacity by canceling less-urgent medical procedures, like hip replacements or other surgeries, but are still facing an uphill battle with how to handle the new spike.
"We are heading for the wall," Gilles Pialoux, the head of infectious diseases at the Tenon Hospital in Paris, said Tuesday on France Inter radio.
"The care on offer will be degraded, degraded for everyone, COVID and non-COVID alike," he said. "To the point, if we let it keep climbing, that we'll be in a situation like Lombardy (Italy), where families will understand that patients are going to die on gurneys. That is what we want to avoid."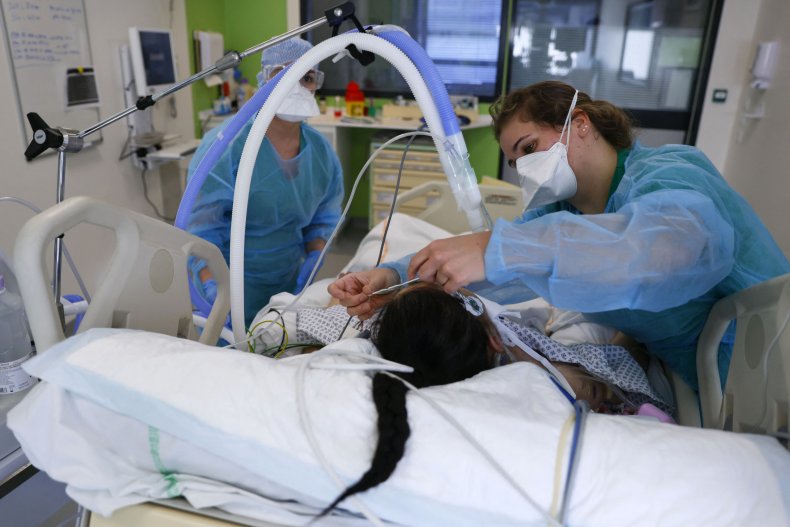 For more reporting from the Associated Press, see below:
The French situation echoes the recent experience of Britain, which saw infections surge in December as a more contagious virus variant took hold, before then spreading in France and elsewhere in Europe. But where British Prime Minister Boris Johnson responded by locking his country down again, French President Emmanuel Macron has instead pursued a strategy of trying to contain infections with softer measures and to outrun them with vaccinations.
An overnight nationwide curfew has been in place since January. In Paris and other regions where the virus is spreading rapidly, residents have extra restrictions on movement and nonessential stores are closed.
Doctors want even stricter controls, warning that surging infections could soon overwhelm their ability to care for the sick and force them to choose which patients they have resources to save. French ICUs had to make room for another 569 new patients on Tuesday, pushing the nationwide total beyond 5,000 for the first time in 11 months.
The government says it wants to avoid reaching the point where ICU doctors have to turn patients away. "The absolute red line is triaging of the sick," the economy minister, Bruno Le Maire, said Tuesday.
Newsweek, in partnership with NewsGuard, is dedicated to providing accurate and verifiable vaccine and health information. With NewsGuard's HealthGuard browser extension, users can verify if a website is a trustworthy source of health information. Visit the Newsweek VaxFacts website to learn more and to download the HealthGuard browser extension.