Abolish ICE? Most Americans Want to Keep U.S. Immigration Agency: Poll
Most Americans do not want to see the U.S. Immigration and Customs Enforcement (ICE) agency abolished, despite growing calls for the agency responsible for enforcing federal immigration laws to be dismantled, a new poll shows.
In a poll released on Monday by the Associated Press and NORC at the University of Chicago, only 24 percent of voters said they were in favor of abolishing ICE, while 40 percent of participants disagreed with the proposal and 34 percent said they had no opinion on the matter.
The survey included 1,055 adult participants and was conducted between August 16 to August 20. It found that there was little difference in opinion on calls to abolish ICE across partisan lines, "with similar minorities of Democrats, independents and Republicans favoring abolishing the agency."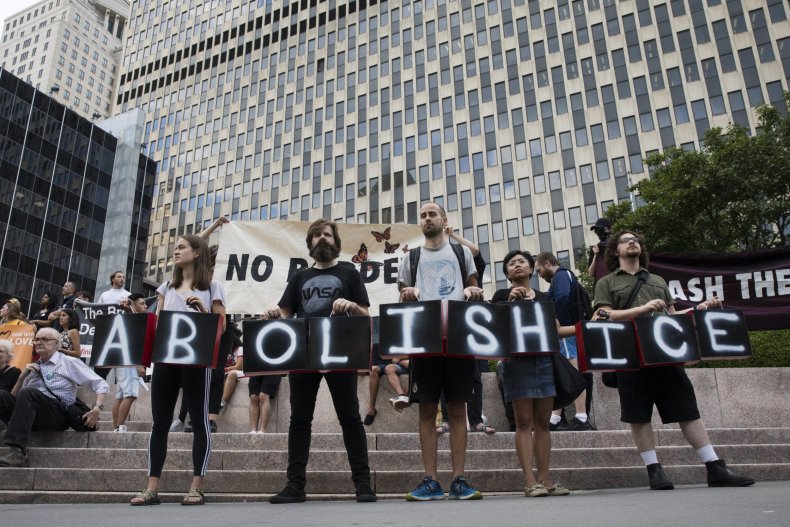 The Abolish ICE movement rose to prominence as the agency's role in enforcing the Trump administration's hardline immigration policies, including its "zero tolerance" family separation practice, came to light.
While the agency was not directly responsible for separating children from their parents at the U.S.-Mexico border, it did help transport the thousands of children that were taken into federal custody, as well as helping transport their parents to federal jails.
"Unfavorable" Views of ICE
Despite widespread protests calling for ICE to be abolished, only 37 percent of participants in the August survey said they hold an "unfavorable" view of the immigration agency. Thirty percent said that they had a "favorable" view of ICE, while 33 percent said they had no opinion of the agency at all.
Fifty-seven percent of Democrats said they viewed ICE unfavorably. The same percentage of Republicans said they did view the agency favorably. Independents were most likely to say they had "no opinion," with 46 percent of Independents stating that view.
Asked how the Trump administration was doing in its bid to reunite families separated at the border, 58 percent said they felt the government was doing "too little," while 33 percent said it was doing the right amount and a smaller eight percent felt it was doing "too much."
The vast majority of Democrats (85 percent) and independents (64 percent) said the administration was doing too little, while the majority of Republicans (64 percent) said it was doing the right amount.
Trump's Performance
What many Americans can agree on is their lack of support for President Donald Trump's handling of the issue of immigration overall.
Sixty-one percent of people surveyed said they disapprove of the U.S. leader's performance on the issue, compared with 38 percent who said they approve. "This number has remained virtually unchanged since February this year," researchers noted.
While participants were largely disapproving of Trump's record on immigration, a large number of those surveyed said they want to see levels of legal immigration into the U.S. stay the same.
Forty-two percent of participants said that they wanted the number of immigrants in the country to remain the same as it is now, compared with 29 percent who said the number should be increased and 28 percent who said they believe it should be reduced.
Republicans were most likely to say the number should be reduced, while Democrats were most likely to say the number of immigrants should be increased.
Regardless of party lines, however, about four in 10 of all three groups, Republicans, Democrats and independents, said they felt immigration levels should remain as they are.