Malaysia Calls For Cuts to Children's Movie 'Abominable' Over Map Showing South China Sea
Malaysian officials are calling for changes to the recently released animated feature Abominable, a children's movie about a bigfoot-like monster who befriends a group of children. The film has raised eyebrows internationally for a scene featuring map that places China's borders well into a disputed area in the South China Sea.
In addition to Malaysia and China, three other countries—Vietnam, the Philippines and Brunei—have each staked similar (and longstanding) claims to the disputed waters.
However, in 1947, China drew a new map which siphoned off a large, U-shaped territory of the sea, an area rich in natural resources. That border is recognized by some as the "nine-dash line."
"The animated film titled 'Abominable' has been given approval for screening in Malaysia under the condition that the controversial map is removed from the film," Mohamad Zamberi Abdul Aziz, chairman of the Film Censorship Board of Malaysia told Reuters ahead of the movie's scheduled November 7 release date in the country.
Malaysia follows Vietnam, which pulled the movie from theaters earlier this week, after voicing a similar complaint about the DreamWorks production.
"We will revoke [the film's license]," Ta Quang Dong, Vietnam's deputy minister of culture, sports and tourism, told the Thanh Nien newspaper on Sunday, according to Reuters.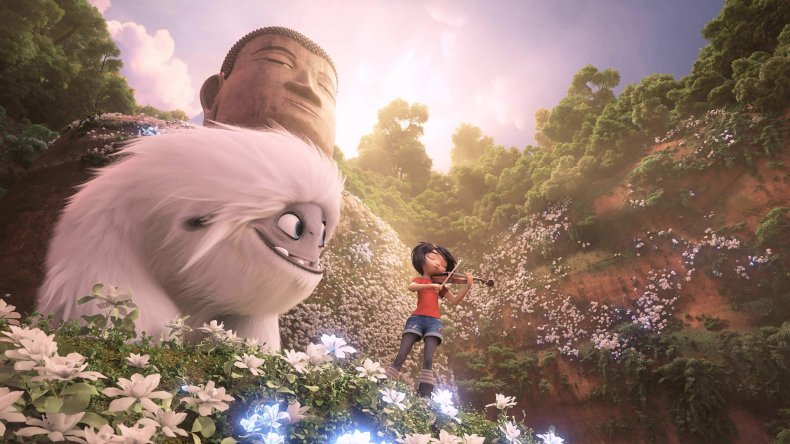 The movie itself is the result of a collaboration between DreamWorks Animation and China's Pearl Studio (formerly known as Oriental DreamWorks). Voiced primarily by actors of Asian ancestry, as noted by CNN, the film follows the story of Yi, a girl from Shanghai, who befriends an abominable snowman on the roof of her home. The map in question is seen briefly, pinned to the wall of her family's shed.
"We believe it is possible to tell stories that are culturally specific and also relatable to the globe," Pearl Studio Chief Creative Officer Peilin Chou, told The Los Angeles Times in a September interview. "Abominable is the perfect example of that."
Abominable was the first release from Pearl Studio, The Los Angeles Times reported: "Chief Executive Frank Zhu said the company aims to produce movies that cost $70 million to $80 million to produce. ... The company is looking to release one movie a year in the next three years or so but aims to eventually produce two films a year, which is standard for an established studio."
"Abominable has performed well in North America but poorly in China," Variety wrote. In the U.S., the movie has earned a reported $49.7 million following its nationwide release in last month. In China, where it opened in theaters October 1, the movie has made a reported $14.6 million.