Republican Lawmaker: Women Get Abortions for 'a Free Trip to the City'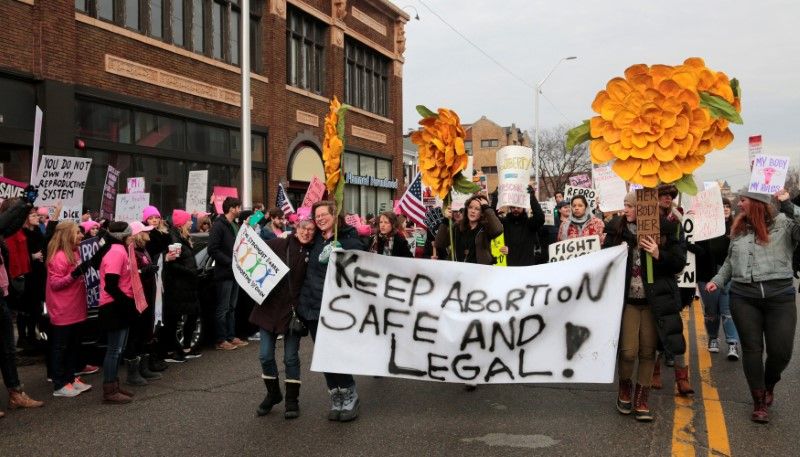 An Alaska politician has said women only want an abortion so "they can get a free trip to the city," becoming the latest state-level lawmaker to make mind-boggling comments about women's reproductive health.
"We have folks who try to get pregnant in this state so that they can get a free trip to the city, and we have folks who want to carry their baby past the point of being able to have an abortion in this state so that they can have a free trip to Seattle," State Representative David Eastman told the Associated Press Tuesday.
Eastman, a Republican who represents Wasilla—the hometown of former Alaska Governor Sarah Palin—spoke after he managed to include an anti-abortion message in an Alaska House resolution concerning sexual assault awareness and child abuse prevention earlier this week. Eastman has previously referred to abortion as "the ultimate form of child abuse." The resolution seeks to make April 2018 Sexual Assault Awareness Month and Child Abuse Prevention Month.
His comments about the "free trip" refer to the fact that Medicaid can cover travel to Washington state for women who need an abortion in their second trimester. In Alaska, second-trimester outpatient abortions are illegal. In November 2016, the American Civil Liberties Union, the Center for Reproductive Rights and Planned Parenthood jointly filed a lawsuit against a number of states, including Alaska, stating that the ban on second-trimester abortions presents a significant burden for women in the state.
Related: Oklahoma politician calls pregnancy from rape 'beauty from the ashes'
Speaking to KTVA, a local CBS affiliate, Eastman said that there is a "direct connection between sexual assault and child abuse" and that it's "important to talk about the fact that we are dealing with child abuse, and certainly without mentioning abortion, we would not be doing justice to child abuse."
Alaska House Minority Leader Charisse Millett, also a Republican, spoke out against Eastman's comments and said she hopes he reflects on them. Representative Dean Westlake, a Democrat, said Eastman's suggestion that a woman would "barter an unborn child's life for a trip somewhere" is "beneath us."
Eastman, who was previously the single "no" vote in the Alaska House on bills honoring Lao and Hmong veterans of the Vietnam War, isn't the first state lawmaker to draw strong criticism for his tone-deaf statements on women's health. Earlier this year, Oklahoma Representative George Faught, a Republican, said that abortion from rape or incest could be seen as "beauty from the ashes" and might be God's will. Iowa Representative Shannon Lundgren, a Republican, had to walk back comments she made about women who have miscarriages having to carry their fetuses to term. Those comments were made during a debate on a 20-week abortion ban in the state.
And at the national level, U.S. Representative John Shimkus, a Republican from Illinois, questioned in March why men should pay for prenatal care during a debate about repealing the Affordable Care Act. The U.S. House passed the American Health Care Act, the ACA's replacement, on Thursday. It now heads to the Senate for debate.