In Kentucky, This Is What the War on Abortion Rights Looks Like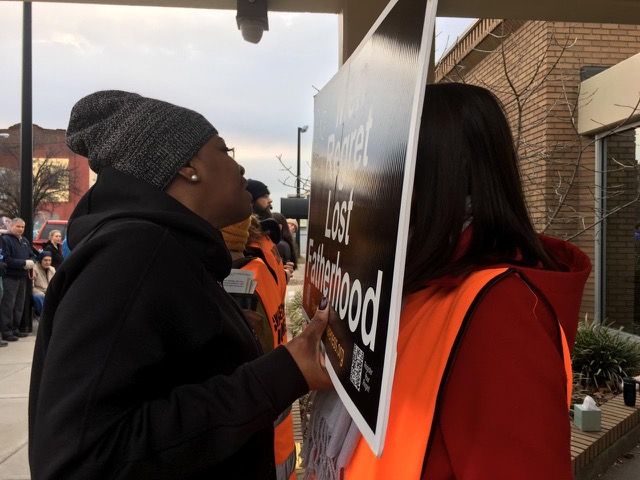 Saturday is usually the busiest day for protests outside EMW Women's Clinic in Louisville, the last remaining abortion provider in Kentucky that came dangerously close to shutting down last week.
As women walk to and from the clinic and the parking lot, volunteers dressed in bright orange vests walk alongside them, forming a human barrier against an angry and increasingly violent mass of protesters yelling hateful remarks and waving signs. One protester likes to shove her sign into the escorts' faces. Another, known as Backwards Bob, preaches at the women as he walks backwards in front of them, forcing himself into their line of vision.
Kate Lafferty, a graduate student and volunteer at the clinic, says escorts are posted at different points in a one-block radius around the clinic where patients walk, including on street corners or in an alleyway that leads to a parking garage. On a Saturday in late March, Lafferty was one of 45 escorts at EMW protecting the women seeking abortions from roughly 75 yelling, crying and preaching protesters.
"We're always in sight of one another," she says. "You see the familiar [protesters] and it's definitely shocking."
A federal judge ruled this week that the Kentucky clinic serving thousands of women annually can stay open—for now. But state lawmakers are looking to shut down the facility in a move that would make Kentucky, which already has some of the strictest laws limiting women's reproductive healthcare, the only state in the nation without an abortion clinic.
The battle in Kentucky reflects renewed efforts across the nation from Republican-led state legislatures and a GOP majority in Congress to limit women's right to abortion access. The assault is also coming from the new White House, where President Donald Trump signed a bill Thursday allowing states to withhold federal Title X family planning funding from Planned Parenthood and other clinics that provide abortions.
"Those of us who have been involved with access to abortion since the 1970s know that we're more facing pre-Roe v. Wade days now than making any progress," says Kate Cunningham, president of A Fund, an all-volunteer organization that has been helping Kentucky women pay for abortions since 1993. "Before Roe, there were women driving through the night to take women from Louisville to New York to access abortion. We hope and trust we don't have to go back there, to those days, but that's where we are. It's so tough."
In Kentucky, lawmakers argue that the Louisville clinic violates state requirements that such facilities have emergency medical agreements with a hospital and an ambulance service. Abortion rights activists note these kind of rules are excessive and not medically necessary, and in March, the American Civil Liberties Union filed a lawsuit on behalf of the Louisville clinic to try to keep it open.
U.S. District Judge Greg Stivers issued a temporary restraining order in March against the state of Kentucky, which had threatened to shut down the clinic on April 3. That move would have made Kentucky the first state without a legal provider. Stivers then signed an order Monday to keep the clinic open until the lawsuit is resolved, and the clinic's license has been renewed through May 31, 2018. The trial is set to begin in the first week of September.
If Kentucky does become the first state to lose all providers, it would result in even bigger barriers for women, says Elizabeth Nash, state issues experts at the Guttmacher Institute, a reproductive rights think tank based in New York. Not only will women have to travel longer distances to receive care, but clinics in surrounding states will have a bigger demand that will likely result in longer waiting times for an extremely time-sensitive procedure.
"Travel costs money, so do hotel rooms," says Nash. "Not everybody gets paid time off. Essentially, you would be losing out on earning money. It balloons."
But order or not, getting a termination remains an enormous challenge in Kentucky. Lafferty, 29, has been escorting at EMW for the past four months with her husband, Patrick Danner. Originally from New Jersey, she says it was a jolt to arrive in Kentucky and see how difficult it is to obtain an abortion compared to her home state and most of the northeastern United States.
"Having people preaching at you, holding up signs," she says. "That was definitely a shock to me."
Lafferty says she's been called a murderer and told by protesters that women's bodies are only good for one thing: reproducing. "Clients are quite shocked" by it, too, she says.
Fausta Luchini, 61, has volunteered as a clinic escort at EMW for the past eight years. During that time, she has seen the situation outside the clinic deteriorate as protesters have become increasingly aggressive. Photos sent by Luchini to Newsweek show protesters shoving large signs in escorts' face, or getting uncomfortably close.
"The goal of escorts is to hold space for the client so the client is empowered to do what they want to do. That means that we really ignore, or do the best we can to ignore, the protesters," says Luchini. "Many clients are really upset. Being with somebody and doing that walk with somebody who is crying, who is just in distress; emotionally, it can be difficult that way."
"Chasers," or protesters who follow patients and talk, preach or cry at them, all while invading their personal space, are another issue for Luchini and the women she escorts. "One in particular likes to walk in front of them and walk backwards," she says. "We call him Backwards Bob."
Once, the protesters discovered Luchini's name, Googled her and found her mother's obituary, which was read out to her during an escorting session.
"That was kind of bizarre," she says. "That was unsettling."
Related: Kentucky's last clinic saved from 'imminent closure'
Part of Luchini's job as an escort is figuring out the safest way to move patients from their car to the clinic while avoiding protesters who have become increasingly aggressive. Although there's an eight-foot safety barrier between the clinic and the protesters, EMW opens onto the street, meaning demonstrators can essentially stand anywhere except inside the building. The majority of the patients Luchini escorts come from Kentucky, although some travel from Indiana, which has 11 abortion clinics in all, but only 44 percent of all women live in counties with such facilities.
A spokesperson for the Psalms 82 (P82), a Christian anti-abortion group with a strong presence outside the Louisville clinic, tells Newsweek that its members are "not surprised at all by the judge's order to keep [EMW] open. We expected it." The group is known to film clients as they go to their appointments, says Lafferty.
Nash says Kentucky is one of seven states that have a single abortion provider left, joining West Virginia, North Dakota, South Dakota, Missouri, Mississippi and Wyoming. It's part of a decades-long decline in abortion providers, whether it's due to better access to contraceptives — and therefore fewer unintended pregnancies and fewer abortions — or state-level regulations that have kept new doctors from becoming abortion providers.
"The political landscape has changed in Kentucky and the Legislature has now made it its business to not only restrict abortion access through legislation, but also restrictions to family planning services," says Nash, citing a recent law in Kentucky allowing the state to withhold state funds to clinics, including Planned Parenthood, that provide only family planning services. "There's a real landscape change for reproductive health in Kentucky."
Kentucky women unable to pay for a termination in their home state can obtain help from Cunningham's A Fund. Last year, the organization helped 416 Kentucky women pay for abortions in seven states, including Kentucky; in 2015, that number was 314, says Cunningham. The average fiscal assistance provided by A Fund last year was $114, ranging from payments of $50 to $2,000.
"Many women find it more geographically convenient to go out of state for an abortion than come to Louisville," says Cunningham.
Women in western Kentucky might go to Granite City, Illinois, while those in Bowling Green might go to Nashville, Tennessee. Women in northern Kentucky tend to travel to Cincinnati and Dayton, Ohio for their abortions, and women in southeastern Kentucky go to Knoxville, Tennessee.
"Those states also have rather arduous so-called informed consent requirements, so women have to go and stay for a couple of days or make a couple of trips," says Cunningham. "There's nothing easy about it."
Don Cox, a lawyer for EMW, is looking ahead to the first week of September, when the court case is set to begin. He says it's "irrational that we should have to waste our time and effort dealing with stupid regulations and statutes like these."
Cunningham, in the meantime, says she's working with escorts and others to try and establish at 20-ft safety zone at the clinic's entrance to better protect the "heroic" volunteers. Until then, EMW escorts will continue donning orange vests and walking women to the clinic doors, protecting their constitutional right to have a termination.
"When a woman comes to EMW to get an abortion, she has already overcome some tremendous barriers," says Luchini. "The protesters are just the last hurdle. They don't see themselves that way, but that's all they are."
"It's the last thing they gotta conquer."