Abortion in America: Protesters Face Harassment Suit in New York After Hurling Death Threats and Harming Women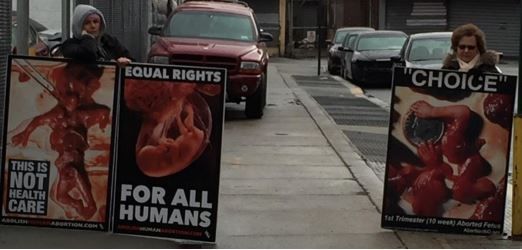 The protesters grab and touch women who are trying to reach the medical clinic. They pin women against parking meters or the walls of the clinic. When women arrive by car, some protesters use their bodies to block the vehicle's doors and push their heads and hands through open windows as they try to get their anti-abortion literature inside. The protesters even intimidate the frightened women with death threats and ugly statements like, "Don't go in there, they will convince you to kill your baby—that's how they make money."
Such actions outside Choices Women's Medical Center in the borough of Queens, in New York City, are described in a federal lawsuit filed against the protesters Tuesday by New York State Attorney General Eric Schneiderman. "The tactics used to harass and menace Choices's patients, families, volunteers and staff are not only horrifying—they're illegal," Schneiderman said in a statement. "The law guarantees women the right to control their own bodies and access the reproductive health care they need, without obstruction. We'll do what it takes to protect those rights for women across New York."
While escorts arrive at dawn to shield the patients from the protesters, women are regularly shaken and scared once they enter the clinic, with some delaying their appointments because they are crying, trembling and in need of counseling, states the Brooklyn federal court suit.
The protesters have gotten more aggressive over the past year, but police officers have told Choices staffers they can't intervene unless they personally witness a crime being committed. The suit seeks to bar the defendants from protesting within 16 feet of Choices or physically blocking or threatening the people trying to reach the clinic.
The lawsuit names 14 defendants, who it says are part of a loose alliance associated with churches in Brooklyn and Queens. Kenneth Griepp, the senior pastor at Church at the Rock, a nondenominational Christian church in Canarsie, Brooklyn, has led about two dozen other church members in weekly protests outside Choices since 2012, during which he and other church members hold up signs and block the paths of women trying to enter the clinic. They sometimes make violent threats to patients and escorts, the suit says, and spout bogus facts about the connection between abortion and suicide.
"Some patients who manage to make it past the protesters still have difficulty accessing care because they arrive at the clinic shaking and crying," the suit states, adding that counselors must spend more time dealing with patients on the days when the protesters are outside. "The trauma that defendants inflict on patients is exemplified by one patient's statement to staff after encountering defendants on the sidewalk: 'The people outside told me I could die, and now I'm scared of being put to sleep.' "
A woman who answered the phone at Church at the Rock on Tuesday afternoon denied any physical contact or threats outside Choices. "We're there to advocate for the lives of the babies being killed in the mothers' wombs," said Lois, who declined to give her last name. She said the church members weren't there as protesters but as advocates to offer help and alternatives to women who think an abortion is their only choice: "There have been woman who are going in to have an abortion, they're crying, they don't want to have an abortion, they are the ones we are there for."
Choices was founded in 1971, just after New York State legalized abortion and two years before Roe v. Wade. It was one of the first outpatient abortion centers in the U.S., and today it provides routine gynecological care, pregnancy screening and prenatal care, depression screening and alcohol and substance abuse counseling, the suit states. The clinic also provides both medical abortions for women up to 10 weeks of gestation and surgical abortions in both the first and second trimesters.
The lawsuit alleged multiple instances of extreme behavior by the protesters, who have referred to events in which many people have died, like 9/11 or an airplane crash, and told patients, "You can die any minute," or, "You never know when you are going to die." The protesters also seem to energize onlookers in frightening ways. On a March day last year, a passerby spoke with a Church at the Rock member and then yelled at an escort, "You are going to burn in hell, you redheaded slut," and, "I hope a [racial epithet] fucks you." A construction worker who spoke with the protesters threatened the escorts, whom the protesters call "deathscorts," in March by yelling, "I'm going to burn this place down," and "You should all die."
On May 6, a protester identified only as Sharon Doe followed a patient so closely while trying to hand her anti-abortion literature and repeating, "Don't kill your baby," that she stepped on and broke the patient's sandal. The suit states, "The patient, who was already visibly upset as she turned onto 147th Place, began to openly weep with frustration at having lost her shoe and the ongoing harassment."