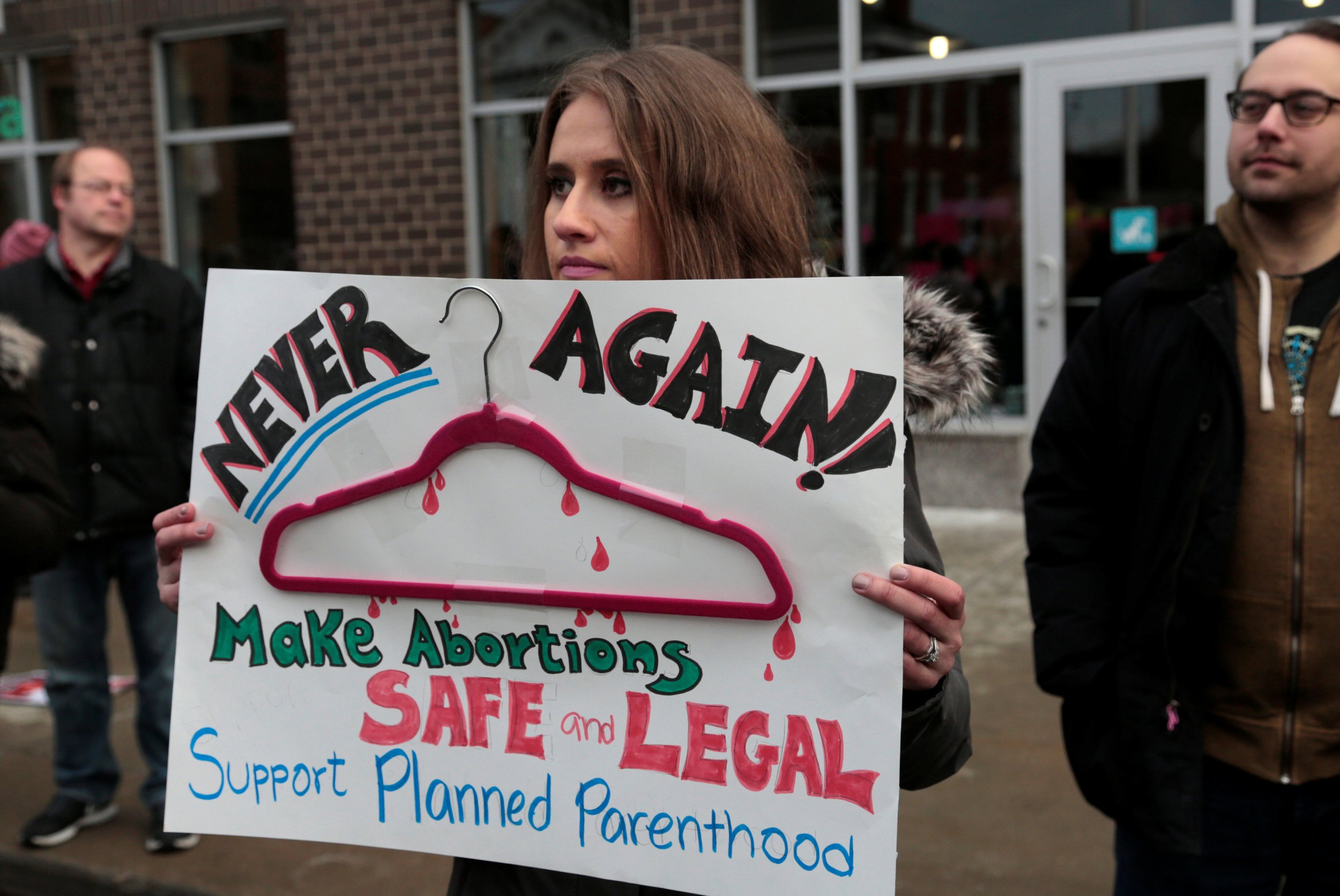 While defending an anti-abortion bill, an Oklahoma lawmaker this week said pregnancies caused by rape and incest could be seen as God bringing "beauty from the ashes."
Representative George Faught was speaking during testimony on House Bill 1549, which would ban abortion if the decision to undergo the procedure is based only on the fetus being diagnosed with an abnormality or having the potential to develop one. Under the bill, doctors who performed an abortion anyway in such cases would have their medical license suspended or revoked, and would be fined $10,000 for the first procedure, $50,000 for the second and $100,000 for the third.
The bill passed the Oklahoma House on Tuesday and now heads to the state Senate.
Asked by Representative Cory Williams, a Democrat, if rape is the will of God, Faught replied: "Well, you know, if you read the Bible, there's actually a couple of circumstances where that happened, and the Lord uses all circumstances. I mean, you can go down that path, but it's a reality, unfortunately."
Related: 'Abortion: Stories Women Tell' is the documentary America needs
Williams then asked Faught, a Republican, if incest is the will of God, to which he replied: "Same answer: Doesn't deal with this bill." Williams pushed back, explaining that was a fair question about the bill, as the legislation includes no abortion exceptions for rape or incest.
"Obviously, if it happens in someone's life, it may not be the best thing that's ever happened, you know, but you're saying that God is not sovereign with every activity that happens in someone's life, and can't use everything and anything in someone's life, and I disagree with that," said Faught.
Despite being an elected public official, Faught's tweets are private, and his Facebook page appears to have been deactivated. Oklahoma radio station KFOR reports that Faught "refused to go on camera about his bill" and instead sent a statement.
"Life, no matter how it is conceived, is valuable and something to be protected. Let me be clear, God never approves of rape or incest," Faught said in his statement. "However, even in the worst circumstances, God can bring beauty from ashes."
In Washington, meanwhile, President Donald Trump was tweeting about abortion and Planned Parenthood on Friday morning as Congress was preparing to vote on the American Health Care Act, the GOP's proposed replacement for the Affordable Care Act, better known as Obamacare. The Republican bill would block women who use Medicaid or other federal subsidies from getting health care at Planned Parenthood facilities. Because federal dollars are not used to fund abortions in the U.S., however, critics say the main effect would be to block low-income women from getting preventative health care such as birth control, breast exams and cervical cancer screenings at Planned Parenthood.
So while Planned Parenthood would likely have to close some clinics if it lost federal Medicaid reimbursements, it would not shut down entirely.
Seemingly unaware of this distinction, Trump tweeted: "The irony is that the Freedom Caucus, which is very pro-life and against Planned Parenthood, allows P.P. to continue if they stop this plan!" The House Freedom Caucus is a group of conservative Republican lawmakers who have pushed for a more stripped-down version of the bill.
"While the President tweets and plays politics, we're busy fighting to save health care that 1 in 5 women rely on," Dawn Laguens, executive vice president of the Planned Parenthood Federation of America, said in a statement responding to the tweet. "You cannot call yourself pro-family and slash maternity care. You cannot claim you want to invest in women's health and block access to Planned Parenthood and essential women's health care. Negotiating away access to cancer screenings, birth control and maternity care is not 'pro-life,' it's cruel."
The Oklahoma House passed its bill days after the Texas House passed a bill that would allow doctors to omit sharing with patients information about fetal abnormalities discovered during ultrasounds if they think it would lead to a woman having an abortion. Abortion advocates see the bill as allowing doctors in Texas to lie to their patients.
Oklahoma previously made headlines for a questionable stance on reproductive rights after the House debated a bill that would require "the father of the fetus" to provide written consent if a woman wants to have an abortion. Oklahoma state Representative Justin Humphrey, who introduced the bill, has previously referred to pregnant women as "hosts" for fetuses.