Arkansas Governor Signs Law Banning Most Abortions if Supreme Court Overturns Roe v. Wade
Arkansas Governor Asa Hutchinson signed legislation that will prohibit most abortions in the state if the Supreme Court overturns the landmark 1973 Roe v. Wade decision.
With the governor's signature on Tuesday, Arkansas joined Louisiana, Mississippi, North Dakota and South Dakota to become the fifth state to have a so-called "trigger" abortion ban, according to the Associated Press.
The bill only permits abortion if the mother is in life-threatening danger but not for cases of rape or incest.
The state legislature approved SB149 last week with a vote of 72-20 and eight members abstaining, according to NPR affiliate KUAR.
Republican Representative Dan Douglas said he thought the legislation was too extreme.
"I am pro-life, but I'm pro-humanity too. I feel like this bill goes too far," he said. Douglas asked Republican Representative Mary Bentley, who sponsored the legislation, about the bill's prohibition on abortion even when a medical anomaly is present. He talked about his niece discovering that her child would die within days of being born.
Bentley said that the bill would prohibit an abortion in such circumstances and that "miracles still happen, and I've seen miracles in this hospital too many times." She talked about a friend with an sick child who prayed for the young boy.
"I can tell you that Zachary is a healthy little boy of 4 years old, and there's absolutely no medical reason why Zachary is a healthy boy," she said.
The state currently bans abortion 20 weeks into pregnancy. A different bill, which would prevent abortions after 18 weeks of pregnancy, easily passed through a House Committee on Tuesday, the Arkansas Democrat-Gazette reported.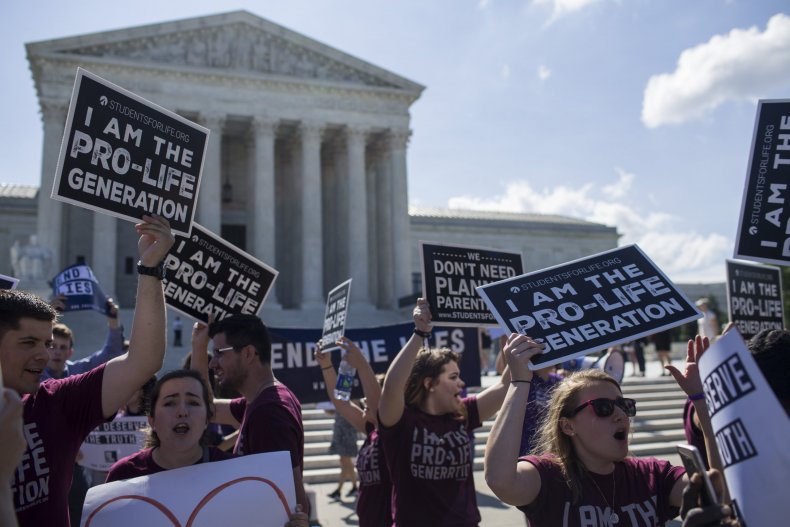 Democrats and pro-choice advocates have worried that, with the addition of Justice Brett Kavanaugh to the Supreme Court, the judicial body will overturn Roe v. Wade.
During his contentious confirmation hearings, the newest justice was pressed on his views regarding the landmark abortion ruling. He did not directly answer when questioned about whether he thought the case was correctly decided.
"One of the important things to keep in mind about Roe v. Wade is that it has been reaffirmed many times over the last 45 years, as you know, and most prominently, most importantly reaffirmed in Planned Parenthood v. Casey in 1992," he said.
If Roe v. Wade is overturned by the Supreme Court, 22 states are likely to ban abortion, Amy Myrick, a staff attorney for the Center for Reproductive Rights, told NPR in July.