On The Ground at Focus on the Family's Anti-Abortion Rally in Times Square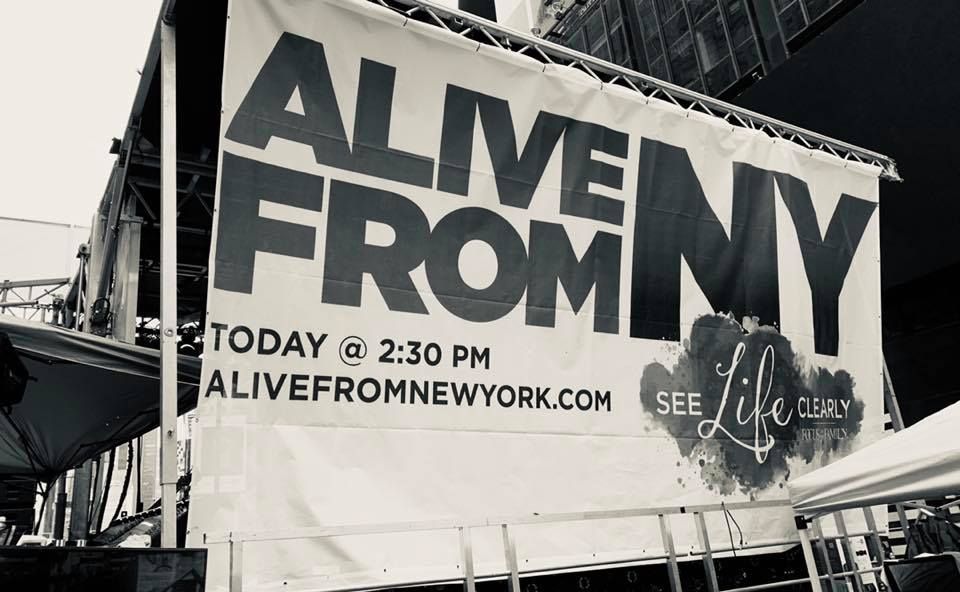 Thousands of anti-abortion activists filled the heart of Times Square on Saturday for Focus on the Family's livestream viewing of a sonogram and rally in support of abortion restrictions. Focus on the Family, a conservative Christian group that advocates against abortion and LGBT rights, provided rallygoers with live entertainment and speeches from popular conservative figures.
"This could be the moment. This could be the day. This could be the start of what changes everything," Christian musician Francesca Battistelli preached to attendees.
"Psalm 39 says that He formed us in our mother's womb. So, I stand for life," Candice MacWilliam, from Dumont, New Jersey, told Newsweek at the "Alive from New York" rally.
"The fact that they can now kill a baby even after the baby's born… it's heartbreaking," she elaborated. "That's what I've heard they're trying to do."
Misinformation, such as the post-birth homicide myth, percolated through casual conversation with rally attendees. Many cited the conservative film "Unplanned" as a turning point in their conversion to anti-abortion advocacy. The movie is an adaption of Abby Johnson's memoir, where she recounted her experience resigning from a position at Planned Parenthood and taking up the cause of the anti-abortion right.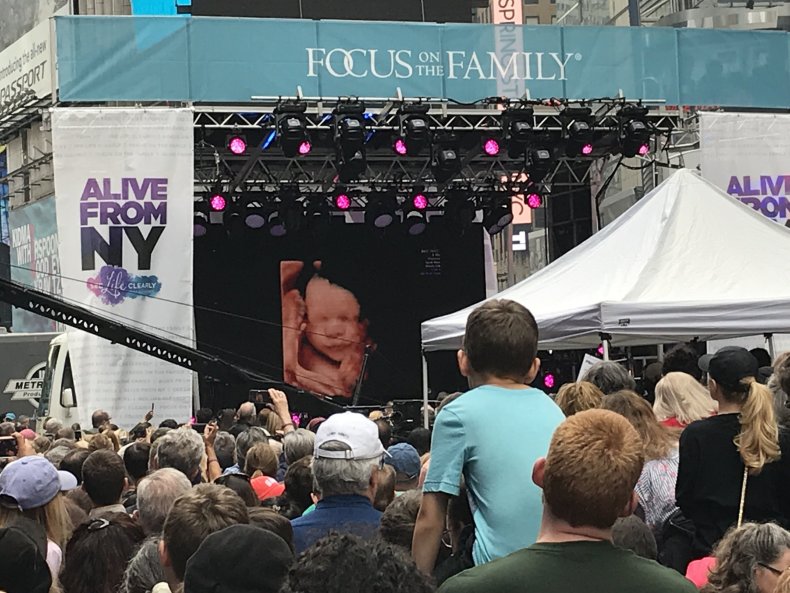 Steph Herold and Gretchen Sisson, who study the depiction of abortion in popular culture, wrote that the movie "relies little on good filmmaking and much more on a heavy-handed combination of religious redemption, misinformation, shock and gore and traditional ideas of gender and family."
"I've had an abortion, and God woke me up night after night showing me that it was wrong," a woman named Ethel, holding an "Equal Rights for Babies in the Womb" sign, told Newsweek. "I started educating myself. I started getting on the internet and watching late-term abortions. You can find it all online now. You couldn't when I was young."
The ease of access to material about abortion, from sources of any quality and caliber, has completely changed the game in the abortion debate.
YouTube has been criticized for the prominent display within its search results of videos that spread misinformation about abortion. The site's algorithm is known for recommending conspiracy videos to unsuspecting users, corrupting the quality of information a YouTube user encounters and increasing that user's chances of locating additional misinformation.
Against a media ecosystem that can radicalize ill-informed users and an organized conservative messaging campaign that has tended to frame the abortion debate in a favorable way, pro-choice activists have struggled to mount an effective response.
"Our side has done a very poor job of fighting for abortion," Kate Castle, an abortion activist protesting the "Alive from New York" rally, told Newsweek. "The problem is that we're always on the defense. We're always minimizing abortion. [We need] to bring back a movement that is proud of fighting for abortion access."
Just beside an overflow rally a few blocks from the main event, Castle and a handful of abortion-rights supporters tried to drown out the sound from the event's stadium speakers, which were broadcasting the narration of an ultrasound that Focus on the Family was livestreaming. Rallygoers weren't perturbed. Their attention clung to the screen in front of them, rapt by the soft feminine voice that was cooing over the sonogram.
The relative success of the anti-abortion crowd, who greatly outnumbered the counter-protesters and remained long after the majority of them had dispersed, was palpable, even for the event's detractors.
"I think there's a lot of money in it. Vice President [Mike] Pence endorsed them. There's a lot of money and celebrity with them," Megan, a pro-choice advocate from Hyde Park, told Newsweek. "I happen to be a Christian. It breaks my heart that people who are Christian are saying that women who access abortions are bad and evil and that abortion is not a health care issue. It is a health care issue."