The Vatican's stance is firm: "Abortion is homicide," Pope Francis said on Wednesday. But the Catholic leader also urged compassion for politicians who support abortion rights.
Speaking to reporters on a flight back to Rome from Slovakia, Pope Francis, 84, was steadfast in his belief that abortion should be classified as murder. His comments came while addressing whether or not Catholic politicians like U.S. President Joe Biden or House Speaker Nancy Pelosi should receive Communion if they back abortion rights.
"The problem of abortion, abortion is more than a problem, abortion is murder," he said. "Scientifically, it's a human life. The textbooks teach us that. But is it right to take it out to solve a problem? And this is why the Church is so strict on this issue because it is kind of like accepting this is accepting daily murder."
The pope further stated that he believes an embryo is "a human life" and that "abortion is homicide," according to CBN News. PopeFrancis also praised Catholic activism to end abortions.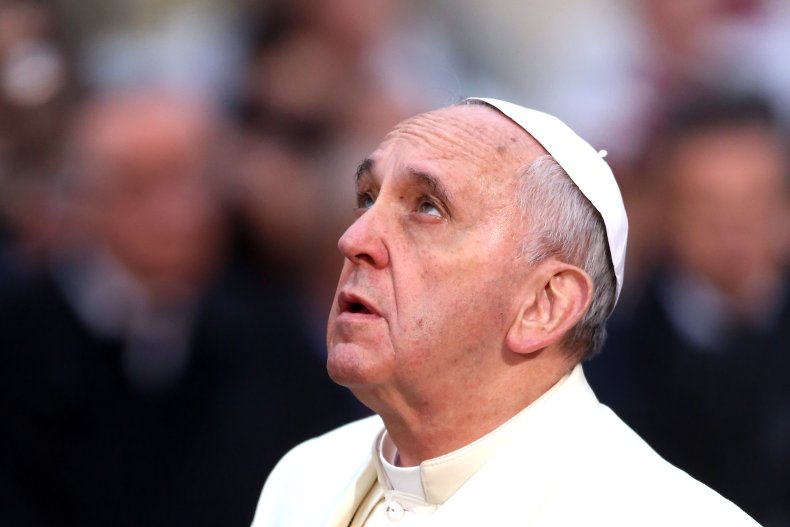 However, he called on Catholic bishops not to condemn politicians who support the medical procedure, but to treat them with "compassion and tenderness."
Pope Francis did not directly respond to the reporter's question about withholding communion to politicians who support abortion rights but said that he's never denied the Eucharist from anyone. He elaborated that he's never knowingly given Communion to someone who supports abortion rights but did admit he gave it to an elderly woman who later said she was Jewish.
Since at least 2004, but also after the last election, there has been a discussion amongst U.S. bishops about denying communion. In June, the U.S. Conference of Catholic Bishops agreed that a committee would draft a statement on what Communion means in the life of the church that will be submitted for consideration, probably an in-person gathering in November, according to the AP.
However, Francis added that Catholic priests should not give Communion to someone who's not aligned with the beliefs of the church, such as someone who's drifted from the practice despite being baptized or is a member of another faith, like Judaism.
Biden, who's been called a "devout Catholic" by the White House, has previously said that he doesn't agree human life begins at conception when speaking at a press conference regarding the Texas Heartbeat Act.
"I respect people who don't support Roe v. Wade, I respect their views," the president said. "I respect those who believe life begins at the moment of conception and all—I respect that, don't agree, but I respect that. I'm not gonna impose that on people."
The pope said the debate is not a theological problem but a pastoral one.
"If we look at the history of the church, we can see that every time the bishops did not act like shepherds when dealing with a problem, they aligned themselves with political life, on political problems," he said. "What should the pastor do? Be a shepherd, do not go around condemning...but be a pastor. But is he also a pastor of the excommunicated? Yes, he is the pastor, and...he must be a shepherd with God's style. And God's style is closeness, compassion, and tenderness."
Catholics for Choice, an abortion-rights Catholic advocacy group, provided Newsweek with a copy of a statement issued by President Jamie L. Manson. She said that the organization believes in the central message of faith that can be found in Jesus' command to feed others, welcoming all to his table.
"The United States Catholic bishops should follow the example of the pope, who has never denied Communion to anyone, and drop their unholy crusade to weaponize the Eucharist against President Biden and other pro-choice Catholics," Manson wrote.
She continued, "That said, we were disappointed to hear Pope Francis use deeply stigmatizing words about abortion, calling it 'homicide.' We implore the pope to bear in mind that some of the most important theologians throughout the church's history, including St. Augustine and St. Thomas Aquinas, supported abortion as a moral choice within the first trimester. But even more importantly, we entreat him to remember that, in the United States, one in four women has an abortion. Using the language of murder is not only exaggerated and unscientific—it also creates profound shame among people of faith who have needed or chosen abortion care. These kinds of condemnations are not consistent with the 'culture of encounter' that he has called for within the church."
Updated 09/16/2021, 7:42 p.m. ET: This article has been updated to include additional comments from Catholics for Choice.