Abortion New Flashpoint for Democratic Factions As Joe Manchin Digs in on Hyde Amendment
Sen. Joe Manchin (D-W. Va.) has presented another potential roadblock to Democratic hopes of passing President Joe Biden's Build Back Better plan by demanding that a ban on federal abortion funding be included in the legislation.
Manchin recently said that including the Hyde Amendment, which bans federal funding for most abortions, was "a red line" to him supporting the bill, according to CNN. The senator's anti-abortion stance puts him at odds with most of the party and especially progressives, who strongly support abortion rights.
Manchin declared his hard-line demand that the Hyde Amendment would need to be included in any version of the bill that he would support last week, telling the conservative magazine National Review that the legislation would be "dead on arrival if that's gone."
While Senate Majority Whip Dick Durbin (D-Ill.) would not rule out including the provision, progressives reacted by indicating that Hyde's non-inclusion was a condition of their support. Rep. Pramila Jayapal (D-Wash.), chair of the Congressional Progressive Caucus, said that she would not vote in favor of a version of the bill that included the amendment.
"Let's just wait, this is a negotiation and we've got to continue to move this forward, but the Hyde Amendment is something that the majority of the country does not support," Jayapal told CNN on Sunday. "One in four women have had an abortion and need to have reproductive care in a very, very important time when those protections are being rolled back."
"That is nobody's business," she added. "It is our business as people that carry the babies. And you know, we have to be able to make the choices during our pregnancy."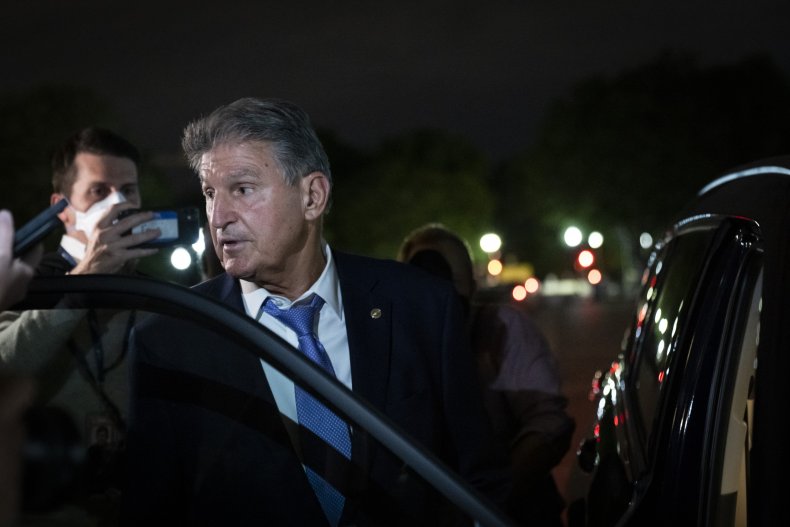 White House Press Secretary Jen Psaki refused to directly address Manchin's demand during a Monday press conference, saying that she would not "negotiate" the bill herself. However, she said that Biden "opposes the Hyde Amendment" and that his position had "not changed" in response to Manchin's demand. Biden formerly supported the amendment but changed his position while campaigning in 2019.
Newsweek reached out to the White House for comment.
Manchin has also demanded that the Democratic spending bill have a price tag no larger than $1.5 trillion, far less than both the $3.5 trillion progressives had favored and the $4 trillion that Manchin said he would support earlier in the year. Progressives have indicated that they are willing to lower the amount but have rejected Manchin's demand, with Jayapal saying that the $1.5 trillion limit was "not going to happen."
Although Democrats have a slim margin for dissent in the House, no such margin exists in the Senate, where they hope to pass the bill using the budget reconciliation process. Since no Republican support is expected in an upper chamber split 50-50, the vote of Manchin and fellow moderate Sen. Kyrsten Sinema (D-Ariz.) will be essential for the bill to have any chance of passing.