Abortion Rights Advocates Say Nationwide Protests Were Only The Beginning As They Target Laws In Court and at Polls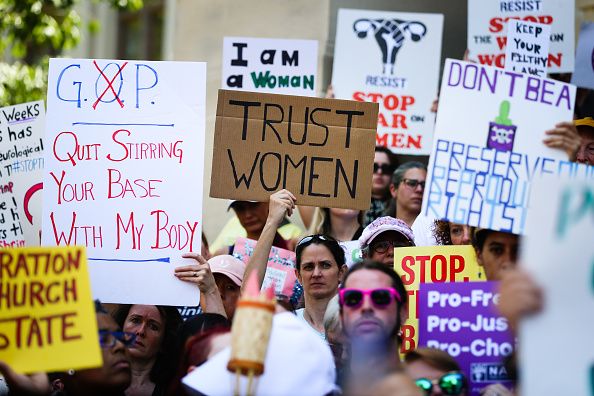 Reproductive choice groups say Tuesday's nationwide protests were just the beginning as they set their sights on challenging the recent wave of near-total abortion bans both in court and at the polls.
"Lawmakers need to listen to all of those grass-roots activists out in the streets yesterday, because they will most certainly be voting come November," Toni Van Pelt, president of the National Organization for Women, told Newsweek. "The fact is, the majority of voters support access to safe, legal and affordable abortion care."
The National Day of Action to Stop the Bans featured more than 500 rallies in all 50 states, as well as Washington, D.C., and Puerto Rico. Over 3 million activists and numerous lawmakers participated in events. Several Democratic presidential candidates who have condemned anti-abortion legislation were spotted at a rally in front of the Supreme Court.
Advocacy groups are looking to build off this wave of activism as they prepare to fight against a number of recently passed laws in conservative states like Georgia and Alabama that restrict a woman's access to abortion services.
"That energy is not lost on the Republicans, who know that time is not on their side," Ilyse Hogue, president of NARAL Pro-Choice America, told reporters in a press call on Wednesday.
"That is why they are pushing this draconian legislation now while they have the White House and they believe they have the courts," she added.
The American Civil Liberties Union, Planned Parenthood and other groups have already filed lawsuits in Kentucky and Ohio, where Republican legislatures passed restrictive anti-abortion measures. The Kentucky bill prohibits abortion after six weeks of pregnancy, while the Ohio law bans the procedure after a fetal heartbeat can be detected.
Similar lawsuits are being prepared against Alabama and Georgia after the two states passed some of the nation's strictest anti-abortion laws earlier this month.
Alabama's law makes it a felony, punishable by up to 99 years or life in prison, for a doctor to perform an abortion. The only exception would be if a woman's health is at serious risk. The Republican-controlled Legislature that passed the bill rejected a proposal to add exceptions for cases of incest and rape.
Even President Donald Trump has implied that Alabama went too far with its abortion law. In a series of tweets after the law's passage, the president wrote that his view "is the same position taken by Ronald Reagan" and said that abortion should be legal following rape or incest.
Abortion rights groups are also preparing to support candidates who can challenge GOP lawmakers in states that voted for these policies. They hope that picking up enough legislative seats from Republicans will create a "chilling effect" on the wave of anti-abortion laws.
While Georgia Governor Brian Kemp is not up for re-election until 2022, all 56 state Senate seats will be up for election in 2020. Right now, Republicans hold a 35-21 majority in the chamber.
Kentucky is gearing up for what is likely to be a contentious gubernatorial election this fall, as Democrat Andy Beshear aims to defeat incumbent Matt Bevin. Bevin's administration has repeatedly attempted to shut down the state's only abortion clinic. Beshear has been endorsed by NARAL Pro-Choice America.
Abortion rights groups are also targeting lawmakers who defended the confirmation of Supreme Court Justice Brett Kavanaugh and claimed that the landmark decision Roe v. Wade was not in danger of being overturned because of his appointment.
As the court challenges and elections unfold, many groups have already taken steps to educate future activists on abortion issues. The National Organization for Women launched a social media campaign to provide information on how women can support access to safe, affordable abortions.
"People realize that Roe is under real threat and that women will suffer as a result, in particular women earning lower incomes and women of color," Van Pelt said. "We need to continue to provide fierce resistance to abortion restrictions at local, state and national levels."