Abortion-Rights and Anti-Abortion Protesters Clash in Poland Following Strict New Laws
Thousands took to the streets in Warsaw to protest a top court decision to tighten strict abortion laws in the predominantly Catholic nation.
It was the fifth day of protests across Poland against a Constitutional Court ruling which no longer allows women to terminate pregnancies due to fetal abnormalities and only legalizes the practice in cases of rape, incest or threats to a woman's health.
Women's rights activists expressed their fury at the decision and gathered on Sunday outside the house of Jarosław Kaczyński, the leader of Poland's right-wing ruling party.
Many slammed the ruling as "a war against women" and held signs and banners that read "You Have Blood on Your Hands" and "You are Building Women's Hell" in photos and videos shared widely across social media.
The Polish Women's Strike (OSK), a group behind the abortion-rights demonstrations, led activists towards Trzech Krzyży Square [Three Crosses Square] where they were met with a heavy police presence.
Women and men sounded horns and released firecrackers to block rush-hour traffic at a number of major roundabouts in the capital.
Some women took off their shirts to stand topless on cars, holding banners calling on the right-wing government to step down.
Stun guns and tear gas were used to disperse the crowd and more than a dozen people were detained, RT reports.
"In the Three Crosses Square, officers were attacked by throwing various objects at them. We made it clear that we would protect our policemen in such cases. For this purpose, in individual cases, pepper spray was used," Warsaw police tweeted, via Twitter Translate, on Sunday evening.
The protest culminated in clashes between protesters and far-right groups who rallied around church buildings in a bid to protect the conservative landmarks from violence.
"The leftist barbarians storm the church of St. Aleksandra in Warsaw!" conservative president Robert Bąkiewicz of the Independence March Association tweeted via Twitter Translate.
Polish Law and Justice (PiS) MP Anna Maria Siarkowska also tweeted, via Twitter Translate, "Aggressive crowd throws firecrackers at praying people who defend St. Alexander."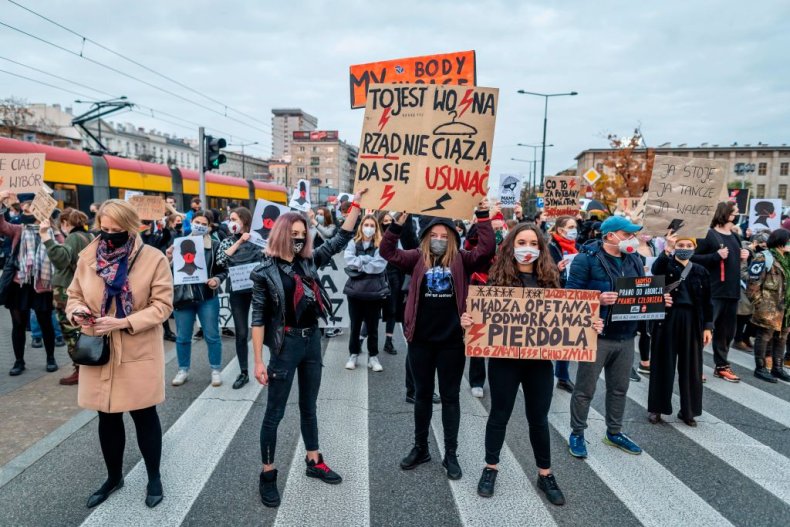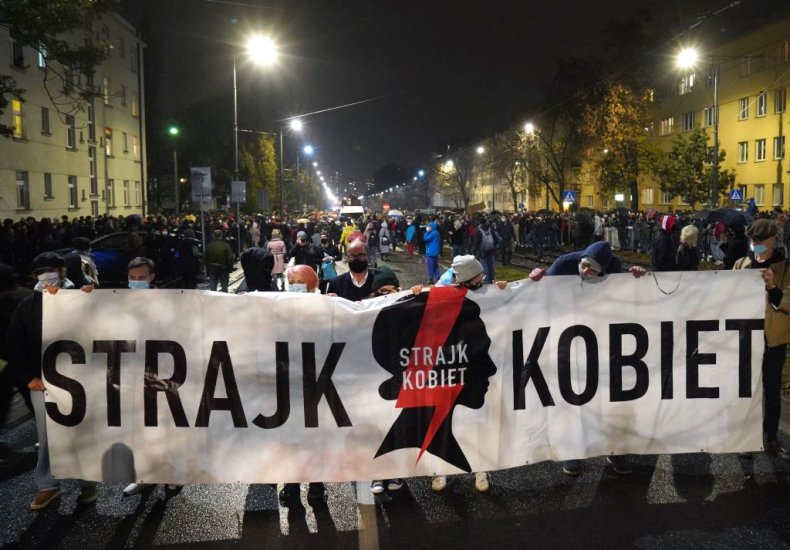 Aleksandra Magryta, coordinator of the Great Coalition for Equality and Choice in Poland, called on EU authorities to intervene in the country to respond to such "retrogressive measures" and "breaches of the rule of law," CGTN reports.
"We urge you to address breaches of the rule of law in all EU member states, to condemn violations of human rights including women's human rights and access to sexual and reproductive rights everywhere in the EU, and to ensure that flawed courts cannot be used to undermine the respect for human rights and EU values," she said.
A constitutional tribunal ruled on Thursday that aborting pregnancies in cases of severe fetal impairment would be a violation of the constitutional right to life.
Tribunal president, Julia Przyłębska, said that allowing abortions in cases of fetal defects was a way to legalize "eugenic practices," which represents an unconstitutional form of discrimination and denies "the respect and protection of human dignity."
The court ruling means almost all abortions in the country are now illegal, branding those undertaken for fetal defects "unconstitutional."
Pregnancy terminations for fetal abnormalities was one of the few expectations to Poland's draconian abortion laws and represented 1,074 out of 1,100 abortions legally performed in Poland last year, according to CGTN.
Poland has some of the strictest laws on abortion in Europe, with women's rights groups estimating up to 200,000 abortions are carried out illegally or abroad, the Guardian reports.
Thousands of Polish women travel abroad each year to seek abortions from neighboring countries.
The court ruling cannot be appealed but has drawn criticism from abroad with Dunja Mijatović, the Council of Europe's commissioner for human rights, calling it "a sad day for women's rights."
Poland's President Andrzej Duda told Warsaw newspaper Dziennik Gazeta Prawna: "I believed and believe that every child has the right to life."
Duda previously told local media he thought the "eugenic abortion" of disabled unborn children was equal to "murder."
More demonstrations are planned throughout the country.
Current COVID-19 restrictions in Poland limit public gathering to a maximum of up to 10 people as Poland grapples with a second wave of coronavirus cases.