Elizabeth Warren Is the First 2020 Candidate to Roll Out Abortion Protection Plan. Here's What She's Proposing
Senator Elizabeth Warren, a 2020 Democratic presidential candidate, unveiled a multi-part plan Friday morning to protect access to abortion and reproductive health care in the United States, and to protect Roe v. Wade. Warren is the first presidential candidate to propose such a plan.
The plan came in response to recent attacks on women's reproductive rights in Alabama, Georgia and Missouri.
"Roe v. Wade established a woman's constitutional right to safe and legal abortion. and has been the law of the land for over 46 years," Warren wrote in a Medium Post Friday. "These extremist Republican lawmakers know what the law is — but they don't care. They want to turn back the clock, outlaw abortion, and deny women access to reproductive health care. And they are hoping the Supreme Court will back their radical play."
Warren warned: "I'll be blunt: It just might work," she wrote.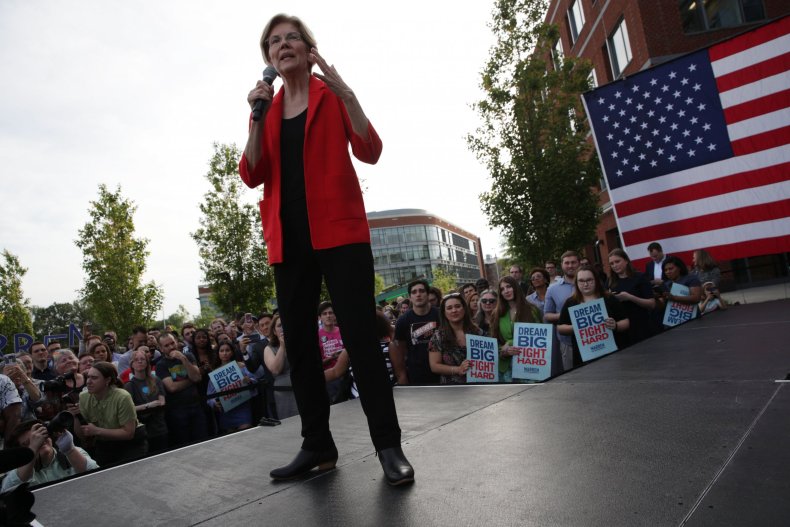 The next president, said Warren, could appoint neutral or pro-abortion rights judges, but Congress can also act to secure access to health care for women by creating federal statutory rights that mimic those given by the Supreme Court in Roe v. Wade.
The rights would "prohibit states from interfering in the ability of a health care provider to provide medical care, including abortion services," she wrote. They would also prohibit states from "interfering in the ability of a patient to access medical care, including abortion services."
These laws, wrote Warren, would "preempt state efforts that functionally limit access to reproductive health care." Warren also proposed repealing the Hyde Amendment, "which blocks abortion coverage for women under federally funded health care programs like Medicaid, the VA, and the Indian Health Service." She would also work to prohibit abortion restrictions on private insurance.
A number of 2020 candidates have spoken out against Alabama and other state's assault on abortion rights, but Warren was the first to respond with a plan.
Pete Buttigieg, the mayor of South Bend, Indiana, and another presidential contender, said the laws were "ignoring science" and "punishing women." Senator Kirsten Gillibrand of New York, also a 2020 candidate, said, "This is a war on women, and it is time to fight like hell."
President Donald Trump has not yet commented on the new laws but has in the past falsely accused Democrats of "aggressively pushing late-term abortion" and "allowing children to be ripped from their mother's womb, right up until the moment of birth," Earlier this month, at a rally in Panama City Beach, Florida, the president claimed, again incorrectly, that "the baby is born and you wrap the baby beautifully and you talk to the mother about the possible execution of the baby."
Seventy-one percent of Americans, including 52 percent of Republicans, oppose overturning Roe v. Wade.
Earlier this week, Alabama passed a bill that would ban all forms of abortion unless a women's life was at risk. That includes outlawing abortions in cases of incest or rape. Under the law, doctors who performed abortions could face up to 99 years in prison. Missouri also passed legislation prohibiting abortions after eight weeks of pregnancy, including in cases of rape, incest and sex trafficing. Doctors who perform abortions after eight weeks would face up to 15 years in prison. The bill has been sent to the governor for signing.
Earlier this month, Georgia passed similar legislation, banning all abortions after six weeks, following similar laws in Mississippi and Ohio.
This spate of laws has been seen as a direct challenge to Roe v. Wade, the landmark 1973 decision that granted women the constitutional right to abortion.
"My goal with this bill, and I think all of our goal, is to have Roe v. Wade turned over, and that decision be sent back to the states," said Alabama state Senator Terri Collins, a sponsor of the bill.
The Alabama vote took place just days after the Supreme Court in a 5-4 vote overturned a 40-year- precedent set in Nevada v. Hall, which allowed a state to be sued in another state's courts. Justice Stephen Breyer said the ruling made him worry that the Court would try to roll back the precedent set in Roe v. Wade. The justice referred to Planned Parenthood v. Casey, and wrote in his dissent that "today's decision can only cause one to wonder which cases the Court will overrule next."