Abortion rights groups are dropping their endorsements of Senator Kyrsten Sinema after she voted against altering filibuster rules to pass voting rights legislation.
EMILY's List, a political action committee that works to elect Democratic women in favor of abortion rights, said on Thursday that it had officially taken back its endorsement of Sinema. The group was by far the largest donor to the Arizona senator's successful 2018 campaign, according to Open Secrets. Earlier this week, Sinema was warned that she would lose the endorsement if she did not change her stance on the filibuster.
"Last night, Republicans continued their concerted effort to undermine our freedom to vote," a statement issued by EMILY's List on Thursday reads. "As Democrats fought for a bill that would ensure voters can cast their ballots freely and safely, Republicans were unified in rolling back our rights. Unfortunately, two Democrats refused to support a path forward on the bill."
"We believe the decision by Sen. Sinema is not only a blow to voting rights and our electoral system but also to the work of all of the partners who supported her victory and her constituents who tried to communicate the importance of this bill," the statement continued. "As a result, as we noted earlier this week, we will no longer be able to endorse Sen. Sinema moving forward."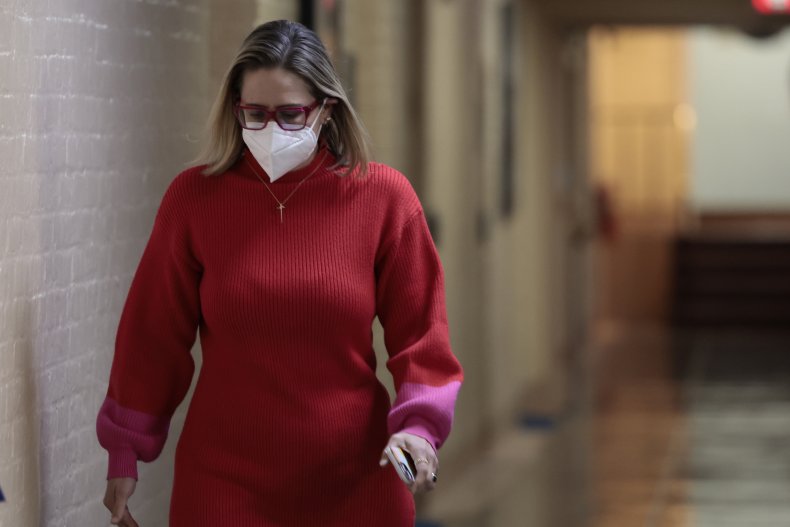 Sinema and West Virginia Senator Joe Manchin were the only Democrats to vote against the rules change proposal, which would have added a "talking filibuster" requirement for attempts to block voting rights bills. A short time before the filibuster vote, Republicans voted to block the advancement of the Freedom to Vote Act and the John Lewis Voting Rights Advancement Act.
Abortion rights organization NARAL also retracted its endorsement of Sinema this week due to her stance on the filibuster. The group, which hailed Sinema as a "pro-choice advocate who will never stop fighting for women's basic reproductive freedoms" while endorsing her in 2018, said on Tuesday that it would not "endorse any U.S. senator who doesn't support changing the Senate rules to pass voting rights legislation."
"We are dismayed by the Republican-led effort to block legislation to protect the freedom to vote," NARAL said in a statement shortly after the filibuster vote failed. "These senators put themselves on the wrong side of history this evening and we will hold them accountable...Make no mistake: The freedom to vote underpins our fight for reproductive freedom and every other freedom we hold dear."
The Planned Parenthood Action Fund also endorsed Sinema during her 2018 campaign. Sinema's vote on Wednesday may end up costing her a further endorsement, although she is not up for reelection until 2024 and the group only makes endorsements closer to the beginning of an election cycle.
"Access to abortion is directly linked to access to the ballot box," Planned Parenthood Action Fund President Alexis McGill Johnson said in a statement. "This is a crisis moment for our country, and any Senator who chooses to protect arcane Senate rules over the freedom to vote and the health of our democracy is betraying their constituents, tarnishing their legacy, and harming the fight for reproductive rights. They will have to live with the political consequences."
Sinema's office pointed Newsweek towards comments given to The Arizona Republic on Tuesday, when the senator insisted that her support of an unaltered filibuster was needed "to protect against wild swings in federal policy, including in the area of protecting women's health care."