New Poll Marks Historic Support for Abortion Rights; Republican Men Help Form Majority Support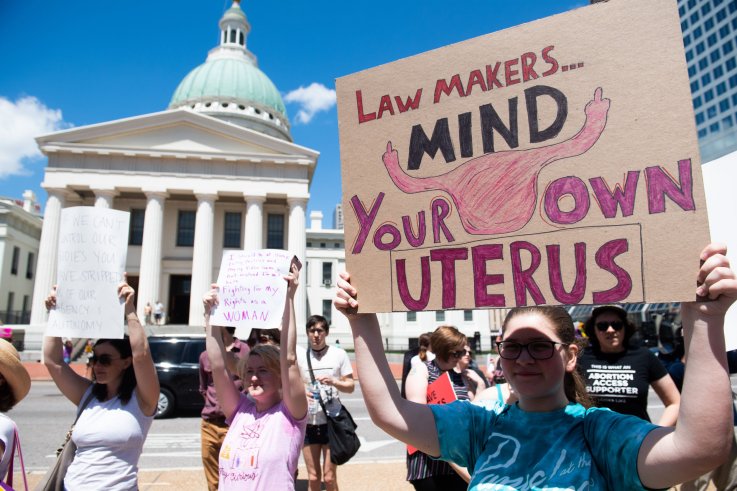 A new poll Wednesday measured the highest support for abortion rights among U.S. adults in a quarter-century.
According to the ABC News/Washington Post survey, 60 percent of Americans believe abortion should be legal in all or most cases, the highest number this survey has measured since 1995.
After support for abortion rights was similarly measured at 60 percent 24 years ago, the American public had begun to grow wary of abortion access. Over the next few decades, public approval of abortion steadily declined, taking an abrupt dive—to 49-percent support—in the early aughts.
But in recent years support has surged to a relative high. 33 percent now believe that abortion should be legal in most circumstances and an additional 27 percent believe the procedure should be legal in all circumstances.
Just over a third, 36 percent, believe abortion should not be legal in either all or most cases, which is down nine points from as recently as 2010. Only 14 percent of respondents, the smallest share of any position measured, think abortion should be totally banned.
In a surprising turn of expectations, Republican men were found to have substantial, and even majoritarian, support for abortion rights, more so than their female counterparts. Fifty-one percent of Republican men believe abortion should be legal in all or most cases, compared with just 32 percent of Republican women. Democratic men and women support abortion access in roughly equal measure, though Democratic women are more apt to support abortion rights without exception.
52 percent of Catholics indicated abortion should be legal in all or most cases, though only a small fraction, 21 percent, think the procedure is acceptable in all cases.
The survey measured a stark generational divide for abortion access. While all age categories measured had majority support for abortion rights, the youngest group—respondents aged 18 to 29— thought abortion should be legal in all or most cases. The next age bracket, from the first age group up until the age of 40, conveyed 69-percent support. Adults over 40 supported abortion access at a much slimmer majority, 55 percent.
No cohort measured thought that abortion should be legal in all circumstances with majority support. The highest support for unfettered access to abortion stood at 50 percent among self-described liberals.
Survey respondents largely believed that abortion laws, which this year alone have been thrust into the spotlight as southern states began to enact severe new restrictions on the procedure, should be left alone or diluted. 41 percent think the current legal landscape for access should remain as is, and 32 percent believe access should be made easier.
New Poll Marks Historic Support for Abortion Rights; Republican Men Help Form Majority Support | Politics