President Donald Trump said his pick for Supreme Court justice could ultimately see the Roe v. Wade ruling on abortion rights decided on a state-by-state basis—something that requires it to be overturned.
Trump told Fox News' Maria Bartiromo he was "honored" that Justice Anthony Kennedy announced his retirement and personally handed him a letter notifying the president he'd be able to nominate the next SCOTUS appointee. Trump described Kennedy as a "great gentleman" who "ended up being a little more neutral than a lot of people would have preferred." Kennedy was sworn in as a Supreme Court justice in February 1988 after being nominated by a fellow Republican, President Ronald Reagan.
Fox News' Bartiromo asked Trump whether he will ask nominees beforehand about their stances on potentially overturning the landmark 1973 Roe v. Wade decision on abortion and women's reproductive rights across the country. A stammering Trump responded, "Well, that's a big one. And probably not. They are all saying don't do that. You don't do that. You shouldn't do that. But I'm putting conservative people on."
Trump added that he's "very proud" of Neil Gorsuch, who was nominated by the president to replace the late Antonin Scalia in 2017. Trump said Gorsuch's opinions are "so well-written, so brilliant." He was also "honored" that Kennedy chose to retire during his presidency—"which means he had confidence in me to do the right thing," Trump added.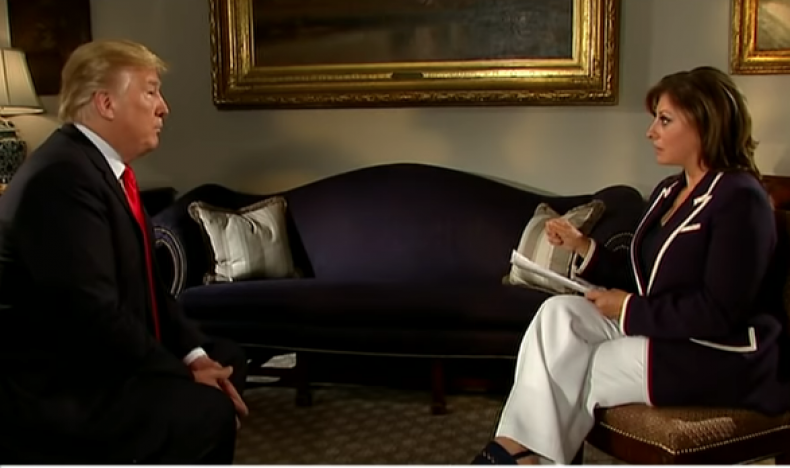 Trump hesitantly added, however, that he's not going to be "so specific with the questions" used to query his SCOTUS pick, and especially not in regards to Roe v. Wade. Trump said he's "been told" he shouldn't be so narrow in his questions, something Bartiromo tied to his 2016 campaign trail promises that he'd "leave it to the states."
Trump was pressed on his view of abortion, women's reproductive rights and restrictions being decided on a state basis, not federal. "Well, maybe someday it will be to the states. You never know how that's going to turn out. That's a very complex question. The Roe v. Wade is probably the one that people are talking about in terms of having an effect. But we will see what happens. But it could very well end up with states at some point."
Trump said he plans to have his pick for the Supreme Court in place before the upcoming 2018 midterm elections in November. Trump said he thinks the process will "go very quickly" and he's counting on support from Democrats. But he said the only thing some people "on the other side" want to do is "resist" everything he does in office. Trump did not rule out there will be some "vicious" attacks against his appointee.
The January 22, 1973, Roe v. Wade ruling saw the 7-2 majority vote in favor of Roe. The ruling made abortion a fundamental right under the U.S. Constitution, and thereby subjected all laws attempting to restrict it to the highest standard of strict scrutiny. A 1992 ruling in Roe v. Wade and Planned Parenthood v. Casey reaffirmed the federal, constitutional right to have an abortion under 14th Amendment guarantees to women's health.
Uncommon Knowledge
Newsweek is committed to challenging conventional wisdom and finding connections in the search for common ground.
Newsweek is committed to challenging conventional wisdom and finding connections in the search for common ground.
About the writer
Benjamin Fearnow is a reporter based out of Newsweek's New York City offices. He was previously at CBS and Mediaite after working as a news curator at Facebook. Fearnow has pieces published in The Atlantic as well as stories published about him in Wired and The New York Times. He attended the Columbia University School of Journalism after graduating from Indiana University-Bloomington. Email: b.fearnow @ newsweek [dot] com.