Women Share Abortion Stories on Capitol Hill Ahead of Health Care Vote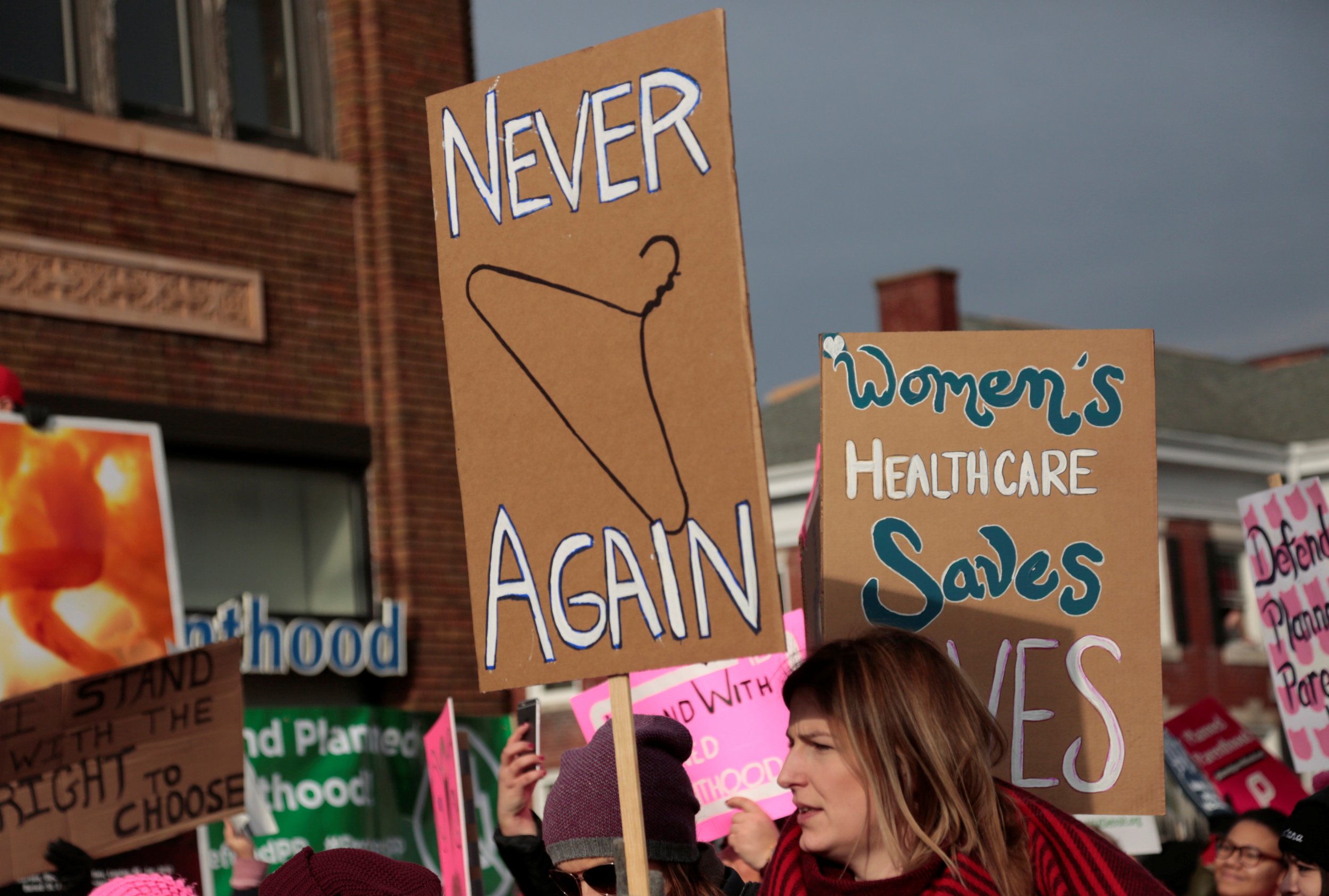 Dozens of women planned to speak about their abortion experiences on the U.S. Capitol steps on Tuesday, as the Republican threat to defund Planned Parenthood looms.
This abortion story-telling is designed to "shatter the stigma surrounding abortion care," according to the 1 in 3 Campaign, part of Advocates for Youth, which is organizing the event. Women responding to "increasing efforts to restrict access" to abortion care in the U.S. will share stories, including those of abortions performed before the landmark Roe v. Wade Supreme Court decision that made abortion legal, said the 1 in 3 Campaign.
Nationwide, more than 300 bills that aim to restrict access to abortion care have been filed for the 2017 legislative session, according to Rewire. Ohio's Senate Bill 127, which bans abortions after 20 weeks, went into effect last week after being signed into law. On Monday, the Texas Senate gave its final approval to a ban on dilation and evacuation (D&E), the most commonly used procedure for second trimester abortions. The Texas Senate also passed a bill on Monday that prevents families from suing doctors if their children are born with birth defects.
Many of those sharing their stories will also visit congressional offices to speak with lawmakers. They will be seeking to "ensure their elected officials understand the personal side of an issue that has become a political pawn," said 1 in 3 Campaign (so named because an estimated one in every three women will undergo an abortion during their lifetime).
"Telling our stories is an act of resistance—resistance against restrictions on access, resistance against threats from the Trump Administration, and resistance against the shame that's kept us quiet for too long," Debra Hauser, president of Advocates for Youth, said in a statement.
Earlier this month, the Congressional Budget Office said defunding Planned Parenthood, which would happen as part of the Republican bill to replace the Affordable Care Act, would not only result in thousands of unintended pregnancies, but would increase Medicaid spending by $21 million in the first year. It would also block patients covered by Medicaid from getting care at Planned Parenthood, including cancer screenings and STD testing. As it now stands, though, neither Medicaid nor any federal funds can be used to pay for abortions in the U.S.
The American Health Care Act "restores pro-life principles to the health care system," House Speaker Paul Ryan said on Tuesday. The vote on the bill is scheduled for Thursday.
Related: Oklahoma debates bill requiring men to give abortion permission
Supporters of defunding Planned Parenthood have long talked about s0-called community health centers that will provide family planning care in the event that local Planned Parenthood clinics are shut down. But Planned Parenthood says its health centers are the only safety-net family planning provider in 21 percent of counties where it has a presence.
One woman who will be sharing her story on Tuesday is Anise Simon, 27, who lives in Durham, North Carolina. When she was in her early 20s, she says she was in a "tumultuous" relationship that progressed into an abusive situation. Simon, a first-generation American from a West Indian family, was repeatedly discouraged by her African-American partner from contacting law enforcement: "He'd always told me to never call the cops on black man in America, and I believed him. So I didn't, for a long time."
She eventually became pregnant and sought an abortion. "I knew I didn't want to be tied to this man for 18 years," says Simon. "There are a lot of women in my family who have raised children with abusers and who have done a really good job, but I wanted the cycle to end with me."
Simon's story also includes the frustration of trying to obtain an abortion in North Carolina. She dealt with a 24-hour waiting period for the procedure (which has since increased to 72 hours) and a forced ultrasound, the image from which must be placed within a patient's line of sight. Simon adds that the physician was required to ask her if she wanted to see it, which she did. Simon says she had to wait several days for her surgical abortion, because she couldn't schedule an appointment without first having a consultation. The process was "really arbitrary and controlling" and "was a little psychologically stressful for me," says Simon.
While women generally don't speak much about their abortion experiences, even less is said about what happens post-procedure, says Simon, who is part of We Testify, a group that encourages women to share their abortion stories. "No one talked to me about the aftermath," she says, recalling that her cramps were so painful that she was in and out of consciousness.
"It's definitely the kind of thing where you're reminded about the fact that you had to go through this procedure," she says. "You don't just have an abortion and leave."
Although nervous about speaking in Washington, Simon says she hopes to change people's minds about abortion and believes it's especially important to have "these stories by told from a diverse range of storytellers."
"Sometimes, folks who are having abortions are middle-class white folks who are law students, and sometimes there are people of color who are immigrants and in abusive relationships and those stories are just as valid and should be told," she says.
She also hopes people realize "that there are lots of complexities" in abortion stories. "Very rarely can any one person's life fit into a box or an easy narrative, and I think the same is true with abortion stories. I hope folks just take away that not every story looks the same."