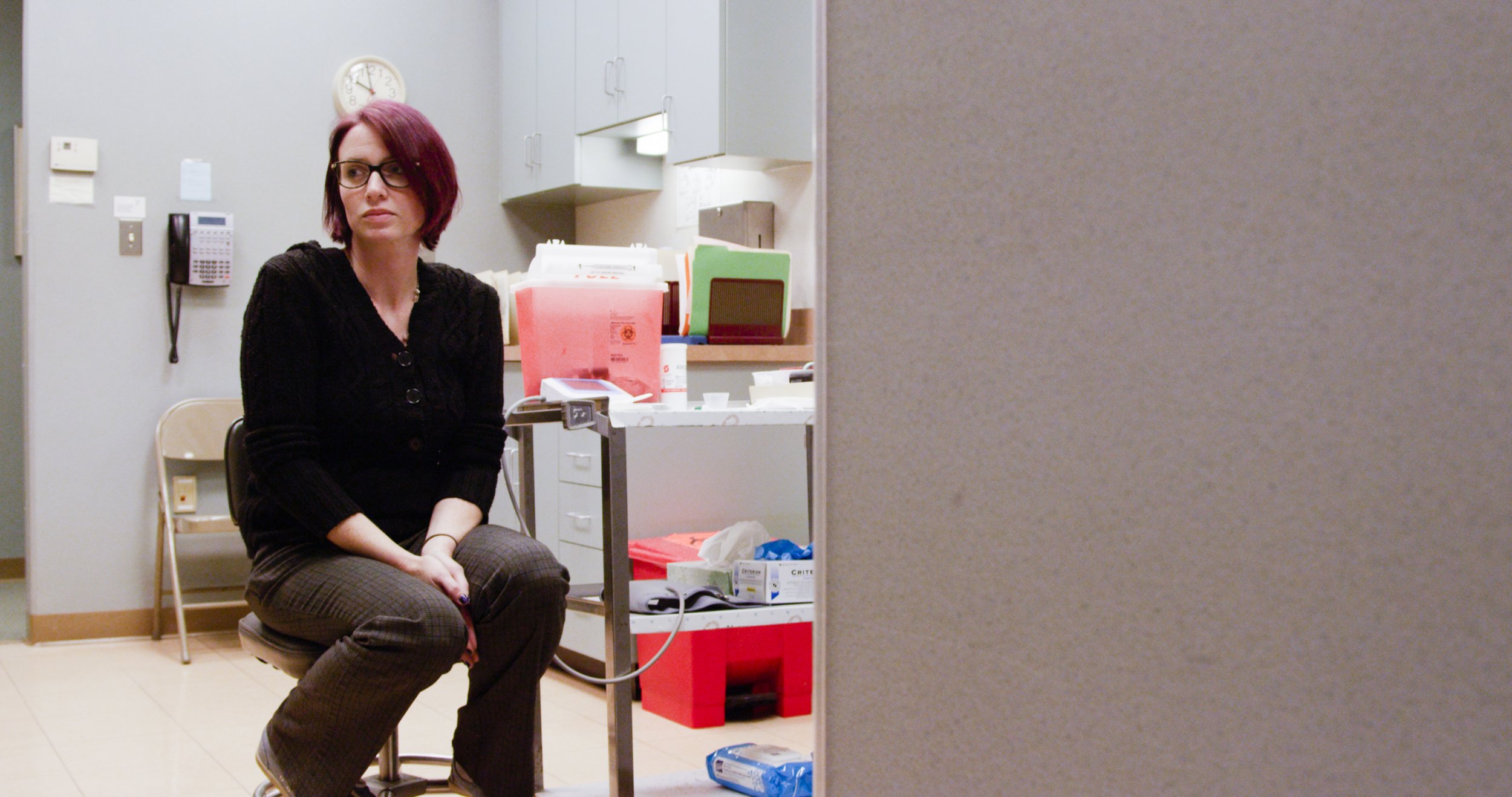 The opening scene of Tracy Droz Tragos's stirring documentary Abortion: Stories Women Tell, shows the Missouri state capitol fill with the chant: "All in Christ, for pro-life."
Back in 2014, supporters of a proposed extension of the state-mandated waiting period for an abortion—as well as those protesting against it—crowded into the capitol building in Jefferson City. The bill was passed, the waiting period increased from 24 hours to 72 hours without exceptions for women who became pregnant through rape or incest. It has since forced many Missouri women to seek care in different states.
Abortion: Stories Women Tell will debut on HBO at a key moment in U.S. history, as the effort to roll back reproductive rights is in full swing. Hundreds of bills that make it more difficult to get an abortion have been filed for the 2017 legislative session, and the proposed American Health Care Act would block women using Medicaid and other federal funds for their health care from seeking preventative care at Planned Parenthood. Amid the highly charged commotion, women's voices are often the ones being left out.
Related: Women share abortion stories on Capitol Hill ahead of health care vote
The film centers on the journey of Amie, 30, a server from Booneville in central Missouri, as she drives east across the state to get an abortion at the Hope Clinic in Granite City, Illinois. Amie has two children, 8 and 5, and works 70 to 90 hours a week when her kids are with their father, which is half the time. Quite simply, she says: "I can't have a baby right now." The abortion pill is $525, a hefty price for someone who lives mostly off tips.
"I'm from Missouri, so there was a personal connection that drew to me to that place," Tragos tells Newsweek, adding her native state was being overlooked in the national conversation around abortion. "But more importantly, it's one of the most restrictive states in the country." Currently, Missouri lawmakers are not only looking to ban a common second-trimester abortion procedure. In addition, state Representative Mike Moon has proposed a bizarre bill, HB 1041, which would require the state's museum to create an exhibition on the history of abortion, including detailed descriptions of medical equipment. Dubbed the "Never Again Act," the law requires the exhibit to be housed near the slavery exhibition.
"One of the things we learned is that a lot of Missouri women were going to access care over the state lines because it was too burdensome to access the 72-hour waiting period," says Tragos. The clinic's executive director says in the film: "I wish they didn't have to travel so far to see me."
The women who chose to tell their stories have many different reasons for getting an abortion. For some, it wasn't the right time, or they already children to raise. For others, they wanted to finish college. "I didn't want to focus on the 'good abortions' or the 'needed abortions' that you hear about," Tragos says. "These were really thoughtful choices made by women who were doing the best that they could for themselves and their families."
For the many women who couldn't share their stories on camera, fearing repercussions at work or at home, they at least found "some solace in even talking about and being heard," she says.
As well as going inside the rarely seen walls an abortion clinic, the film gives space to those who declined abortions, either keeping their child or giving it up for adoption. It also sheds light on the other side of the debate, the men and women who organize anti-choice fundraisers—complete with plastic fetuses and bumper stickers declaring "Abortion = breast cancer"—and scream at patients as they walk into the clinic, often accompanied by escorts, to receive care. At one point, this grim scene includes a group of small children singing "He's got the unborn babies in his hands" to the tune of "He's Got the Whole World in His Hands."
"It was very hard to experience and to see women walking in" after dealing with protesters, says Tragos. "I hear their stories and see what they've had to go through to get there."
Tragos hopes her film "will have some impact" and "bring some compassion to the conversation, and awareness that not one size fits all."
"These are certainly perilous times, and it's terrifying to imagine that many women are not going to have access to the care that they need in the U.S."
Abortion: Stories Women Tell will be shown on HBO on Monday, April 3.