Abortion Verdict Sharpens Texas Governor's Race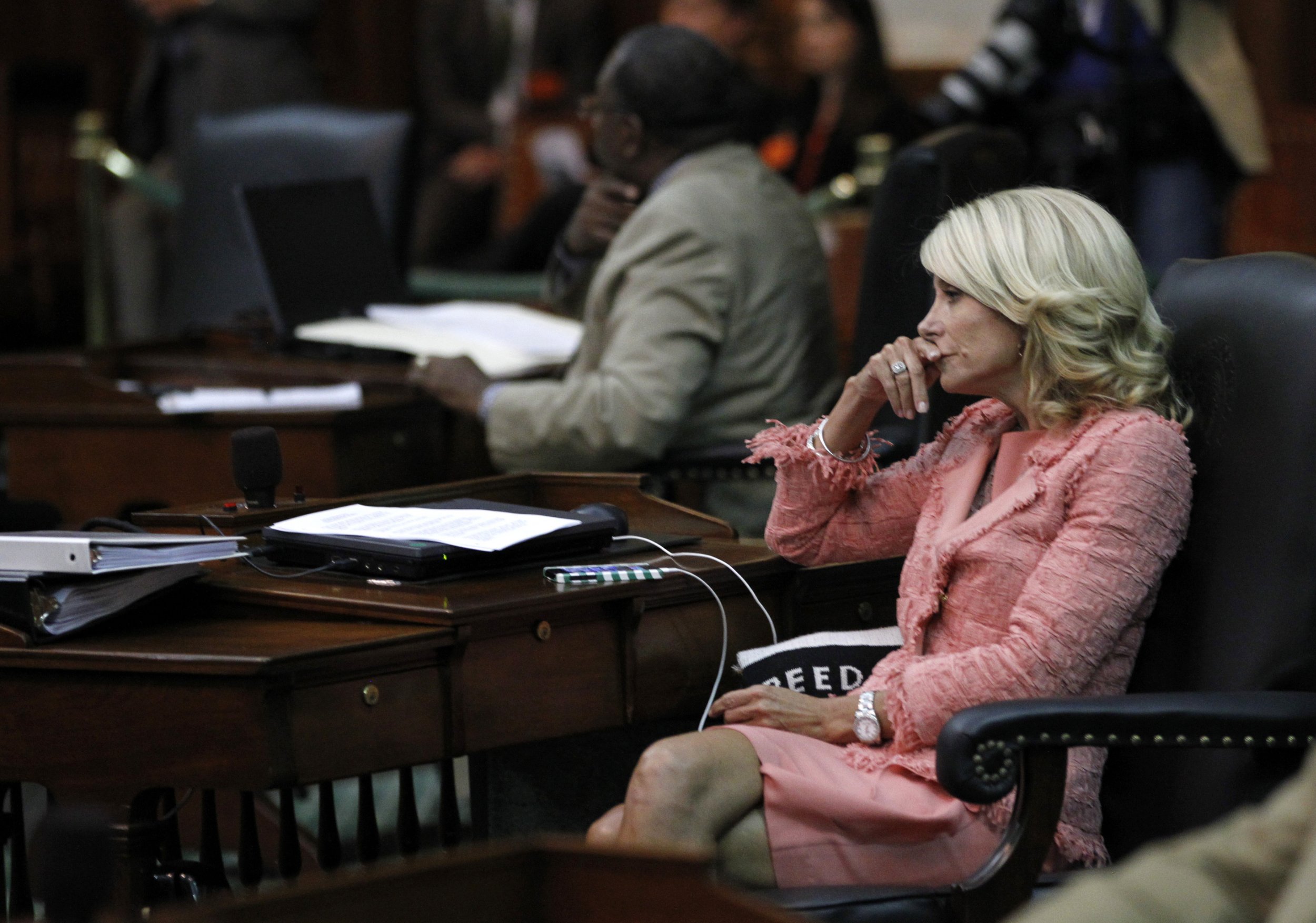 Last year, there were 41 abortion clinics in Texas. On Thursday, 21 were left in the entire state. Today there were just seven. (An eighth is expected to open, but it is unclear whether it is open now.)
Thursday evening, a three judge panel of the Fifth Circuit Court of Appeals in New Orleans allowed Texas to enforce a key provision of its sweeping abortion law, HB2, passed last year despite a filibuster by state Senator Wendy Davis — now the Democratic candidate for governor.
The fate of the law is still winding its way through the appeals court process. But the Fifth Circuit panel allowed Texas to enforce a provision requiring abortion facilities to meet the building requirements of an ambulatory surgical center (ASC), a verdict that has so far shuttered 13 clinics while the appeals process is underway.
A second provision in effect — requiring that doctors who provide abortions have admitting privileges at a hospital within 30 miles of the clinic — shuttered many of the over 40 clinics that used to operate in Texas. Reproductive rights advocates believe that the Texas law runs so obviously Supreme Court precedent that has allowed a woman the right to choose an abortion that it will ultimately end up before the U.S. Supreme Court.
Currently, seven or eight clinics serve the state's 5.4 million women of reproductive age across Texas' vast 268,580 square miles. The remaining clinics are all concentrated in just four metropolitan areas, with none at all in west Texas or the Rio Grande Valley in southern Texas. As one of the experts for the women's advocates noted, about one in six Texas women seeking an abortion (about 900,000 women) will now have to travel at least 150 miles to reach a clinic — making a round trip of at least 300 miles.
"Texas faces a health care crisis brought on by its own legislators," Amy Hagstrom Miller, the CEO Whole Woman's Health abortion clinics in Texas, told reporters Friday on a conference call. Miller's clinic in the Rio Grande Valley and Fort Worth closed after the ruling. "Beginning today, you will see the dire effect on women in Texas."
The Texas law "is unprecedented and it has to be understood as different in kind, not just in degree," Nancy Northup, President and CEO of the Center for Reproductive Rights, one of the main groups fighting the Texas law in court, said on the call, comparing the law to a similar rash of anti-abortion legislation passed across the country in recent years.
The timing of the Fifth Circuit's ruling comes one month before a contested Texas gubernatorial contest between Davis — whose opposition to the abortion law catapulted her to fame in Texas and across the country — and Greg Abbott, the Republican Texas attorney general who has battled to enforce the law in court.
"This decision is a vindication of the careful deliberation by the Texas Legislature to craft a law to protect the health and safety of Texas women," a spokeswoman for Abbott's office told the New York Times.
Davis issued a brief statement Thursday condemning the ruling. "Women should be able to make these deeply personal decisions without the intrusion of politicians like Greg Abbott, who supports making abortion illegal even in cases of rape and incest," her statement read.
Many on the left believe this issue could be a key motivator among women voters in Texas. "The impact on the ground is so significant and women are mad," said Yvonne Gutierrez, executive director at Planned Parenthood Texas Votes, a multi-million dollar field effort to talk to women about reproductive rights and mobilize them to vote in November. "Women will make their voices heard and they will do that at the ballot box."
If this is true, then the timing of this decision — and the choice between the law's defender and opponent — present a political opportunity for Davis, who continues to come up short in the polls. But there's no evidence Davis will play up the issue. In fact, her campaign has, so far, largely shied away from it.
Davis's campaign was always going to be an uphill battle as Texas remains a red state despite demographic trends that present better opportunities for Democrats in the next 10 years. A Davis victory would depend on strong support from women voters. But in a poll last month, showing Davis down by nine points, Abbott actually led Davis among women voters 46 percent to 44 percent. Davis has been reaching out to women by focusing on issues like equal pay and education — but it plainly hasn't given her the upper hand with women that she needs for victory.
Gutierrez defended the Davis campaign, pointing out that Davis has already attacked Abbott's abortion position during a debate. "Texas is a big state and I think that when you're running for statewide office you have to talk about every issue," Gutierrez said. "This is one that she has talked about."
Davis hasn't completely ignored the abortion issue — but critics believe she hasn't used it to what many believe is its full potential. In early September, Davis released a memoir in which she revealed that she herself had had two abortions, one from medical necessity and another because the fetus would not have survived. As Rebecca Traister lamented recently in The New Republic, Davis did not reveal her abortion story in a way to maximize its political power.
"Davis clearly had an opportunity to tie her experiences to those of all the women this law will hurt," Traister wrote in an article before the latest ruling by the Fifth Circuit. Traister's contention is that personal stories are powerful in politics, and that Davis demonstrating how her own abortion would not have been possible under HB2 was a big missed opportunity.
Next month, Texans will choose between the law's most vocal opponent and one of its staunchest defenders at a time when the law will start taking full effect for the first time. But it's unclear how much either candidate will talk about it.