About 100 Americans Accepted to Join Ukraine Military, Fight Russia
Thousands of Americans have volunteered to help Ukraine amid the Russian invasion, with about 100 accepted so far, a Ukrainian military official told the Associated Press.
Since the invasion began, the Ukrainian Embassy in Washington, D.C., has received requests from about 6,000 people, mostly American citizens, to volunteer for service, Major General Borys Kremenetskyi told AP. Those who have been accepted so far have past combat or helicopter piloting experience, he added.
The numbers reflect strong support from the U.S. and the broader Western world for Ukraine. A recent poll from Quinnipiac University on Americans' opinions of the war found that more than half said they would stay and fight should Russia invade the U.S. like it did Ukraine. Now, some are taking the extra step by fighting to defend Ukraine.
"This is not mercenaries who are coming to earn money," Kremenetskyi told AP. "This is people of goodwill who are coming to assist Ukraine to fight for freedom."
Kremenetskyi oversees the screening of possible American recruits. In the interview, he said half the people who tried to volunteer were swiftly rejected for reasons like not having a military background or having a criminal record.
Age was also a factor, with potential volunteers as young as 16 and as old as 73 being rejected. He did not specify what methods were used in the screening, but the report mentioned there is a Zoom interview at some point.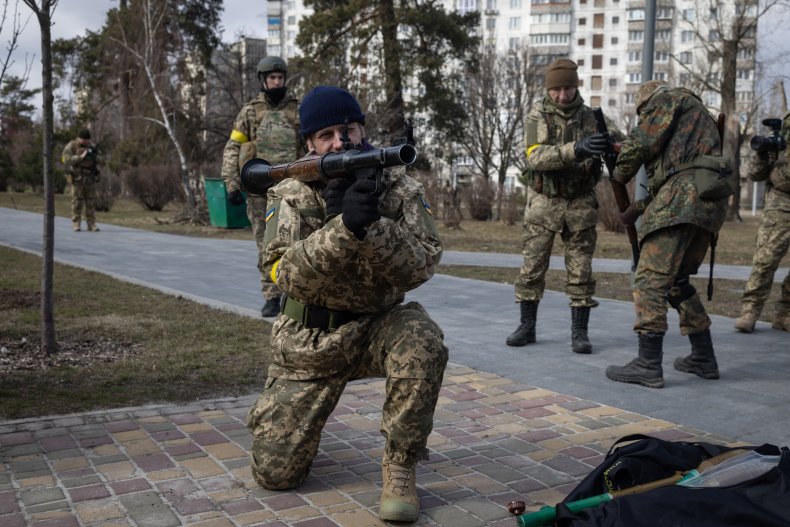 The volunteers will join the International Legion for the Territorial Defense of Ukraine, which already has at least 16,000 foreign members from places like Belarus, the United Kingdom, Israel and Poland, Foreign Policy reported.
Borys Wrzesnewskyj, a former member of Canada's House of Commons helping with the war efforts, told AP that about 1,000 Canadians have also applied to fight in Ukraine.
According to the Foreign Policy report, to receive approval, documents confirming the volunteers' previous combat experience and a form saying the volunteers are fighting "without any pressure" are required. Once approved, they make their own way to Poland to cross the border into Ukraine, AP added.
By being assigned to territorial defense, the foreigners are less likely to encounter Russian forces, but there is still a possibility they could, according to AP.
Many Americans have shown support for non-military measures such as economic sanctions and bans, with more than 70 percent saying they would back the U.S. ban on Russian oil despite rising prices, the Quinnipiac poll said.
Newsweek reached out to the Ukrainian Embassy in Washington.
Update 3/10/22, 2:07 p.m. ET: This story was updated with additional information.