About 2,600 Unscanned Ballots Discovered in Georgia Election Recount
Election officials in Georgia discovered approximately 2,600 unscanned ballots during the state's election audit, which is currently being conducted by hand.
Gabriel Sterling, the state's voting system implementation manager, told reporters during a virtual news conference on Monday that the blunder in Floyd County was the only such incident of its kind discovered during the statewide audit thus far.
"It looks like it was half of an early vote box, essentially, that did not get uploaded into their election night recording system," Sterling said. "It's unfortunate, but it's not an equipment issue–it's a person not executing their job properly."
Georgia Secretary of State Brad Raffensperger has called upon the Floyd County elections director to step down in light of the discovery, Sterling said. "This was too important of an issue to be allowed to happen this way," Sterling said.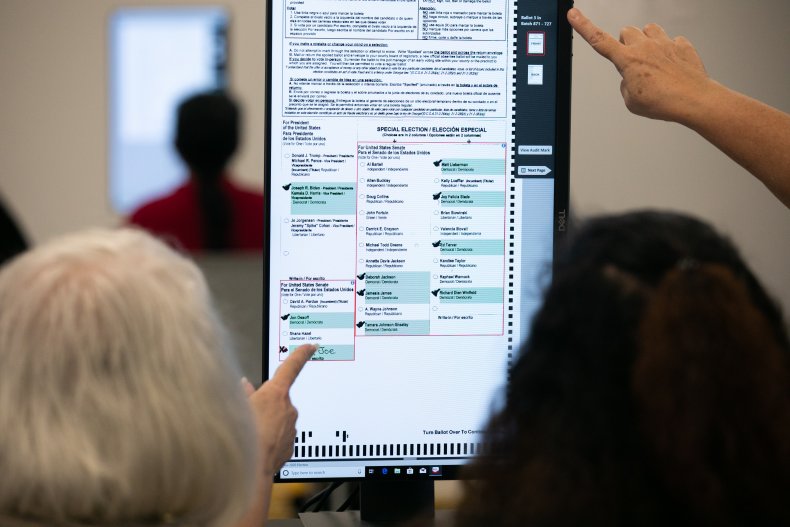 The addition of those previously untallied ballots resulted in an approximately 800-vote gain for President Donald Trump in Georgia, Sterling said. That gain alone will not be enough for Trump to overtake President-elect Joe Biden, who led Trump by approximately 14,000 votes in the state before the unscanned Floyd County votes were discovered.
Sterling said an elections investigator has been sent to Floyd County to determine how the mishap occurred.
"They had these ballots in their ballot manifests," Sterling said of Floyd County. "They had them there, and they were counted in the audit. When they finished the audit, they had, like, 41,000 votes. On the election night reporting, they only had 38,000 votes. And that's how it was discovered."
Tom Rees, the chairman of Floyd County's Board of Elections, told Newsweek that county election officials scanned all ballots during the initial vote count.
"Our audit total completed Saturday did show an increase of about 2,600 more ballots than what was reported on election night," Rees told Newsweek. "We did scan everything on Election Day so these are not extra ballots.
"We are working with a Dominion rep to try to find out what caused this discrepancy," Rees said, referring to the company that operates voting machines used in Georgia and in 27 other states across the country. "We have narrowed it down to one early voting location where we did have a problem with one of the vote scanners. We will go at it again tomorrow and hopefully find where the problem is."
Sterling said state election officials were "perturbed" when they learned of the uncounted ballots. "There is no good explanation as to why you wouldn't upload those numbers, other than just gross incompetence," he said.
Though official sources called the national race for Biden on November 7, Trump has yet to concede, and his campaign has filed lawsuits questioning the election outcome in several states. Georgia has been of particular interest this election cycle due to the slim margin with which Biden leads and Georgia's history as a traditionally red state. The last time a Democratic presidential candidate won Georgia was in 1992.
When Raffensperger announced last week that the statewide recount would be done by hand, he said he expected it could be completed by November 20. Raffensperger and Sterling have said that allegations of widespread voter fraud are unsubstantiated, though both have said election officials will continue to investigate such allegations, as well as those of ballot mishandling, as the recount continues.