About 300,000 Russian Troops Back at Bases After Massive Training Near Ukrainian Border
Hundreds of thousands of Russian troops have returned to their permanent bases after conducting military exercises near the Ukrainian border, but military officials denied that criticism from the West had anything to do with the pullback.
The military drills escalated tensions between Russia and Ukraine, raising concerns that a war could break out. In a meeting with military officials, General of the Army Valery Gerasim said more than 300,000 troops were part of the exercises that included 35,000 units of weapons, 180 ships and boats, and about 900 aircraft.
As of Thursday, all but one military echelon had returned to their permanent base, according to Russian military officials. Russian commanders told a meeting of armed forces officials that weapons and other equipment would be transported back to their appropriate locations by May 12.
Ukrainian President Volodymyr Zelensky last week noted in an address to Ukrainians that the country didn't want war but was ready for one. If Russia were to start a war, Zelensky said Ukraine "always stands to the last man."
The Biden administration reaffirmed its support for Ukraine, and U.S. Secretary of State Antony Blink was concerned about Russia's "deliberate actions to escalate tensions with Ukraine," according to a spokesperson. The United States moved at least two warships to the Black Sea and President Joe Biden urged Russian President Vladimir Putin to de-escalate and avoid any further military action.
Shortly after Zelensky said Ukraine was ready for war, Putin issued a stern warning. In his state of the union address, he championed Russia's ability to be patient but said anyone who threatens the "core interests" of the country's security will "regret what they have done in a way they have not regretted anything for a long time."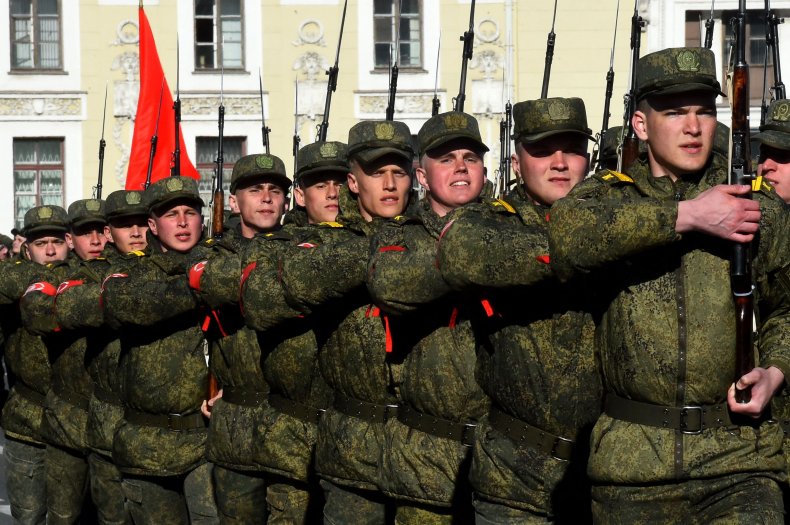 Russia's advisement to countries about crossing the "red line" did little to ease global tensions, but showcased the growing relationship Russia has with China. At a press conference, Wang Wenbin, China's foreign ministry spokesperson, backed Putin and said the two countries will "continue to understand and support each other in safeguarding our respective sovereignty, security and development interests."
The recent military exercises was the largest troop build-up since 2014, it drew international criticism, but Russia has maintained there was nothing sinister about its actions. Maria Zakharova, Russia's foreign ministry spokesperson, said at a press briefing that Ukrainian and Western media were "blowing the issue of Russian military activity near the border with Ukraine out of proportion."
Military officials said at Thursday's meeting the training exercises were conducted in line with "previously approved plans." The main goal was to assess the state of troops and forces and their ability to solve problems "both in peacetime and in wartime," according to Russian military officials.
Russian Defense Minister Sergei Shoigu announced troops would start returning to their permanent bases on April 23 and gave commanders a deadline of May 1. It was a welcomed development, according to Zelensky, who said it "proportionally reduces tension."
When asked if the military exercises were problematic for Russia's relationship with the United States, which has seemingly grown increasingly distant, Dmitry Peskov, Putin's spokesperson, dismissed the notion it would have any impact.
"We have said that any movement of Russian troops on Russian territory doesn't pose any threat and doesn't represent an escalation. Russia does what it thinks is necessary for its military organization and training of troops," Peskov told reporters, according to the Associated Press.