With About 50,000 COVID-19 Deaths, Brazil May Surpass U.S. Toll in August
Brazil's Coronavirus death toll is poised to hit 50,000 on Saturday, the second-highest in the world, and a model from the Institute for Health Metrics and Evaluation (IHME) predicts fatalities in Brazil will surpass those in the United States by August 1.
According to recent statistics, the U.S. has reported 121,407 deaths from the virus as of June 19. Brazil had reported 49,090 deaths. If projections hold true, Brazil could see as many as 165,960 deaths by August 4.
IHME director Dr. Christopher Murray said in a Monday video that he was concerned about projections for parts of southern Latin America, including Brazil. Murray said they were seeing "rapid increases despite having in place considerable social distancing mandates."
"It's happening in the context of the winter season in the Southern Hemisphere," Murray continued, "and we are also seeing increasingly strong evidence of seasonality that would suggest transmission will be intensified in those settings."
Some observers say Brazil's high coronavirus case rate can be blamed on Brazilian President Jair Bolsonaro's slow response to the virus in his country. As the virus began making its way through Brazil, Bolsonaro claimed Brazilians would not be able to catch the disease.
"Brazilians should be studied," Bolsonaro said in March. "We don't catch anything. You see people jumping in sewage, diving in it and nothing happens to them."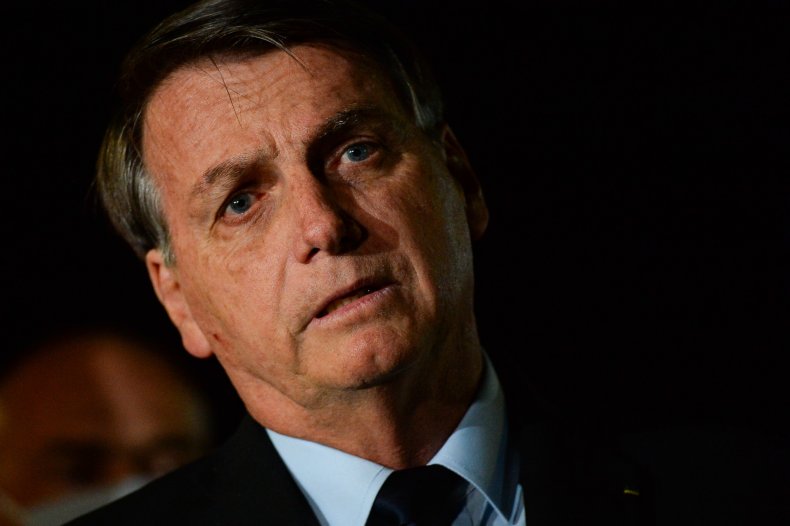 Bolsonaro compared the coronavirus to a "little flu" during a March address. He has also broken social distancing protocols at rallies by doing push-ups with his supporters.
By May, Brazil had reported more than 5,000 deaths. At a press conference, Bolsonaro responded to questions about the virus by saying, "So what? I'm sorry, but what do you want me to do?"
"I'm sorry for the situation we are currently living with due to the virus," Bolsonaro added. "We express our solidarity to those who have lost loved ones, many of whom were elderly. But that's life. It could be me tomorrow."
Although Brazil did close businesses and most of its borders, Bolsonaro expanded the list of essential businesses that could remain open during the pandemic to include personal service establishments and gyms. In May, Bolsonaro told reporters that shutting down the economy was "the path to failure, to breaking Brazil."
Bolsonaro also recommended the use of anti-malarial drugs chloroquine and hydroxychloroquine as therapeutic treatments for the virus. Because of his belief that chloroquine was an "uncertain" panacea, Brazil's Health Minister Nelson Teich resigned after serving less than a month in office. No new Brazilian health minister has been appointed since May.
"Brazil responded timely since the World Health Organization's warning, in December 31st, of a novel virus causing pneumonia in China," said Brazil's Charge d'Affaires in Washington, Nestor Forster Jr. in a statement sent to Newsweek on Monday. "President Jair Bolsonaro's administration declared an official "Situation of Public Calamity" back in January, restricted the entry of foreigners, vastly expanded the budget of the Ministry of Health and provided fiscal aid to state governments to offset losses from tax collection, allowing for increased local investments in health services."
Forster also said Brazil's Ministry of Health has distributed 10 million test kits and has obtained 46 million more. Brazil's government has also enacted an economic stimulus package worth almost $237 billion in U.S. currency. "This is about 10 percent of Brazil's GDP and twice as large as the average package for emerging markets."
Bolsonaro visited President Donald Trump in March. "Brazil loves him," Trump said of Bolsonaro during a dinner at Mar-a-Lago. "The U.S.A. loves him. Great job." One of Bolsonaro's aides, communications secretary Fabio Wajngarten, attended the dinner with Trump and Bolsonaro. Upon his return to Brazil, Wajngarten tested positive for coronavirus.
Updated 3:53 p.m. EST 6/23/2020: This story has been updated with a statement from Nestor Forster, Jr., Brazil's Charge D'Affaires in Washington.