Hundreds of Texas bar owners were expected Saturday to brazenly defy their governor's executive order, choosing to open establishments for one day and placing their state liquor licenses in jeopardy.
Fort Worth bar owner Chris Polone created "Freedom Fest," the label for Saturday's event, in an effort to protest Governor Greg Abbott's mandate effectively shuttering bars and other establishments because of growing coronavirus cases.
Abbott signed executive order GA-28 June 26 stating that "people shall not visit bars or similar establishments that hold a permit from the Texas Alcoholic Beverage Commission [TABC]" -- but stipulated that residents can still visit restaurants that have "less than 51 percent of their gross receipts from the sale of alcoholic beverages."
This exception has created a worrisome double-standard in the restaurant industry, Polone asserted in a Facebook post.
Polone refers to "51 percenters" as any business that generates 51 percent of their gross receipts from the sale of alcoholic beverages. But most 51 percenters have kitchens and sell food, and most restaurants permitted to stay open under GA-28 have bar tops and carry the same liquor licenses, Polone wrote.
"BARS AND RESTAURANTS ARE MOST OF THE TIME THE SAME THING! UNTIL ABBOTT SEPARATED THE 2 IN THE MEDIA!" he wrote. "IN MOST CASES THE ONLY DIFFERENCE BETWEEN A "BAR" AND A "RESTAURANT" is the amount of food to booze ratio they sell..."
Polone also noted that 51 percenters are required to pay property taxes and monthly liquor taxes whether their establishments remain open or closed, placing a continued financial burden on many bar owners whose businesses had already taken a hit from statewide shutdowns earlier this year.
"We are still required to pay our bills and taxes without any compensation or plan of action from Government Officials," Polone wrote.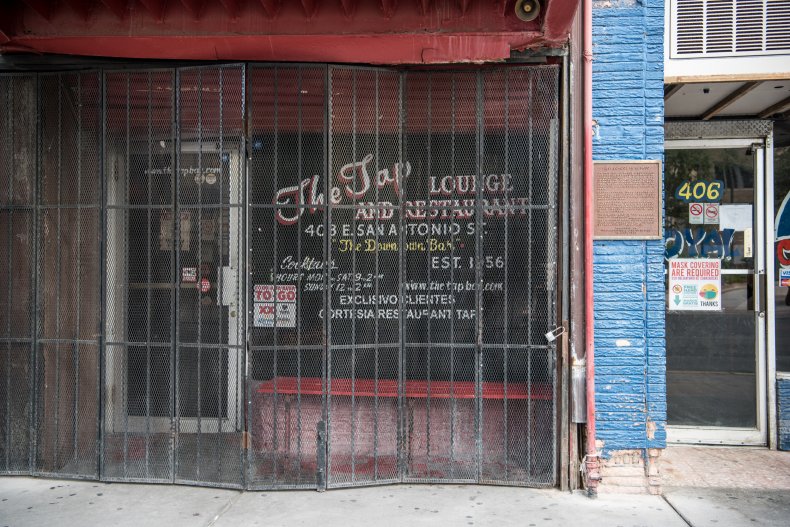 In an effort to protest what Polone referred to as Abbott's "unconstitutional bill," the bar owner organized Freedom Fest, in which 51 percenters were invited to simultaneously open their doors on the same day and time. Proceeds from the day would go to a charity of the establishment's choosing, Polone wrote.
The approximately 800 participating venues would need to officially register and pledge to follow strict safety guidelines, as outlined by Polone's Facebook post, including allowing a 25 percent occupancy and temperature checks for every guest.
TABC spokesman Chris Porter said the commission was aware of Saturday's event and would be conducting inspections, the Fort Worth Star-Telegram reported. Establishments found in violation of the order could face a 30-day suspension of their liquor license.
Newsweek contacted the TABC for comment, but did not hear back in time for publication.
Polone told Newsweek Saturday that he heard TABC agents have been calling participating bars and leaving notes on their doors, but Polone called this "just scare tactics."
Polone said he hoped GA-28 would be amended as a result of the protest.
In a press release announcing the executive order, Abbott had blamed bars for his state's recent uptick in coronavirus cases.
"It is clear that the rise in cases is largely driven by certain types of activities, including Texans congregating in bars," he stated.
Polone criticized Abbott's language, saying the governor convincing the "entire public that we are the problem" had inspired him to act.
"We have to prove to the State and the public that we are not the problem, or the demons we were made out to be," Polone wrote on Facebook, adding that doing so would require strict observation of health guidelines. "Although our personal beliefs vary from person to person, at the end of the day we are all on the same team, and ultimately want the same thing...and that is, to be permitted to open."
Polone elaborated on what he's calling a double-standard for 51 percenters, telling Newsweek he was at a live music venue Friday, "drinking beer and hanging out with a bunch of my friends."
"It was completely legal," Polone said. "Mind you, that's what I own...a live music venue. What I'm doing is wrong, and I'm getting death threats for it, but what everyone else is doing is praised."
It all comes down to how much food an establishment serves, and few people outside of the restaurant industry understand what a 51 percenter is, Polone said.
"That's the double-standard we're trying to point out. We are the same thing as a restaurant."
Newsweek contacted Abbott's office for further comment, but did not hear back in time for publication.
Several social media users expressed their frustration over the protest Saturday, maintaining the act could cause another spike in coronavirus cases.
One Twitter user shared a news article about the planned protest, adding that "your 'freedom fest' is killing us. Your freedom ends when it causes others harm. How is that hard to understand you selfish jerks?"
Another wrote: "HOORAY! What a GREAT idea! Let's all go to INFECTION FEST! Er, uh, I mean, FREEDOM FEST!"
Polone said he would tell anyone who criticized Freedom Fest that they are "by definition a hypocrite" if they are visiting restaurants in Texas and ordering alcohol.
"They put sixty, 70,000 people at Texas Motor Speedway last Saturday," Polone said. "There was a protest in downtown Fort Worth today that 2,000 people participated in. As long as those things are happening, there's nothing wrong with what it is that we're doing."
Update 4:47 p.m. ET: This article has been updated to include comments from Chris Polone, Freedom Fest's organizer.