About 900 Colorado State University Students Quarantined After Wastewater Monitoring Reveals COVID
Approximately 900 students in two dorms at Colorado State University (CSU) are under quarantine restrictions after the school detected COVID-19 in the wastewater, The Denver Post reported Friday.
Students in Braiden and Summit Hall were sent a statement from the university's Pandemic Preparedness Team on Thursday indicating that a routine wastewater test at locations tied to specific residence halls found "a significantly high level of COVID-19 in the wastewater" from the two dorms. The levels indicate that a number of student residents are likely infected with COVID-19.
"Because of this, we are placing the entire residence hall into a mandatory quarantine," read the message. "This means that you should not leave your residence hall for any reason, beginning immediately."
Currently, approximately 500 students living in Braiden Hall and 400 in Summit Hall are under mandatory quarantine orders until all positive cases and close contacts have been identified and the wastewater levels return to normal. Students are not permitted to leave their dorms unless to pick up meals at specific times or to get tested in tents outside of the buildings. They must also attend classes online until further notice.
"The amount of time you are required to be on quarantine will depend upon several factors, but we are committed to minimizing the impact of this order as much as possible," the message said.
The message also indicates that a negative test does not necessarily free students from quarantine—public health officials will contact students directly if they are no longer under mandatory quarantine. Under the guidance of health officials, students who repeatedly test negative may be released.
Students who test positive will be isolated in a separate location. Taking into account students' mental health, the message lists resources and websites for the university's counseling and health centers.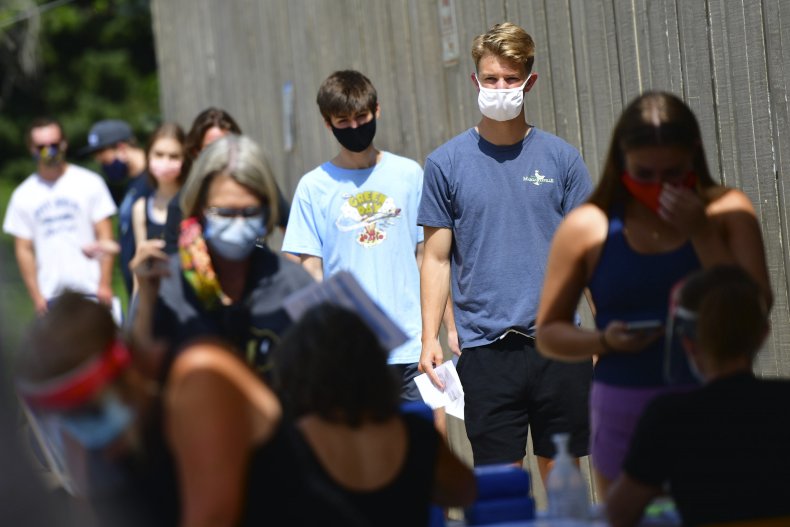 As of Friday, CSU has had 319 total positive cases of COVID-19 on its Fort Collins campus since June, with 183 new cases among students and staff since move-in day on August 17. Larimer County, where the university is located, has had 2,426 cumulative cases.
Other universities in Colorado have seen several outbreaks of COVID-19 in recent months. Colorado College in Colorado Springs was the first in the state to send students home and go fully remote after dorms were quarantined, while Denver's Regis University currently has roughly 130 students under quarantine orders.
The University of Colorado (UC) Boulder has over 1,300 confirmed or probable cases of COVID-19—declared the largest outbreak in the state—among students, causing the university to move to remote instruction for two weeks starting on Thursday. UC Boulder was the first to detect COVID-19 in dorms using wastewater detection.
Newsweek has reached out to CSU for comment.