Newsweek
About Newsweek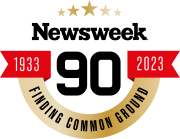 Newsweek is a premier news magazine and website that has delivered high-quality journalism to readers around the globe for more than 90 years.
Founded in New York in 1933, Newsweek presents the latest news, in-depth analysis and ideas about international issues, technology, business, culture and politics. In addition to its online and mobile presence, Newsweek publishes weekly English print editions in the United States, Europe/Middle East/Africa and Asia as well as editions in Japanese, Korean, Polish, Serbian and Spanish.
The global, digital news organization reaches 100 million people each month with news, opinion, images, graphics and video and is one of the world's best recognized and respected news brands. At least one in five Americans visits Newsweek.com every month.
Newsweek's biggest source of revenue is advertising, with subscriptions increasingly important. Smaller sources of income include affiliate revenue, sponsored content - which is always clearly identified as such - and syndication to Apple News, Microsoft News, Google News and others.
Newsweek was owned by the Washington Post Company between 1961 and 2010, when it was sold to audio tycoon and philanthropist Sidney Harman.
In 2011, Newsweek merged with The Daily Beast, owned by diversified internet company IAC. At the end of 2012, Newsweek ceased publishing its iconic print edition in the United States for over a year as it focused on its digital products.
IAC sold Newsweek in 2013 to IBT Media, a company with ties to the Rev. David Jang, leader of the World Olivet Assembly and founder of Olivet University.
Newsweek journalists report news about their owners with the same vigilance they apply to other interesting business owners. In 2017, when IBT Media's owners came under investigation for fraud by the Manhattan District Attorney and investigators raided Newsweek's newsroom in January 2018, the newsroom covered the case and Newsweek's owners fired several journalists including the editor-in-chief, another editor and a reporter. Current Global Editor-in-Chief Nancy Cooper agreed to stay only after receiving guarantees of total editorial independence.
When criminal charges were brought against one of IBT Media's principals, Olivet and others in 2018, Chief Executive Officer Dev Pragad purchased a 50 percent stake in Newsweek. The other IBT Media principal, Johnathan Davis, retained his half of the company and became a silent partner, no longer involved in the management of Newsweek.
No charges were brought against Newsweek as a result of the Manhattan fraud and money laundering probe. Olivet, along with several of the other defendants, pleaded guilty to felonies.
A boardroom dispute broke into public in April 2022 when Pragad, Newsweek's CEO and president, announced that he had left Olivet and wanted to protect the company from "interference" by Olivet members.
IBT Media CEO Davis later sued Pragad in New York State Court, demanding he return all shares of Newsweek. Pragad and Newsweek countersued Jang, several of his followers and the institutions they control, claiming that they owe Newsweek more than $30 million.
While the case is underway, the Newsweek newsroom has continued to publish journalism, including work documenting news about IBT Media, World Olivet Assembly, and Olivet University. The editorial team operates with total independence and a rigid divide is maintained between editorial and management/ownership.
For further information on how Newsweek covers its owners transparently, please read this account from Global Editor in Chief Nancy Cooper. This is where you can find Newsweek's latest coverage of matters related to Olivet.
You can find full details of Newsweek's policies and standards here.
Masthead
Nancy Cooper

Diane Harris

Michael Goesele

Laura Davis

Melissa Jewsbury

Josh Hammer

Fred Guterl

Chris Roberts

Alex Hudson
James Etherington-Smith

Alfred Joyner

Paul Rhodes

Jesse Edwards

Eileen Falkenberg-Hull

Ritu Sehgal

Bruno Battistoli

Emeri Montgomery

Pronita Naidu

Connie Sideras

Leea Jackson

Danish Manzoor
Rob Minto

Marc Vargas

Jenni Fink

Meredith Wolf Schizer

Peter Carbonara

Shane Croucher

H. Alan Scott

Yevgeny Kuklychev

Ben Kelly

Matthew Cannon

Rod Ardehali

John Fitzpatrick

Jason Lemon

Margaret Weaver

Alex Backus

Jake Lingeman

Batya Ungar-Sargon

Ramsen Shamon

Philip Jeffery

Jason Fields
Charlotte Nisbet

Remi Odejimi

Jon Jackson

Anna Commander

Tom O'Connor

Megan Cartwright

Rebecca Flood

Rebecca Nicholson

Monica Greep

Carine Harb
Naveed Jamali

John Feng

Lee Habeeb
Adrian Croft

Anthony Phillips

Anthony Murray

Bruce Janicke

Dave Siminoff

Dom Passantino

Ed Cummins

Emma Lee-Sang

Grayson Thomas

James Debens

Jason Nuckolls

Manasa Rao

Sam Wilson

Yannick Demoustier
Lauren Joseph

Carrie Bremner

Michael Bessire

Adrian Callaghan

Kristen McNicholas

Katy Lyness
Daniel Bush

Alex J. Rouhandeh

Michael Wasiura

David Brennan

Jack Royston
Mark Muir

Grace MacRae

Devin Robertson

Jack Haley

Shea Donovan
Jessica Durham

Jon Jenkins-Lowe

Maghen Reynolds

Eleanor Shere

Nandini Krishnamoorthy

Olivia Cataldo

Alexis Sogl

Alyssa Hodenfield

Luke Smith

Tiffany Latta

Jevh Maravilla

Julius Kumi-Darfour

Liz Macro

Mickey Hutchings

Renae Whissel

Rose Lee
Kevin Gentzel

Dayan Candappa

Alvaro Palacios

Rosie Mckimmie

Michael Lukac

Sujay Nelson

Ryan Kinney

Jason Webby

Amit Shah

Leiann Kaytmaz

Luciano Costa

Jeremy Makin

Nalin Kaul

Kyle McGovern

Adam Silvers

Kevin Hickman

Patricia A. Hartendorp

Josh Smith

Chantal Mamboury

Samantha Rhodes

Kim Sermon