The Abraham Accords Are a Sanctification of God's Name | Opinion
To many, the prospect of establishing a long-term, safe and secure Middle East seems untenable, at best—and fanciful, at worst. These naysayers often characterize the situation as too embittered, too volatile and too historically entrenched to ever reach a true regional peace.
And then there are those of us who eagerly look for signs indicating a better world might emerge—and do all we can to make that better world a reality. We yearn for peace and cooperative spirit, stability and understanding. And we do all that we might be able to do, with our own unique capacities, to bring about that peace.
With this week's signing of the Abraham Accords—the historic peace accords between Israel and the United Arab Emirates (UAE) and Israel and the Kingdom of Bahrain—we reaffirm and strengthen that dream. The twin deals signed at the White House yesterday add historical substance to that vision by means of actually realizing parts of it. Named for the patriarch of all three major monotheistic religions, the Abraham Accords exemplify a mutual Arab and Israeli desire for stability, cooperation and coordination against the Iranian regime. In normalizing diplomatic relations, the nations that took this courageous step forward this week will exchange embassies and ambassadors; they will also "begin cooperation across the board and on a broad range of areas including tourism, education, healthcare, trade and security."
Peace is a beautiful thing. And especially as the Jewish people prepare to soon celebrate Rosh Hashanah, the Jewish New Year, it is a time for festive, unadulterated joy. The children of Abraham are coming together to celebrate our joint ancestry—our joint humanity.
It is in our nature, as human beings, to crave harmony and rapprochement. These new peace accords allow the Jewish people to uphold our responsibility to make a Kiddush Hashem, a sanctification of God's name. With the development of peace, and with the development of new ties—business, social, cultural and more—we now have that opportunity. And perhaps most important, we should also all strive for the unattainable—ethical perfection—by going beyond mere law and striving to truly reflect honor upon God. The sanctification of God's name is a touchstone for all our words and deeds.
It may be hard to see at first blush, but the directive of the sanctification of God's name and the historic significance and impact of the Abraham Accords are intimately related. The Accords are already showing their potential as a unifying force in the Middle East, and are already being hailed as a major step in paving the way for peace agreements between Israel and other Arab nations. There is already much speculation as to which Arab country might be next in line to make peace with the Jewish state. The Accords, as Yousef Al Otaiba, the Emirati ambassador to the United States said, are not only "a win for diplomacy and for the region," but are also a palpable means of lowering tensions in the Middle East and invigorating the possibility for positive, productive change. The Accords are a boon for the U.S., Israel and the Arab world—and a blow to the regional threat that is the Iranian regime.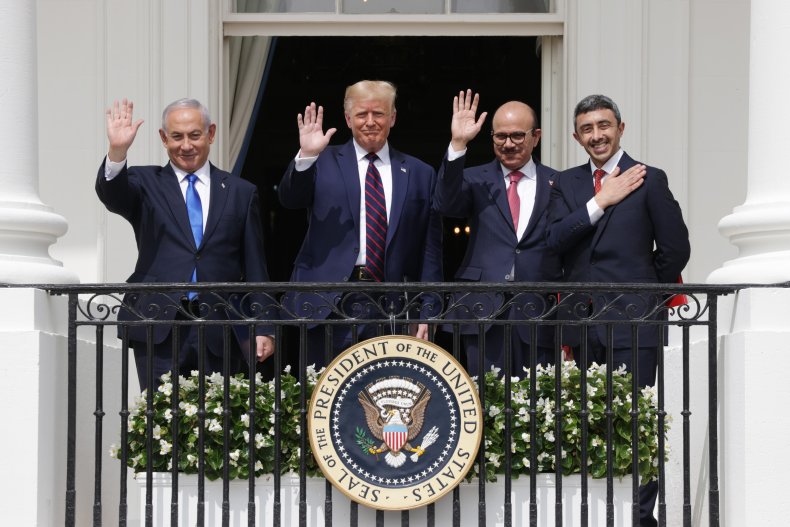 And the Accords, this wonderful geopolitical development, also represent a Kiddush Hashem because they seek to develop and fortify bonds among peoples who already share so much in common. Since Israeli-Emirati peace was first announced, we have seen agreements signed between the two nations to battle COVID-19, among other forms of close cooperation. Remarkably, Abu Dhabi issued a directive for its hotels to offer kosher food to those who keep a kosher diet. Communication and cooperation have created warmth, respect and a path to a better overall quality of life throughout the entire region.
In a stunning photo-op for the history books, the UAE also hosted the first arrival of an official Israeli delegation on its soil. El Al, Israel's national airline, flew the first commercial flight directly from Ben Gurion Airport to Abu Dhabi International Airport—over Saudi Arabia's airspace. The plane, carrying a delegation of American and Israeli officials, bore the word "peace" painted in English, Hebrew and Arabic. A red-carpet welcome followed in Abu Dhabi. Since then, the Saudi government has opened its airspace to all flights—even those originating from, or flying to, Israel.
We are living in historical times. And we have come a very, very long way since the infamous "three no's" of the 1967 Khartoum Resolution.
We are much closer to a true, lasting regional Middle East peace than we were a month and a half ago. Every stroke of diplomatic or civilian communication moves us a bit closer in understanding one another—in empathizing with our fellow children of Abraham. Every personal dialogue allows for yet another bridge to be built. The Abraham Accords are historic—but, more importantly, their signing is an opportunity we can all embrace and, indeed, hallow. Because in working toward peace and cooperation, we can sanctify the name of God for Muslims, Christians, Jews and peoples of all faiths.
God bless all of humanity on this upcoming Jewish New Year (Rosh Hashanah) with a year of health, happiness, blessings, peace and the elimination of COVID-19.
Jason D. Greenblatt was the White House's Middle East envoy for nearly three years. Follow him on Twitter: @GreenblattJD.
The views expressed in this article are the writer's own.