The Abraham Accords—One Year Later and Whither Sudan? | Opinion
It has been just over a year since the first Arab nation in over a quarter-century made peace with the Jewish state of Israel. On August 13, 2020, the United Arab Emirates (UAE) established relations with Israel. The UAE was soon followed by Bahrain. The two Gulf countries were quickly followed by Morocco and Sudan. In a few short months, Arab leaders broke decades of impasse and opted for peace over conflict.
The new relations have come easier to some than to others. In Israel, new relations with former adversaries—and, in the case of Sudan, with a former enemy—have been greeted with great support and joy. With the establishment of direct flights from Tel Aviv to the UAE, Bahrain and Morocco, even in the middle of a global pandemic and with arduous health regulations in place, hundreds of thousands of Israelis have set out to explore their neighbors' countries and cultures.
The travelers are not all tourists. Indeed, one of the motivations behind the Abraham Accords was to foster greater regional economic integration, including Accords signees as well as Egypt and Jordan. The biggest beneficiaries of economic access, so far, appear to be Israel and the UAE, with billions of cross-border investments between them. However, all of Israel's peace partners should benefit significantly from access to Israel's frequently-lauded innovation and technology. Regional economic integration could lead to trade and commerce of tens of billions of dollars annually.
Unfortunately, one of the Arab countries signing on to the Accords, Sudan, has seen less in the way of positive interaction since its fragile government's decision to make peace with Israel. Sudan's fledgling government was overthrown this week in a military coup, and the country is now at risk of abandoning the Accords in their entirety. It's easy to be a Monday-morning quarterback and to say that we all should have seen it coming: The Israel-Sudan peace was shaky from the start, and it needed bolstering from all the other peacemaking countries, including the U.S. But the support didn't come.
Sudan's government came to power in a military coup in 2019, overthrowing the dictatorship of Islamist terror-sponsoring Omar al-Bashir. One of the main benefits that accrued to Sudan's new government, led at the time by Prime Minister Abdalla Hamdok, was the removal of Sudan from the U.S. State Department's State Sponsors of Terrorism list. Removal from the terror list also removed some barriers that kept the U.S. from providing economic assistance to Sudan. In early August, the Biden administration's head of the U.S. Agency for International Development, Samantha Power, visited Sudan to discuss a renewal of development assistance. But projects to promote economic growth in Sudan did not materialize, and now it may be too late.
Israel, too, has sent humanitarian officials and agriculture leaders to Sudan to evaluate assistance possibilities. But such visits don't garner the sort of hype and media that direct flights, joint innovation, embassy openings and shared successes do. It may well be too late to do anything more.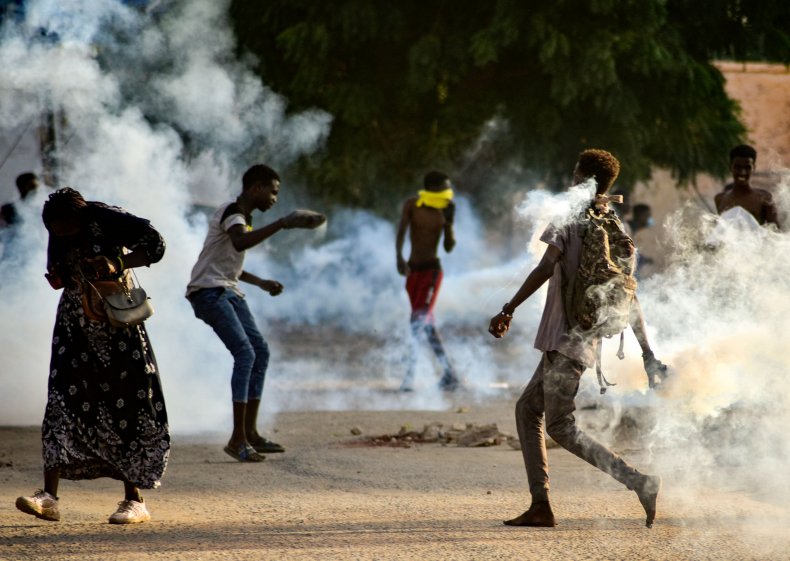 Sudan has been left out of conversations and actions related to the Abraham Accords. Now, a year later, it is a good time to think about how the Accords signees, as well as Egypt and Jordan, can engage in a process that more fully brings Sudan into the community of nations.
Exercising restraint during the uncertain days ahead is important, as is a return to the constitutional process in Sudan designed to transition to civilian rule. The military now once again holds the reins of power in Khartoum, but the coup leader, General Abdel Fattah al-Burhan, is also the man who headed the troubled country the short-lived joint civilian-military government. The coup he just led, therefore, has not necessarily closed the door to peace. But if peace is to take hold, Abraham Accords signees, including the United States, need to demonstrate their support for the people of Sudan.
For instance, while the geopolitical situation in Khartoum is murky, it is all but certain that there is also a humanitarian crisis brewing. Abraham Accords signees can offer humanitarian assistance. An olive branch, once extended in peace, can be extended again. As the situation on the ground gains clarity, it seems unlikely that Sudan will revert to an all-out Islamist theocracy.
Furthermore, the people of Sudan would be more inclined to support their government's decision to make peace if there were programs established to help Sudan's citizens, beyond merely humanitarian aid. Sudan's young people are a good place to start. Official youth unemployment in Sudan sits at over 32 percent, but unofficial unemployment and underemployment rates for young people are over 50 percent. Much of the nation's talented youth leave, either to work in other nearby countries or to work as international civil servants in the UN. Many other young people migrate in order to work as laborers abroad and then send financial remittances home. Sudan needs a better future for its young people, and this is where the Abraham Accords signees must play a role.
Abraham Accords signees should focus on helping Sudan create an environment for its future. If Sudan fails, the Abraham Accords might be blamed. The U.S. and Israel, specifically, might be called out as having failed. A failure in Sudan will discourage other Islamic countries from joining the Abraham Accords. At the same time, it is hard to think of a more successful example of U.S. diplomacy than the Abraham Accords, and there remain lots of opportunities to create a community of allies in a region that sorely needs them. At a time when so many around the world are doubting American leadership and resolve, it is more important than ever to double down on the Abraham Accords. Sudan is a good place to start. Given Washington's failure in Afghanistan, a success in another part of the Islamic world is vital. The time for action in Sudan is now.
Bonnie Glick is the director of the Center for Tech Diplomacy at Purdue, a think tank focused on the intersection of emerging technology and foreign policy. She is the former deputy administrator of the U.S. Agency for International Development.
The views expressed in this article are the writer's own.