The Absolutely American Life of Sheldon Adelson
His father and mother were Lithuanian and Welsh, respectively, before they were American. He was poor before he was rich, a New Englander before he moved West and a Democrat before he was a Republican. Most people know his name, but few know his story. A story that's as absolutely American as they come.
Sheldon Adelson, who died from complications from non-Hodgkin lymphoma at his home in California last week, was born on August 4, 1933, at the height of the Great Depression. There was little in his background to suggest he'd start and run the world's biggest casino and resort empire. Adelson grew up in a one-bedroom walk-up in a tenement in Dorchester, now Boston's largest neighborhood. His father was a taxi driver, his mother a seamstress. Adelson once joked that his was not a rags to riches story because his family was "too poor to own rags."
If anything, growing up poor shaped his character. So did growing up in a tough neighborhood filled with kids who didn't like Jews. "We had to go to school with at least four kids," Adelson told Forbes about the anti-Semitism in the neighborhood. "The Irish kids came out of the bushes and tenements with rubber hoses and chains and brass knuckles."
Despite struggling to make ends meet, Adelson's father taught him the most important value of all: generosity. "He would come home from work—when he could find work, that is—and put loose change in the family pushke [charity box]," Adelson told the Las Vegas Review-Journal, a newspaper he owned. "When I asked why he would give to others when we had so little, he would say, 'There is always someone whose need is greater than ours.'"
When Las Vegas casinos were forced to close because of the coronavirus, Adelson continued to pay salaries and benefits to his 10,000 employees. He also covered the 1,200 employees working in his casino and resort company's 14 independently owned restaurants.
"As the son of hardworking, low-income, immigrant parents," Adelson wrote in the New York Post explaining the decision, "I grew up with the same anxiety people across the nation are feeling right now."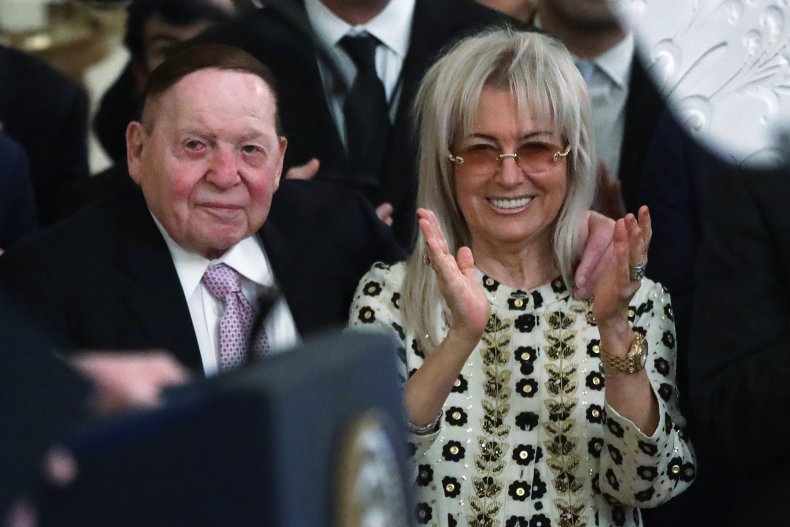 From an early age, Adelson had an entrepreneurial spirit. He started his first business when he was 12 (selling newspapers on the street) and never stopped starting businesses. After a brief stint in the Army and college (he dropped out of the City College of New York), he worked as a mortgage broker and investment adviser and made his first small fortune. In the early 1960s, he moved back to Boston and invested in various companies, among them a travel and tour business, which were profitable.
But the stock market decline of the mid-1960s came, pushing Adelson into new lines of work. He soon found himself in the condominium-conversion business. "It was back in the 1970s, when most people thought a condominium was a form of birth control," Adelson joked to Forbes.
Adelson did well for a short time, until he didn't. Then came his big "break." He bought a company that published magazines, one of which was a computer magazine, which led to the creation of the Computer Dealers Exposition, or COMDEX. It would become one of the largest computer trade shows in the world.
In 1995, it was sold to a Japanese company for $860 million: Adelson took home a reported $500 million from the sale. Most mortals would have spent the rest of their life golfing or traveling. But Adelson chose to, as the blackjack saying goes, double down. He took an even bigger risk and built in Las Vegas the $1.5 billion Venetian Resort Hotel Casino and the Sands Expo and Convention Center.
In 2007, Adelson built the Palazzo next to the Venetian and integrated the hotels, convention and resort space into one giant 7,000-suite complex. And changed the way Las Vegas casinos looked forever.
Rob Goldstein, acting chairman and CEO of Las Vegas Sands Corp., told the Review-Journal in 2019 that the Venetian's conference-centric strategy was openly mocked by industry experts. "I'd meet people in town and they'd say, 'What are you guys thinking?'"
Adelson also bet big on casino resorts in Macau ($4.4 billion) and Singapore ($5.5 billion). Both bets paid off handsomely for him, and for anyone with the smarts to bet on Adelson.
How did he do it? "I came to learn that if you do things differently, success will follow you like a shadow," he said in a 2014 Global Gaming Expo appearance, according to the Review-Journal. "Nobody thought about doing it the way I did. They were satisfied with the status quo, and I'm never satisfied with the status quo."
But Adelson's life in the casino business wasn't an endless series of winning streaks. In 2009, he lost over 90 percent of his net worth as the stock market crashed. His Las Vegas Sands shares crashed with it. Rumors floated that his businesses were on the edge of bankruptcy. In the biggest bet of his life, he committed his remaining $3 billion worth of shares to keeping Sands alive and invested $1 billion of his own cash to keep the company afloat.
"Over the next four years, Sands shares surged 3,700% ," according to Forbes. Through it all, his attitude was consistent with the many ups and downs of his life. "So I lost $25 billion," he told ABC News. "I started out with zero."
To what did he attribute his own success? "Some people call me an optimist," Adelson told Forbes. "The fact is that my appetite for risk was far greater than other people, and my courage in my own conviction was unshakable."
At the time of his death, Forbes estimated Adelson's net worth at $35 billion, making him the 19th richest person in the world. But he also ranks as one of the world's most generous people. Israel was one of his biggest causes: His foundation donated $400 million to Birthright Israel, which provides free visits to Israel for Jewish teenagers and young adults. He also donated $25 million to Israel's Yad Vashem, the World Holocaust Remembrance Center. It was the largest private donation in the institution's history. He and his wife also created the Dr. Miriam and Sheldon G. Adelson Medical Research Foundation, which has spent hundreds of millions of dollars on cutting-edge medical research.
Adelson, it turns out, had his share of heartache and grief. None worse than the day he found out he'd lost his son from his first marriage, Mitchell, to a drug overdose. It was a cause Adelson would spend the rest of his life fighting.
As fate would have it, so too did his second wife, Miriam. Born in Tel Aviv, she earned a B.S. in microbiology and genetics and a medical degree. After her first marriage ended, she spent time at Rockefeller University as an exchange student studying chemical dependency and drug addiction.
The two were set up on a date by friends who were convinced they would hit it off. They were right: The couple married in Israel in 1991. "In the three decades since, I doubt that Sheldon and I have spent more than a half-dozen nights apart," Miriam wrote in a letter celebrating her husband's 85th birthday.
Despite the accomplishments in his long life, what Adelson was most known for—and vilified for—was his political giving. In the 2018 and 2020 election cycles alone, the Adelsons were America's biggest political donors, spending $350 million, according to the Center for Responsive Politics.
In a Wall Street Journal column in 2012, Adelson explained why he stopped supporting the Democratic Party. "My critics nowadays like to claim it's because I got wealthy or because I didn't want to pay taxes or because of some other conservative caricature. No, the truth is the Democratic Party has changed in ways that no longer fit with someone of my upbringing," he explained.
What were those changes? Adelson didn't hold back. "There is now a visceral anti-Israel movement among rank-and-file Democrats, a disturbing development that my parents' generation would not have ignored," he noted.
Adelson wasn't finished. "As a person who has been able to rise from poverty to affluence, and who has created jobs and work benefits for tens of thousands of families, I feel obligated to speak up and support the American ideals I grew up with—charity, self-reliance, accountability," Adelson wrote. "These are the age-old virtues that help make our communities prosperous. Yet, sadly, the Democratic Party no longer seems to value them as it once did. That's why I switched parties, and why I'm now giving amply to Republicans."
Upon news of his death, Miriam wrote these words: "He was an American patriot: a U.S. Army veteran who gave generously to wounded warriors and, wherever he could, looked to the advancement of these great United States."
She continued, "He was the proudest of Jews, who saw in the state of Israel not only the realization of a historical promise to a unique and deserving people, but also a gift from the Almighty to all of humanity."
And then came her final words to her deceased husband. "His devotion lifted me up, like waves, through challenges both personal and professional. And now he is gone. The supporting waters have vanished heavenward. Only a vast, dry seabed remains. The loss is colossal. Farewell, my darling, my one true love."