Surprise? Elation? Astonishment? Shock? University of Minnesota senior Peter Mortell had none of those reactions when, in December 2015, he was named the inaugural winner of college football's Holder of the Year Award. After all, it was he who had created the honor only a week earlier.
College football bequeaths baubles for a plethora of positions: quarterback, running back, wide receiver, tight end, center, linebacker, interior lineman, defensive end, defensive back, kicker and, yes, even Mortell's primary position, punter. No one had ever recognized holders, who perform the most dexterously difficult task on the gridiron: catching a snap from seven yards away while kneeling and then placing it just so for a field goal or extra-point kick.
Two years ago Mortell, the Minnesota Golden Gophers' punter (and holder), was watching the Big Ten Conference's football awards show on TV with a few teammates. A first-team All–Big Ten punter the year before, he was bemused by the omission. "They give an award to everybody else," Mortell said. "There should be a Holder of the Year."
There is no position in football that demands more split-second dexterity, and besides, holders may be the last players in the game who can take a knee without drawing the ire of half the nation. "I'm not aware of anyone who was ever awarded a scholarship specifically as a holder," says Mortell, "but it's a lot more difficult than it looks."
Within days of Mortell's epiphany, the Holder of the Year Award committee (a panel of one) had convened and proclaimed Peter Mortell of Minnesota its maiden recipient. Soon after, Mortell inveigled Travis Perry, a graphic artist in the school's athletic department, to design a poster featuring Mortell in a holder's pose. Next, Mortell sent a defiant tweet of acknowledgement—"'Your hands are too slow' they said. 'Your cadence has no rhythm' they said. This one's for the state of Minnesota"—that was retweeted a few thousand times. The "committee" even produced a promotional video.
ESPN took notice and carried the playful prank a few extra yards by including football's newest prize on its annual college football awards program. Before an audience containing dozens of legendary figures and that season's top performers, Mortell delivered his acceptance speech via video. "I'd like to thank my coaches, teammates, family and, most importantly, my critics," Mortell said in a mock-defiant tone. "Tonight, we have silenced those voices."
Before long, there was a website for the award, and its legion of fans and hopefuls were simply referring to it as the Mortell. By the following summer, Mortell, then trying to win a punting job with his hometown Green Bay Packers, was releasing a watch list for 2016 candidates for the Mortell Award. Holders nationwide began launching campaigns, hoping the committee would hold a place for them among that season's finalists.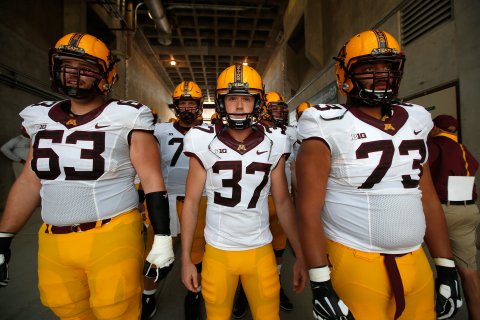 The Mortell Award is now in its third year (the University of Michigan's Garrett Moores won in 2016), and while there is still no actual trophy, its popularity is soaring. "The field has never been deeper," says Mortell, who has yet to catch on with an NFL franchise and currently works at TCF Bank in Minneapolis. "The committee is considering expanding the finalists list from three to four holders. It would be a disservice to the award not to do so."
The trophy might have remained a funny one-off were it not for its founder's special nature (he was a specialist, after all). Mortell is an Upper Midwesterner, which means he has a well-developed, self-deprecating sense of humor and an even stronger sense of decency (he could be mistaken for Canadian).
After Mortell's 2014 sophomore season, when Minnesota took part in the 2015 Citrus Bowl, each player was given a $452 gift card to Best Buy. Mortell used his plastic to purchase gifts for a Twin Cities home for at-risk children, dubbing his act "A Very Specialist Christmas." He says: "I just felt that I had a platform as a player for giving back. It was a no-brainer."
Mortell took along a Santa's helper on that spending spree, Casey O'Brien, then a high school sophomore suffering from osteosarcoma, a form of cancer that lodges in a bone. O'Brien, who had been the freshman quarterback at vaunted gridiron power Cretin-Derham Hall in St. Paul, had been diagnosed just before Christmas the previous year. An MRI discovered the tumor in his upper left tibia.
O'Brien, the son of a Golden Gophers assistant coach, struck up a friendship with Mortell during one of the latter's frequent trips to the University of Minnesota Masonic Children's Hospital. "A lot of players visit kids at the hospital," he says, "but no one ever visited as much as Pete. You have to understand how popular Pete was on campus. He was just the punter, but they sold his number 37 jersey in the university bookstore."
O'Brien endured a dozen rounds of chemotherapy, but suffered a relapse late in his sophomore year. The cancer had spread to his lungs. After 10 more rounds of chemo and surgery to remove three tumors from his lungs, O'Brien was cancer-free. It was October of his junior year. Four days after leaving the hospital, O'Brien played in Cretin-Derham's sectional playoff game. But not as a quarterback. "I had told my dad that I couldn't live without football," O'Brien says. He'd told Mortell, too, who suggested he try being the holder. In fact, Mortell insisted. "He wouldn't let up on me."
In 2015, as a high school junior, O'Brien held for Cretin-Derham in between chemo treatments and lung surgery. O'Brien was his high school's holder his senior year, too (and graduated with a 3.89 GPA). That was the same autumn Mortell launched the Holder of the Year Award and decided to attempt to outdo his $452 munificence from the year before. He created a crowdsourcing program to buy gifts for the sick kids at Masonic Children's with a goal of $2,000. Within two weeks, and thanks in no small measure to the publicity ESPN provided him, Mortell raised $28,000. "That's the real legacy of the award," he says.
This November, Mortell reports that the committee (still just him) is actively winnowing down its list to four finalists. While refusing to tip the committee's hand—the Vegas oddsmakers would erupt—Mortell suggests you take a peek at Iowa State holder Kyle Starcevich. "That kid's overcome three ACL tears and a few weeks ago, when he was holding at West Virginia, a fan pointed a laser beam in his eyes," says Mortell. "That kid's a battler."
Meanwhile, on the Minnesota campus, another battler will dress out for the Golden Gophers' final home game, on November 25. Casey O'Brien is a walk-on freshman on the Minnesota football team, currently backing up the starting holder. One wonders if we are looking at a future Mortell Award winner. "The kid's definitely got a shot," the committee—Mortell—says.