'Absolutely False' Biden Pressured Ukraine to Cede Land to Russia to Avoid War: Psaki
White House Press Secretary Jen Psaki categorically denied on Thursday that President Joe Biden is pressuring Ukraine to cede land to Russia in an effort to reduce tension in the area.
Tensions between Ukraine and Russia are mounting and officials are concerned Russia could invade the eastern part of Ukraine. Psaki made it clear on Thursday that the United States expects Russia to respect Ukraine's border and Biden is hoping to resolve the tension with diplomacy,
That diplomacy doesn't include pressuring Ukraine to cede territory to Russian-backed groups, according to Psaki. When asked about reports the United States is pressuring Ukraine to give up land to Russia as a means of deterring an invasion, Psaki said that is not true, calling it "absolutely false."
On Thursday, the Associated Press reported administration officials suggested the United States will press Ukraine to formally cede some autonomy of its eastern territory that's being controlled by Russian-backed separatists.
Psaki said the White House plans to continue its pressure on Russia to ease up on Ukraine, making it clear that there would be significant financial repercussions if they step out of line. The Russian Foreign Ministry has accused Ukraine of advancing artillery towards the front line and failing to engage in peace talks.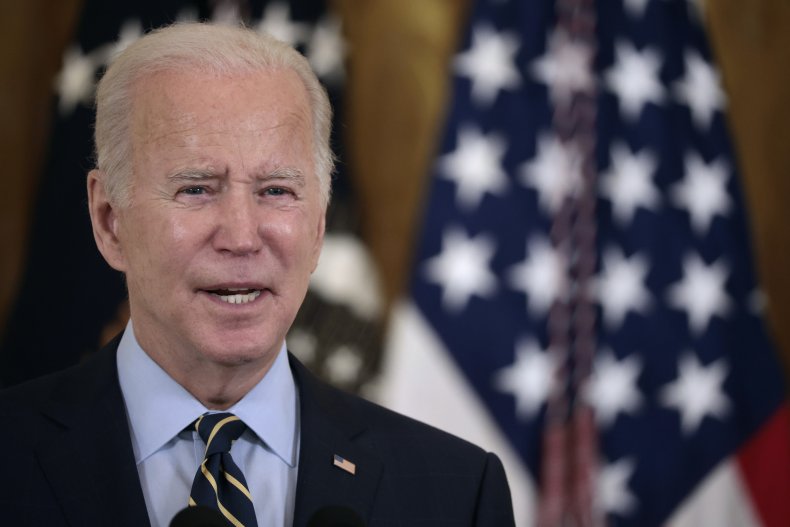 Russian President Vladimir Putin said the events in Donbass, a conflict zone in eastern Ukraine, "resemble genocide," according to TASS, a Russian state news agency.
"Negotiations on a peaceful settlement have practically hit a dead end," Russian Foreign Ministry spokesperson Maria Zakharova told reporters, according to Reuters.
Russian Deputy Foreign Minister Sergei Ryabkov told reporters the tension with Ukraine could be a repeat of the 1962 Cuban missile crisis. A defining moment in history, it put the United States and Soviet Union on the brink of nuclear war.
Biden spoke with Putin on Tuesday in the hopes of diffusing tensions and reducing the risk of conflict in the area. Biden told reporters he was "very straightforward" with the Russian president and that there were "no minced words."
"It was polite, but I made it very clear: If, in fact, he invades Ukraine, there will be severe consequences and economic consequences like none he's ever seen or ever have been seen, in terms of being imposed," Biden said.
The American president said Putin's "immediate response" was that he understood America's expectations of Russia and that Biden made clear the U.S. would provide defensive capabilities to Ukraine. However, Biden "ruled out" putting troops in Ukraine.
Biden spoke with Ukrainian President Volodymyr Zelensky on Thursday, but the White House has released few details about the call.