Miami Beach Mayor Dan Gelber slammed Florida Governor Ron DeSantis on Saturday for banning mandating masks in schools and suggesting that face coverings aren't effective while COVID-19 deaths sharply increased in the state.
DeSantis' crusade to prevent COVID-19 restrictions has drawn ire from local officials, including Gelber, who accused the governor of "killing people" by banning mask mandates.
"The governor has made this a political issue. He is treating children as almost political pawns. He's not worried about us, he's making some political point for a national election," Gelber told CNN. "His policies are literally killing people."
As COVID-19 cases surged across the state this summer, DeSantis, whose name has been floated as a possible 2024 presidential candidate, banned local officials from implementing COVID-19 restrictions, including school mask mandates. After many Florida school districts vowed to defy his ban on mask mandates, DeSantis also threatened to withhold funding for teachers.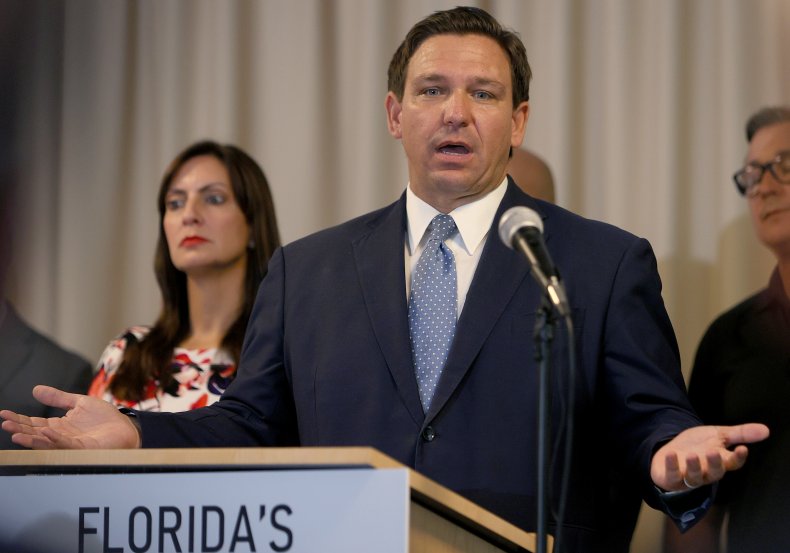 "It's pretty obvious at this point because there's no metric he can look for and say that his policies are good for Floridians," Gelber said. "You have local school officials who are literally having to act courageously and potentially lose their jobs and income in order to protect the children whose families elected them to those offices."
Florida has led the U.S. in new coronavirus cases in recent months, with the highest rate of hospitalizations among children in the nation. Cases slightly dipped this past week—with about 150,500 compared to 151,500 last week—but deaths increased from about 1,070 last week to 1,480 this week.
DeSantis attacked the effectiveness of mask wearing to control community spread of the virus at a summit on Wednesday, saying "politicians want to force you to cover your face as a way for them to cover their own asses ... even though it's not proven to be effective."
Gelber condemned DeSantis' remarks, calling it "absolutely moronic."
"He should be out there trying to get people to wear masks. Every sort of major medical group, including pediatricians have said it's healthy," he said. "We have lots of freedoms, but we also recognize that we all live together. And if you send your kids to school and say 'he's not going to wear a mask,' he may infect another child."
Rather than impose restrictive measures to limit spread of the virus, DeSantis has surrounded himself with health experts who have pushed for a more targeted response to the pandemic, such as controversial Stanford professor Jay Bhattacharya.
Newsweek reached out to DeSantis' office for comment.