Pro-Abstinence Trump Official in Complete Control of Federal Family Planning Funds: Report
It's no secret that President Donald Trump has made inroads with religious voters through favored policies and many of his federal appointments. One of those appointees is poised to pay dividends for the conservative Christian right.
Valerie Huber, acting deputy assistant secretary for population affairs at the Health and Human Services Department (HHS) and a longtime pro-abstinence advocate, will have the final say on which groups receive federal family planning funds, Politico reported on Tuesday.
Before joining the Trump administration in June 2017, Huber was president and chief executive of Ascend, a professional association for people who promote abstinence education, formerly known as the National Abstinence Education Association. She is a champion of "sexual risk avoidance," another term for abstinence. Her appointment to HHS was celebrated by anti-choice groups from across the country.
Huber will have complete control over the $286 million Title X program, which funds family planning services, mostly for low-income women. In years past, as noted by Politico, Title X funding appropriations were decided by two HHS officials along with a regional health official. But the Trump administration has changed the process, making Huber the final arbiter of doling out the program's funds.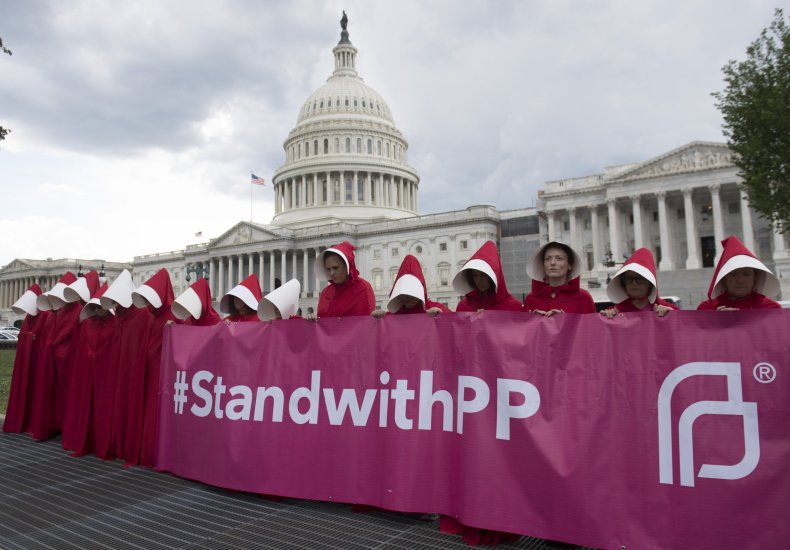 The shift is part and parcel of the Trump administration's professed preference for abstinence-only education. In May 2017, the administration asked for a $277 million investment in "extend[ing] abstinence education and the Personal Responsibility Education Program" between 2018 and 2024. Trump has also appointed other abstinence-only figures to senior positions at HHS.
For example, as pointed out by Teen Vogue, the administration's first choice for deputy assistant secretary for population affairs, Teresa Manning, has said in the past that she believes contraception "doesn't work." (Manning stepped down from her post earlier this year.) The administration also cut off more than $200 million in funding for 81 existing teen pregnancy prevention programs in July 2017.
Family planning organizations funded by Title X worry that Huber will choose to defund programs that do not advocate for abstinence.
"This is unprecedented and has dangerous implications," Kashif Syed, a senior analyst at the Planned Parenthood Federation of America, told Politico. "We're talking about a program that 4 million people rely on for basic reproductive health care—or in many cases, their only form of health care. Now is not the time to play politics with people's lives, but that's exactly what the Trump-Pence administration is doing."
Huber has shied away from the term abstinence, instead preferring to use "sexual risk avoidance" to express her views. She has expressed her belief that public health officials should make an effort to tell teens to delay having sex for an indefinite period of time.
"As public health experts and policymakers, we must normalize sexual delay more than we normalize teen sex, even with contraception," Huber said in the statement while at Ascend. "We believe youth deserve the best opportunity for a healthy future."
Multiple scientific studies and analyses have shown that abstinence-only education programs are ineffective at stopping the spread of sexually transmitted diseases among teenagers or preventing teens from engaging in sex before marriage.