Abu Dhabi Closing Nearly All Public Spaces to Those Without COVID Vaccine
Abu Dhabi, the capital of the United Arab Emirates, announced that starting August 20, public access will be further limited only to those who have been vaccinated. Unvaccinated individuals will only be able to enter supermarkets and pharmacies.
The move is an effort to encourage people to receive the vaccination, and authorities will begin restricting access to shopping malls, restaurants, cafes, sporting events, museums, gyms, schools and universities in Abu Dhabi, the Associated Press reported.
A "green pass" system has already been implemented that limits public access to those who are vaccinated or can show proof of testing negative for coronavirus.
The Emirati government says that at least 93 percent of the capital's population has received at least one dose o the vaccination. The country has administered 15.1 million doses to its population of around 9 million, relying heavily on the Sinopharm vaccine.
Similar restrictions have been implemented in Dubai, where large gatherings such as sporting events require vaccinations. Malls and other businesses are still open for people who have not received the vaccination.
For more reporting from the Associated Press, see below.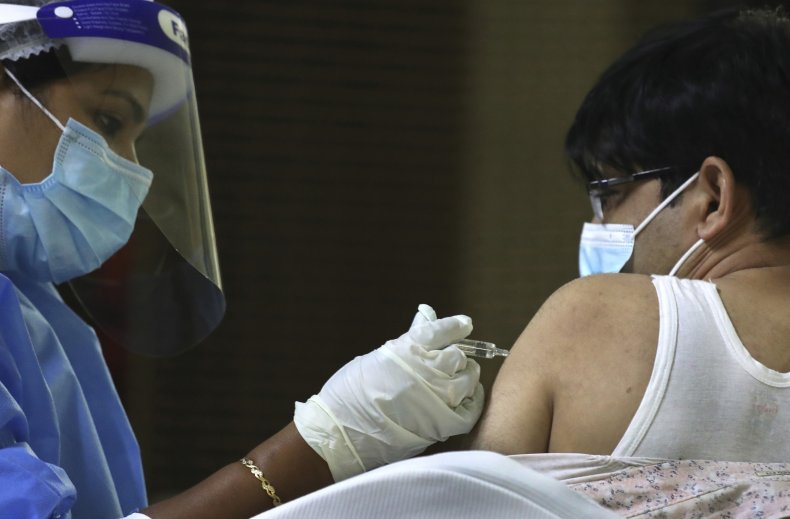 Indonesia's President Joko Widodo announced Monday that his government will administer COVID-19 vaccines for children as young as 12 after the country's Food and Drug Monitoring Agency green-lighted emergency use of the Sinovac vaccine for children.
Widodo said in a video statement that he was grateful that the agency has issued an emergency use of authorization for the Sinovac vaccine so that "vaccination for children that age can start immediately."
He has asked authorities to boost the country's vaccination rollout to two million shots a day by August from the current level of about one million a day, as a second wave of infections engulfs Southeast Asia country.
Monday's announcement came a day after health authorities announced the country's largest one-day jump in new coronavirus infections, the second day in a row, as the Health Ministry reported 21,342 new cases and 409 deaths over the past 24 hours.
The latest tally on Monday showed the country's total confirmed cases since the pandemic began at more than 2.1 million, the most in Southeast Asia, including confirmed fatalities to more than 57,100.
Authorities have so far only fully vaccinated 13.1 million of Indonesia's 270 million people and partially vaccinated another 14.2 million.
Active coronavirus cases in West Virginia have dipped to their lowest levels in 13 months, health officials said Monday.
There were 1,467 active COVID-19 cases statewide as of Sunday, dipping below 1,500 for the first time since May 18, 2020, the Department of Health and Human Resources said in a daily update.
According to the state COVID-19 dashboard, the number of confirmed daily cases has surpassed 100 once since May 29 and only once above 50 since June 16.
About 63 percent of residents ages 12 and up have received at least one dose of a coronavirus vaccine and about 53 percent are fully vaccinated.
The virus has caused 2,878 deaths in West Virginia, including two reported on Monday.
Maine's emergency order about the coronavirus pandemic is entering its final days.
Democratic Gov. Janet Mills says she will end the "state of civil emergency" order she instituted in the pandemic's early days.
The order has allowed Mills to use state resources to try to control the spread of the virus in Maine. Republicans and Democrats have sparred for months about whether the emergency order has gone on for too long.
Republicans have also charged that the order gave Mills too much authority and future orders should be more limited. Mills and other Democrats have said it played a key role in reducing the state's burden from coronavirus.
Mills said earlier in June that ending the emergency order is a key milestone and it reflects that "Maine people have persevered, and, although challenges remain, we will get through them together just as we did this past year."
The state's number of daily new cases of coronavirus has fallen below two dozen.
Sweden will soon allow bars and restaurants to seat more people and stay open longer.
"As of Thursday, life can start to go on a little more as it was before the pandemic," Social Affairs Minister Lena Hallengren said.
Starting July 1, eateries and cafes can seat up to 300 indoors and 3,000 outside and remain open after 10:30 p.m. The country has been gradually easing virus restrictions since June 1.
Johan Carlson, head of Sweden's Public Health Agency said that "together, we have succeeded in pushing back the spread of COVID-19 in our country."
The Scandinavian country has stood out among European nations for its comparatively hands-off response to the pandemic. It has not gone into lockdowns or closed businesses, relying instead on citizens' sense of civic duty to control infections.
The country has seen more than a million cases and 14,619 deaths.
Pakistan on Monday says it will ease several COVID-19 related restrictions from next month for those people who have been fully vaccinated against coronavirus.
According to a government announcement, indoor dining will be allowed at restaurants starting Thursday for only vaccinated people.
It said shrines, cinemas and marriage halls, which were shut in November amid a surge in cases, will also be allowed to reopen for those who have been vaccinated against coronavirus.
The government has also allowed 100 percent attendance at government and private offices starting Thursday.
The latest development comes hours after Pakistan reported one of the lowest single-day deaths from coronavirus since earlier this year.
So far, Pakistan has partially or fully has vaccinated about 14 million of its 220 million residents. The country has reported 955,657 cases among 222,31 deaths from COVID-19 so far.
Hong Kong says it will ban all passenger flights from the U.K. starting Thursday as it seeks to curb the spread of new variants of the coronavirus.
It said in a statement Monday that the U.K. has been classified as "extremely high risk" because of the "recent rebound of the epidemic situation in the U.K. and the widespread Delta variant virus strain there."
Under the classification, people who have stayed in the U.K. for more than two hours will be restricted from boarding passenger flights to Hong Kong.
It is the second time that the Hong Kong government has banned flights from the U.K., following a restriction imposed last December.
The ban comes amid heightened tensions between the U.K. and China over semi-autonomous Hong Kong, which was a British colony until it was handed over to China in 1997.
Spain and Portugal also announced Monday that they are imposing a two-week quarantine on U.K. travelers unless they can show they are fully vaccinated. Arrivals from Brazil, India and South Africa come under the same rule.
Cyprus is proceeding with the voluntary vaccination against COVID-19 of 16- and 17 year-olds after data showed that nearly 30 percent of all new infections are among socially active youths 18 and under.
Cyprus' Health Ministry said on Monday that the teenagers will be vaccinated with mRNA-based shots such as those produced by Pfizer and Moderna.
Vaccination appointments will be made through an online platform and permission forms will be required from parents or guardians.
The ministry said scientific data shows that the characteristics of the virus found among adolescents, including symptoms and transmission, are identical to those found among adults.
Greece will give young adults 150 euros ($180) in credit to get vaccinated as it launches a two-tier access policy over the summer.
Prime Minister Kyriakos Mitsotakis said Monday that starting July 15, Greek citizens under age 26 would be eligible for the credit in a digital wallet after receiving the first dose of their COVID-19 vaccination.
"We hope that young people will take advantage of this opportunity," Mitsotakis said in a televised speech.
Heavily reliant on tourism, Greece is looking for ways to fully reopen its economy after recently making the vaccination available to all adult age groups.
Australia was battling to contain several COVID-19 clusters around the country on Monday in what some experts have described as the nation's most dangerous stage of the pandemic since the earliest days.
Sydney in the east and Darwin in the north were locked down on Monday. Perth in the west made masks compulsory for three days and warned a lockdown could follow after a resident tested positive after visiting Sydney more than a week ago.
Brisbane and Canberra have or will soon make wearing masks compulsory. South Australia state announced new statewide restrictions beginning Tuesday.
Australia has been relatively successful in containing clusters throughout the pandemic, registering fewer than 31,000 cases since the pandemic began. But the new clusters have highlighted the nation's slow vaccine rollout with only 5 percent of the population fully vaccinated.
Most of the new cases stem from a Sydney limousine driver who tested positive on June 16 to the Delta variant, which is thought to be more contagious. He was not vaccinated, reportedly did not wear a mask and is suspected to have been infected while transporting a foreign aircrew from Sydney Airport.
Spain's prime minister says arrivals from the United Kingdom in the Balearic Islands will have to show they have been fully vaccinated against COVID-19 or a negative PCR test.
Prime Minister Pedro Sánchez told Cadena SER radio on Monday that the measure would be introduced Thursday to give tour group operators and travelers time to adapt to the new rule.
Britain last week added the Mediterranean islands, which include Mallorca and Ibiza, to its "green" list of safe travel destinations amid pressure from airlines and travel companies to relax COVID-19 restrictions.
Southern European Union countries are keen for British holidaymakers to visit and help their tourism-based economies recover from the economic consequences of the epidemic, but a U.K. surge in infections due to the Delta variant has made them wary.
Authorities on the Spanish Mediterranean island of Mallorca are restricting hundreds of visiting high-school students to their hotels after class vacations to mark the end of the academic year turned into a major COVID-19 outbreak.
Officials say more than 800 COVID-19 cases in eight regions across mainland Spain have been traced back to the Mallorca outbreak, which started last week.
Scores of infected teens are still on Mallorca. Some are being kept in their hotel rooms, others have been moved to a hotel being used by local authorities for the isolation of those with mild symptoms or suspected cases. Nine have mild symptoms and are in a local hospital as a precaution.
Mallorca health authorities carried out mass testing on hundreds of students after the outbreak became clear. It is believed to have spread as hundreds of partying students gathered at a concert and street parties.
Health authorities in Thailand on Monday announced 5,406 new COVID-19 cases, as the country struggles with how to cope with new coronavirus variants and contain its rapid spread around the capital Bangkok and in southern provinces.
Nine of the new cases were in prisoners, while the others among the general public marked a record high for that category of patients.
Thailand has had 249,853 confirmed COVID cases since the pandemic began last year, more than 88 percent occurring in the third wave of the coronavirus that started this April. Twenty-two related deaths announced Monday brought the total deaths to 1,934, 95 percent in the third wave.
Health officials also announced they have found Bangkok's first case of the beta variant, which originated in South Africa. The patient was a worker in a Bangkok market whose son came up from the southern province of Narathiwat to visit him. The beta variant is believed to have entered Thailand from Malaysia.
Random testing of virus samples by Thailand's Department of Medical Sciences from April to June found that 86.3 percent were the alpha variant from Britain, 12.3 percent were the Delta variant from India and 1.4 percent were the Beta variant.
South Africa has reintroduced tough restrictions including a ban on alcohol sales and an extended nightly curfew as it fights a fast-increasing surge of COVID-19 cases.
President Cyril Ramaphosa says the Delta variant that was first discovered in India appears to be driving South Africa's new increase.
South Africa recorded more than 15,000 new cases Sunday including 122 deaths. That brings its total fatalities to near 60,000.
The country's most populous province of Gauteng has the brunt of the current surge accounting for about 66 percent of new infections. The province includes the largest city Johannesburg and the capital Pretoria.
Health authorities are concerned that the country's eight other provinces are likely to soon see spikes in cases to match those in Gauteng, where hospitals are running short of COVID-19 beds and patients are being taken to health facilities in other provinces. Neighboring Zimbabwe, Namibia and Mozambique are also fighting growing numbers of cases, hospitalizations and deaths.
A Malaysian state says it will ease lockdown restrictions, despite the federal government's move to extend a nationwide lockdown indefinitely to curb the pandemic.
Hajiji Noor, chief minister of Sabah state on Borneo island, says more sectors including rubber, timber and furniture factories will be allowed to reopen from Tuesday. He says dine-in will also be allowed at restaurants and hotels, hair salons can operate and sports that do not involve physical contact such as golf and fishing can resume. But he said in a statement Monday that other restrictions will remain in place.
State governments have jurisdiction over the lockdown implementation. Sabah is the only state so far that has decided to loosen curbs.
Just a day earlier, Prime Minister Muhyiddin Yassin said the national lockdown, imposed since June 1, will continue until daily infections fall below 4,000 and 6 percent of the population has been vaccinated.