'Abusing 911': Man Calls Police Over Parking Dispute in Video Viewed Over 6.4M Times
A man went viral after footage of him calling 911 over a parking dispute was posted to TikTok. The video, posted by user @angelo.ofl, has amassed more than 6.4 million views since it was posted on Friday.
"This happened while I was at work waiting on clients," the caption of the video read.
In the video, the TikToker named Angelo filmed a man approaching his car as he sat in the driver's seat.
"Got a visit from Karen's husband," the on-screen text read as the man walked up to Angelo's driver-side window.
"What kinda business you got here?" the older man asked Angelo. He replied that he had work down the road but was waiting for his client. The man then told Angelo to go where he is "supposed to be and park."
The man then told Angelo that he needed to move his car because it was not a public street.
"Get off of this street it's not a public street," the man said to Angelo. "And I'd appreciate you not talking to my wife like you talked to her."
Angelo replied saying his wife was rude to him so he was rude back to her.
"You take this truck and you go to wherever you're gonna be going because this is private property," the man said to Angelo.
Angelo replied that the man should call the police if it was really that big of a deal.
"You got it," the man replied.
The man then pulled his cellphone out of his pocket and Angelo turned the camera back at himself. He explained that he was just sitting in the car waiting for his appointment to be ready. He then turned the camera back to the man as he told Siri to "call 911 please."
The video ended with Siri confirming it was calling emergency services and the man walked out of the frame. In a follow-up video, Angelo said he was two doors down from his client's house and the man's wife approached him and began asking questions.
"I told her I was there for work, she started being rude and saying 'oh go get your drugs somewhere else' this and that," Angelo said. "This was not a private development, this was a public road."
He explained that the police did eventually show up and that his clients came outside and confirmed to the police that he was there for work.
"So lesson to be learned, mind your effin' business," he said at the end of the video.
In the comments, many users mentioned that this was a clear abuse of emergency services and that he should face some consequences for wasting everybody's time.
Recently, Newsweek reported about how 911 dispatches across the country are facing record call numbers. People stress that 911 should only be used for emergencies and that many people abuse the number when they could call their local non-emergency line.
In some cases, using 911 for a non-emergency can result in criminal penalties including fines and, in extreme cases, jail time.
"They be calling 911 like it's customer service," one user said.
"When are we going to pass a law that will hand out citations for abusing 911," another user commented on the video.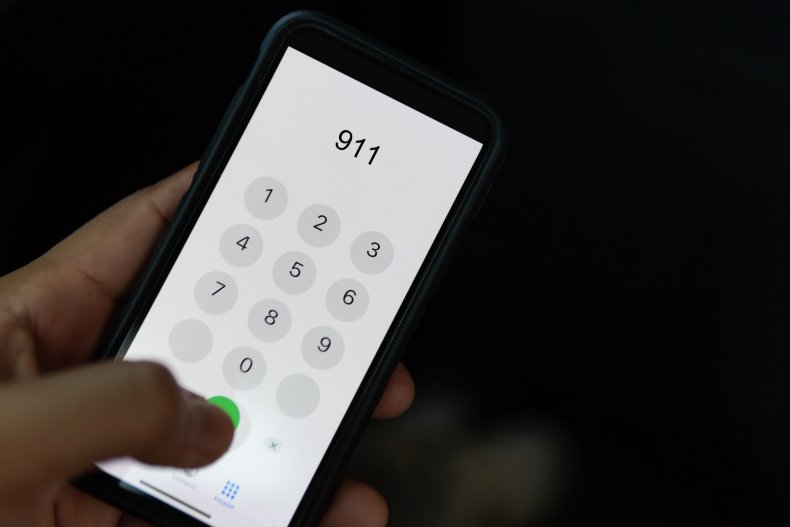 Many replied saying that there actually can be repercussions for abusing 911 rather than calling the non-emergency line, but that each state has different laws. Some mentioned the Caution Against Racially Exploitative Non-Emergencies (CAREN) Act which was enacted in October 2020 in San Francisco.
The CAREN Act makes it a hate crime to place baseless and racially motivated calls to 911.
"I really want to emphasize that 911 is not a customer service line for someone's racist behavior," San Francisco supervisor Shamann Walton said.
In other states, such as Virginia, abusing 911 is a class 1 misdemeanor that can result in up to a year in jail and approximately $2,500 in fines. In Texas, misusing emergency services can result in up to 180 days in jail, a $2,000 fine, or both.