An academic who was dropped from her advisory position at a U.K. college after her organization allegedly sent racist tweets is suing the institution, claiming the decision was discriminatory and cited critical race theory as a reason staff could be removed from their positions.
Aysha Khanom had her contract with Leeds Beckett Univesity (LBU), in West Yorkshire, terminated after a tweet calling right-wing commentator Calvin Robinson, who is of Black descent, a "house *****" was sent from the account of her organization, The Race Trust.
The tweet was posted in February after Robinson appeared on the BBC One show The Big Questions and said he had been attacked for being right-wing and Black, adding: "I have been called Bounty, uncle Tom, house ***** for not having the right opinion."
It tagged Robinson and asked him: "Does it shame you that most people see you as a house *****?"
The Race Trust's account has since been deleted, although Newsweek has found the tweet using the WayBackMachine.
LBU ended its association with Khanom after the tweet was sent and said the account had used "racist language."
Back in February, LBU's Twitter account posted: "Aysha Khanom is not an employee of Leeds Beckett University and we have terminated all association with immediate effect.
"The university strongly condemns the use of racist language. We stand united against racism and in our support for anyone who experiences racism."
Robinson also criticised Khanom in a statement sent to Newsweek, which read: "I find it fascinating that someone can call themselves an 'anti-racist' whilst hurling racial abuse at someone with whom they disagree. It shows a complete lack of self-awareness and I worry about what Ms Khanom is teaching people in her 'racial literacy' courses."
Khanom has since claimed in a CrowdJustice fundraiser for employment tribunal costs, that she was unfairly dismissed from her role.
She added: "LBU's conduct towards me suggests that academics should be looking over their shoulder before they make statements about Israel and Palestine, or about critical race theory, or about police accountability or about the government's attitude towards asylum seekers and refugees."
In the wider statement, Khanom described herself as an "anti-racist activist" and described events leading up to her contract termination from her point of view.
She said: "On 14th of February, 2021, a network of alt-right activists targeted me after a tweet was sent to Calvin Robinson, an 'anti woke' campaigner, from the account of my organization, The Race Trust.
"The tweet repeated an allegation that had been made during a televised interview, asking a question, repetition of a term used by Calvin Robinson. A Twitter storm ensued and right-wing racists, contacted my employers and all organizations I worked with, calling for my removal and sacking wrongly claiming that I was racist. None took action against me, except Leeds Beckett University."
She later added: "They (LBU) unfairly elected to terminate my contract without going through any investigation process. This is an abuse of due process and should not be happen of a public educational establishment."
As of Tuesday morning, Khanom raised £1,590 of a £5,000 target on her CrowdJustice fundraiser.
Khanom later sent a statement to Newsweek outlining why she was taking legal action against LBU, adding: "I am fighting this case as it will support anti-racism. It is basically an argument on whether or not black people, in particular, have the right to develop their own political thought and terminology - especially in relation to white supremacy and the impact it has on them (us).
She suggested the debated phrases were critical "impolite terms" comparable with Lord Haw Haw, a nickname given to English-speaking Nazi propagandist.
She added: "'LHH', like 'Uncle Tom' are terms rooted in collaboration with historical oppression.
"We have offensive terms for those who align with enemies in regards to nations.
Blackness is like a nation, it's an identity formed, a social construct emerging from slavery.
"Look at the punishment for traitors to a "nation". A metaphor for Black and brown people based on characters in the slave trade used for hundreds of years is not for racists to control.
"Leeds Beckett's only prayer, and it's a solid prayer, is that they get lucky and courts are ill-informed on race. Only people who will benefit from them winning will be racists and the far right. In my view, either way, they lose."
Reacting to Khanom's legal claim, a spokesperson for Leeds Beckett University said the university "will be presenting a detailed response."
A statement added: "Leeds Beckett University actively opposes all racism and discrimination and stands united in its support for anyone who experiences either, which is clearly demonstrated by our Equality and Inclusion policy. We are committed to providing an ethical and sustainable working and learning environment that values equality and inclusion."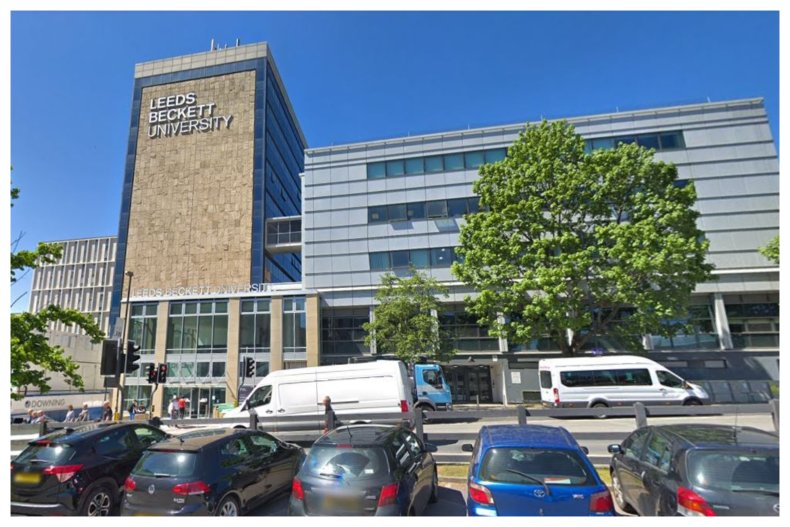 Update 8/16/21, 3:34 a.m. ET: This article has been updated with further comment from Aysha Khanom.